How To Throw an Amazing Thanksgiving Party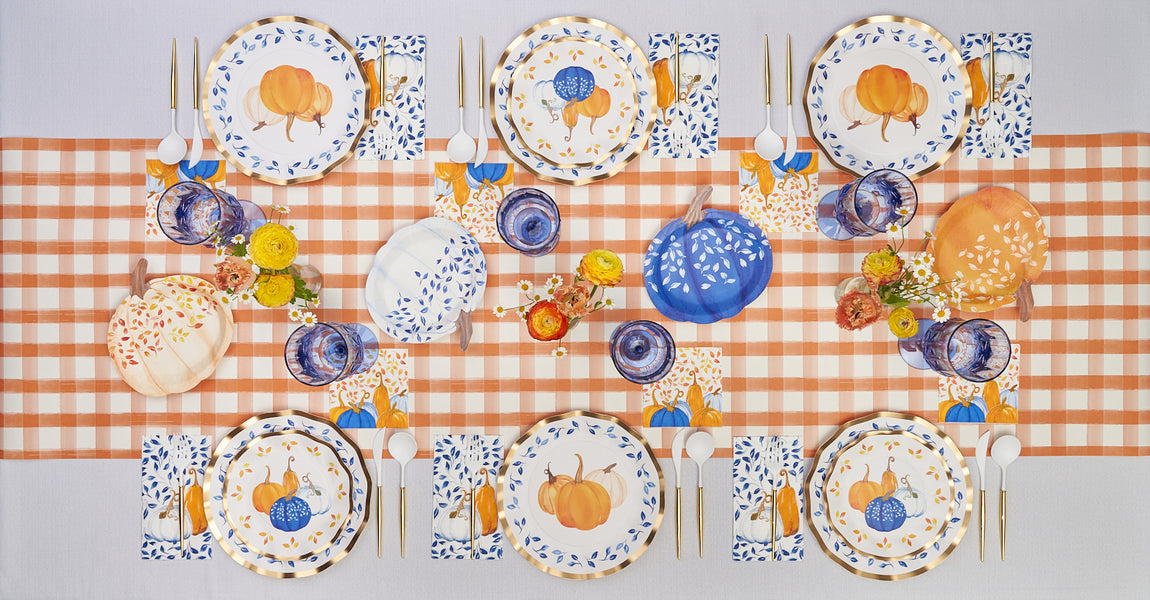 Thanksgiving is one of our favorite holidays for a reason. It's not only the day we get to have the most delicious food with no limits, but it's also a time for us to show gratitude for all of the great things in life. 
Whether you're grateful for gathering with your loved ones after the pandemic, having top-notch cooking skills, or simply not having to do the dishes after dinner, your Thanksgiving party is the perfect place to express that.
To make this Thanksgiving party an amazing one, check out these tips from Sophistiplate that cover everything to do before this year's Turkey Day. 
Pick a Schedule and Stick to It
It was one of our Founding Fathers who said that those who fail to plan, plan to fail. While we may not agree with that wholeheartedly, we think that planning the Thanksgiving party at least a few weeks in advance can make things so much easier for you. So, grab a beautiful stationery set and try to make a schedule for the party. 
The thing that should be done before everything else is inviting your guests. After all, we tend to travel far to see family for the holidays and need ample planning time. So, try to solidify your guest list at least a month in advance.
When it comes to the food, we're not huge fans of cooking everything the day before. After all, so many dishes can be prepared ahead of time and warmed up right before dinner is served. Desserts can even be made months in advance and frozen. For this reason, you can make things easier for yourself by prepping and cooking in the weeks leading up to Turkey Day. 
Decide on Time, Place, and Headcount
When it comes to the location of the party, we're used to the event taking place in someone's home. If you have friends and family traveling from afar, it helps to have a spare bedroom or two for them to stay in. 
And even if your quarters seem a bit cramped, there's nothing to worry about. As long as you have a large enough table for your guests, the space is big enough.
But hosting in a different venue is always an option. If you want to skip cooking this year, many restaurants will offer a Thanksgiving pre-fixe menu. While you may miss out on leftovers, there's nothing more relaxing than having someone else cook for you. 
For the time of the party, it's wholly appropriate to begin in the early afternoon. Although we call it Thanksgiving dinner, inviting your guests over as early as 12:00 PM to drink, eat appetizers, and watch the Thanksgiving Day Parade is common practice. Thankfully, an earlier start time means an earlier end time, too. 
Last but not least, think about the location of your event and how many guests can be reasonably accommodated. This should be the main factor in deciding on your guest list. 
Invite Your Guests
Once you decide on how many people you can reasonably accommodate, you can start making a guest list. There's no solid formula for who you should invite to Thanksgiving. This largely depends on your family members, your social circle, and where you live. 
Of course, your closest relatives should have an automatic invite to your Thanksgiving party. But what if you're not able to gather with family on Turkey Day? Luckily, some of your friends, co-workers, and acquaintances may be in the same boat. In that case, you can invite them over for a Friendsgiving. 
For an amazing Thanksgiving party, you would ideally have a variety of personalities to spruce things up. Think about the people in your life who are sociable, interesting, and always have a good story to tell, and try to get them to come. Great conversation is key to a successful dinner party. 
Plan the Menu
When it comes to Thanksgiving dinner, you can be a complete traditionalist, an innovator, or someone in-between. 
Because the whole meal (usually) centers on the big bird, make sure to plan this step out. Are you going for a turkey this year? Will it be brined, deep-fried, or smoked? Do you want to nix the turkey and go for a more unique choice like duck or even a vegan bird?
Although the turkey is usually the star of the show, many of us look forward to the side dishes the most. For this option, do you want to create an elaborate spread of multiple sides or dedicate your time to classics like mashed potatoes and candied yams? Do you have any dietary preferences? Do you want to experiment with healthy options?
As you can see, there is a lot to consider when cooking a Thanksgiving dinner. Sitting down to plan your menu will help your next Turkey Day reflect your skills as a home chef and please all of your guests. 
Plan Some Fun Activities
The TV has always been a great source of entertainment on Thanksgiving Day. Whether it's a football game, a parade, or a concert, there's no shortage of what to watch. 
If you want to be a little more active—which is especially important if you have kids—then there are a few fun games you can play. The Turkey Waddle is a silly one but will be a sure hit. It's a simple race with a finish line but with one twist: all contestants have to put a balloon between their legs, resembling a waddling turkey. 
If you'd rather relax on the couch, then some other fun game ideas include Thanksgiving trivia, bingo, or charades.
Cook the Least Amount Possible the Day Of
Planning and prepping days in advance of your Thanksgiving party can make it so that the only thing you need to do that day is bake the turkey and pop some side dishes in the oven. 
For this reason, plan to have a relaxed morning on the day of the party. Have a coffee and do something that you enjoy. Then, a few hours before your guests are due to show up, pop the turkey in the oven. 
If there's some oven space left over, then throw in some casserole dishes that need extra cooking time. Because most side dishes can be served at room temperature, there's no need to worry about cooking them at the perfect time. 
Your turkey can come out an hour to a half-hour before it's served. Use this time to warm up the dishes that you prefer to serve hot. For some of these, the oven isn't necessary at all. For instance, mashed potatoes can be easily heated on the stovetop and cornbread can be warmed up in the microwave. 
Take Some Time To Take Care of Yourself
Amidst all the party planning, we may forget about the most important person who made the whole thing happen: ourselves. Not only do you deserve to enjoy yourself before and during the party, but the relaxed vibes you give off can actually make your guests enjoy themselves more.
So, on the day of your Thanksgiving party, wake up at a comfortable hour and take a few hours to do what you love. Whether it's drinking a cup of coffee while reading the news, working on your latest creative project, or burning (a lot) of calories in the latest Thanksgiving Day trend, this is your time to relax and restore. 
Some More Tips
Yes, You Should Decorate:

Just like any other major holiday, Thanksgiving is a great opportunity to decorate your space. And if you're throwing a party, there's even more reason to do so.

A perfect tablescape

coupled with some rustic accents such as sunflowers, mini pumpkins, and pinecones makes for the perfect aesthetic. 
Disposable Plates Will Save Your Life

: Okay, maybe not your life, but definitely your energy levels. Between the leftovers,

cutlery

, and casserole dishes, there'll be plenty of cleaning to do. For this reason, high-quality paper plates can make for an option that's virtually indistinguishable from the real thing that can be discarded sans guilt at the end of the night.
Get the Kids a Separate Table

: If your Thanksgiving party is a huge affair, then it's totally acceptable to get the kids a separate table. This will not only keep the conversation at the adult table flowing but make the kids appreciate you for it. 
Booze Is a Great Idea

: We love a few festive cocktails before Thanksgiving dinner. Fall-inspired drinks like hard cider, mulled wine, and pumpkin spice martinis are delicious

and

holiday-appropriate. For the main event, you can even grab some wine that pairs perfectly with the dishes. We personally love light-bodied, fruity options. 
Don't Let Family Stress You Out

: Even though we love our families, dinner conversations can sometimes get

a little heated

. If that happens, remind yourself of everything you love about your family members and get back to enjoying your party!
A Day of Gratitude
There's so much to be thankful for this Thanksgiving. Amongst your fun guests, the perfect menu, and plenty of self-care, we hope that your amazing party is another thing you'll add to that list. 
Sources:
Fennel-Apple Salad With Walnuts Recipe - NYT Cooking | The New York Times 
The Calorie Burn Before the Thanksgiving Feast | The Wall Street Journal 
How to Have Thanksgiving Di|nner Without a Family Blowup | The Wall Street Journal 
---