Sophisticated 40th Birthday Party Ideas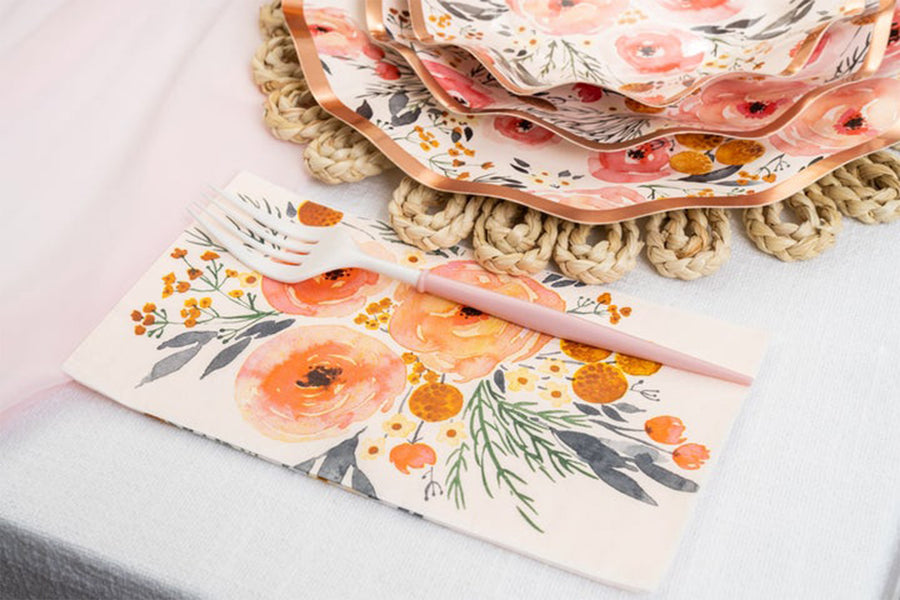 If you're celebrating a 40th birthday in the future, then there are some things you can do to make it as special as this important milestone. Whether you're looking to go all-out with an impressive birthday bash or keep things intimate with a few close friends, Sophistiplate has your back. Check out these 40th birthday party ideas to celebrate your special day in style. 
1. Travel to an Exotic Destination 
Is there a better way to celebrate your special day than by booking a plane ticket somewhere exotic? If you're feeling wanderlust, then pick a place on the farthest corner of the world—somewhere you've never considered going—and invite your significant other or your best friend along for the adventure. 
2. Fly First-Class
Whether you choose to take a trip to a faraway place or a neighboring city, do so in style by booking a first-class ticket. Order all the champagne your heart desires. Wear your biggest sunglasses and try to give off your biggest celebrity vibes. You are, after all, the star on your special day. 
3. Rent an Airbnb
If you want to throw a party with your friends and relatives, then consider doing so in a fancy Airbnb. We'd consider renting out a big villa with a pool for the ultimate party. Of course, any change of scenery would be nice and could go a long way in inspiring your party theme. Ski chalet, anyone? 
4. Go Wine Tasting
On your 40th birthday, why not hit a vineyard for a professional wine tasting? You can even stay for dinner to get the full vineyard experience. Some vineyards will let you bring a birthday cake to finish off the night.
If going to a vineyard isn't an option, then recreate vineyard vibes in your own backyard by setting a long table with a white tablecloth, hanging up string lights, and playing Mediterranean-inspired music. Make sure to get plenty of different wines—both red and white—to keep the wine tasting (and drinking) going all night. 
5. Book a Spa Getaway
There's nothing more relaxing than taking a few days off work, turning off your phone, and heading to a tranquil location to get pampered to your heart's content. Bring a few close friends with you to celebrate with a bottle of champagne at the day's end. 
6. Bake a (Healthy) Cake
We're sure that you'll be feeling super healthy after hitting the spa. If you want to keep the feeling going for as long as possible, then bake a healthy cake for your birthday treat. Serve it on this gorgeous cake stand and make sure to take plenty of photos of your creation!  
7. Host a Fancy Dinner Party
Your 40th birthday is a very special day that deserves an all-out celebration. Host a fancy dinner party with multiple courses, which should include hors d'oeuvres, the salad course, the entrée, and dessert. Host a cocktail hour before the dinner and do a wine pairing for the food. Ask your guests to show up in their finest garb to add to the fancy atmosphere. 
8. Make a Charcuterie Board
There's nothing we love more than charcuterie—especially if it's accompanied by cheese! Create a beautifully-curated charcuterie board to set off your fortieth birthday dinner party. However your creation turns out, we guarantee that your guests are sure to be impressed.  
9. Hire a Private Chef
If you want to spend less time cooking and more time being with your friends and family, then consider hiring a private chef for the evening. Some private chefs can even turn their cooking into a show that's sure to keep your guests entertained all night long. 
10. Throw a Grown-Up Pizza Party
Who said pizza parties aren't for adults? Experiment with making different crusts, such as sourdough, for an extra-fancy touch. Top it off with delicacies such as prosciutto and serrano ham. Don't forget to pair it with plenty of wine! 
11. Treat Yourself to a Personalized Pizza Peel
If you're throwing a pizza party to celebrate your fortieth birthday, then you'll need professional pizza-making tools to make sure the pizza comes out baked to perfection. Treat yourself to a pizza peel—better yet if it's personalized—for making this favorite food for years to come. 
12. Hire a Sommelier 
Wine is the best drink to pair with the pizza that you're making. To elevate the wine-drinking experience, consider hiring a professional sommelier to help with making wine suggestions, serving it the proper way, and just overall making you feel oh-so-fancy. 
13. Host a Fancy Tea Party 
If you want to host your 40th birthday party during the earlier hours of the day, then there's no better way to do it than with a fancy tea party. Although it may seem complicated, throwing a tea party is actually fairly simple. Make sure to have a gorgeous tablescape to elevate the experience. 
14. Dress Up in Your Finest Garb 
Whether you're throwing a tea party or celebrating your fortieth birthday in another way, dressing up in your fanciest outfit will make you feel truly special on your big day. Take yourself shopping—along with some friends—to get ready to celebrate in style. You can even book an appointment to get your hair, make-up, and nails professionally done in the morning. 
15. Host a Boozy Brunch 
Although they start fairly early, boozy brunches are notorious for lasting well into the night. If you want to get a head start on your birthday festivities, then consider throwing a brunch party to celebrate. 
Make sure to serve plenty of boozy concoctions, such as mimosas, bellinis, and bloody marys—in addition to brunch staples like eggs benedict, waffles, and pancakes. Create a fun music playlist to keep the energy going all day long. Better yet, rent out a venue—such as a rooftop bar—to have someone else take care of the details so you can focus 100% on celebrating. 
16. Throw It Back to the Disco Decade
The 70s are known for having some of the best music to get you moving. If you love dancing, then you should consider throwing a disco party to celebrate your 40th birthday. Disco music is ideal for dancers of all levels, which will ensure that everyone is out on the dancefloor. Make sure to set the ambiance with plenty of glitter, flashing lights, and disco balls. 
17. Attend a Movie Screening (at Home)
With a projector and a screen, you can transform your home into a major film premiere. Pick a movie that you've been dying to see and plan the evening around it. Lay out a red carpet for taking photos, host a cocktail hour before the movie starts, and host an "after-party" when the movie finishes. And, of course, don't forget to enjoy the movie! 
18. Host Casino Night 
If a visit to Sin City isn't possible, then you can easily bring everything we love about the casino to our homes—while leaving out everything we don't like. Set up a poker table as the main activity. Serve plenty of champagne, whiskey, and even cigars! Make sure your guests have plenty to eat with hors d'oeuvres (along with these glamorous food picks). 
19. Belt Some Tunes at Karaoke Night 
While you can rent a karaoke machine for your home, we'd recommend singing in front of a group of people to really spruce things up. Before you show up at the karaoke bar, make sure to have a few classic karaoke songs well-rehearsed. It wouldn't hurt to have a dance routine to go along with it!
Order plenty of cocktails to loosen things up. Invite plenty of your friends to cheer you on. And, of course, encourage them to join you in your singing!
20. Do Something Thrilling
For your special day, why not do something that seriously gets your adrenaline pumping? We're talking about those once-in-a-lifetime experiences that you might have thought about having but never took the plunge to do. Well, this time around, it just so happens that you have the perfect excuse.  
So, to celebrate your 40th birthday, grab a few of your closest friends and do something thrilling, such as sky-diving, bungee-jumping, or white-water rafting. Afterward, head home and have a well-deserved glass of wine (and plenty of birthday cake!). 
The Most Sophistiplated 40th Birthday Party 
Your 40th birthday is an important milestone that deserves a grand celebration. 
Whether you want to hit up an exotic destination, host a fancy dinner party, or play some poker while sipping on aged whiskey, we're sure that our 40th birthday party ideas will give you more than enough inspiration to make this party a truly amazing one. 
If you're throwing a 40th birthday party, then make sure to have everything you need for setting the perfect table. Sophistiplate has your back with high-quality tableware that's sure to impress. 
Our Sources:
20 Epic Ideas for an Unforgettable 40th Birthday Party | Country Living 
20 Healthy Birthday Cake Recipes to Make This Year | Taste of Home 
---