Bridal Shower Decorations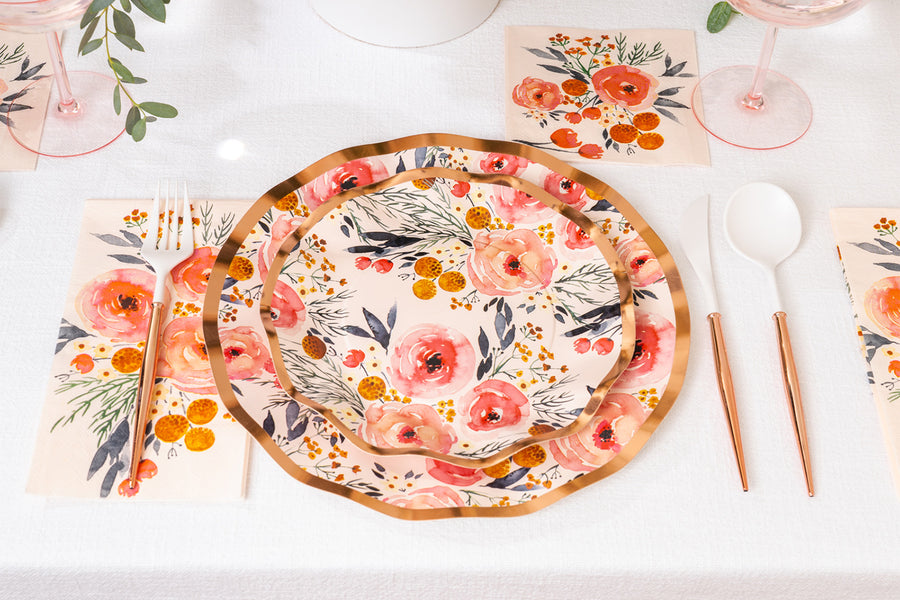 If someone near and dear to you recently announced the life-changing news of an engagement, then a bridal shower might be in the back of your mind. However you choose to host it, one thing's for sure: to look good in photos for years to come, the venue needs to be well-decorated.
To give you some ideas for bridal shower decorations, we have a list of our favorite ones. But before we get to the fun stuff, let's take a look at how the bridal shower came to be and how you can host one yourself.  
A Quick History of the Bridal Shower
First and foremost, you might be wondering why it's called a shower instead of another word synonymous with party. Well, the word comes from the Victorian Era when upper-class ladies would throw parties to celebrate the soon-to-be-wife. During these celebrations, it is said that women would place gifts inside a parasol and "shower" the bride with them. 
However, the origins of the bridal shower go back a little further than that to 16th century Holland. During that time, the dowry system was still in place—which is essentially the money offered to a bride by her future husband. 
But if the groom was too poor, then a sizable dowry couldn't realistically be expected from him. To compensate, friends and families would throw celebrations and give gifts to the bride to help her begin her new life. 
While bridal parties are no longer thrown to make sure that the new bride has all she needs to start her new life, gifts are still very much a part of the celebration. Another big part of the tradition is giving tips and advice for married life. Basically, anything that will prepare the bride for her marriage. 
How To Host a Bridal Shower
There are a few rules and etiquettes that are associated with bridal showers. If you're planning to host one, then here's an overview of some things you might be wondering. 
Who Hosts the Bridal Shower?
While this event usually falls on the shoulders of the maid-of-honor, anyone can throw a bridal shower. Of course, it makes sense if it's someone who's part of the wedding party or a family member on the bride or the groom's side. 
Who Pays for It?
If you're planning to throw a bridal shower, you think that you have to pick up the bill for the entire thing. And that may be the case if it's something low-frills, such as a backyard tea party. However, if you're throwing a more elaborate affair, then it's totally acceptable—and even expected—to ask the rest of the bridal party to chip in.
When and Where Should the Bridal Shower Be Held?
It's always a good idea to wait until a wedding date has been set. Aside from that, there are no rules for when a bridal shower should be held. It could be months in advance of the wedding or just several days before it. But keep in mind that if the wedding is an extravagant affair, then throwing a shower too close to the big day can be overwhelming.
As far as the venue goes, it's completely up to you. Since it's more of a low-key event, someone's home makes for the most economical option. But other places like restaurants, rooftops, and banquet halls can make a great choice, too. 
Should the Bride Be Involved?
Throwing a surprise bridal shower is definitely an option. If you feel like the bride has too much on her plate to be involved in planning yet another event, then a surprise will be more than welcome.
However, involving the bride in at least some of the planning has its benefits. For example, if there's a theme she really wants to try out but hasn't talked about, then asking her is really the only way to find out. And much in the same way, it's important to ask what the bride wants for her gifts so as not to get her things she can't or won't use. 
What Happens at a Bridal Shower?
What happens at a bridal shower is—first and foremost—the giving of gifts! While you can shop off her wedding registry, it'll be a lot more fun to get creative and get the bride something super fun that she'll use just for herself. Things like lingerie, beauty products, and spa certificates are all awesome ideas.
The other classic activities of a bridal shower include eating, drinking, and giving the bride advice on marriage life. The order that you choose to do this in is completely up to you.
Our 5 Favorite Bridal Shower Decorations
If you're planning to host a bridal shower, we hope you got some ideas for what this celebration entails. Now onto the fun stuff: decorating the place. 
Whether you're throwing the shower in your home or in a rented-out venue, the right décor will go a long way in making this feel like a party and not just a gathering of friends and family. Here are ten of our favorite ones to really spruce things up. 
1. Balloons
Is there anything that says party more than colorful balloons? And you don't have to settle for plain ol' pink ones. These days, there are all kinds of shapes and designs perfect for a bridal shower. We're talking balloons that look like wedding rings, wedding cakes, champagne bottles, and all the other fun stuff that's part of getting married. 
Of course, getting balloons is the easy part. But if you want them to float, then you'll also need a helium tank. The great news is that this can be easily done by renting a helium tank for the day. And if you don't think you'll have too many balloons to fill up, then a disposable helium tank is an option, too. 
2. Flowers
Whether they're real or fake, flowers are a classic decoration for bridal showers that will fit any theme. If you love the scent of natural flowers, then a centerpiece bouquet is the best way to decorate. Go for flowers such as roses, lilies, and carnations. If the theme is not as traditional, then succulents, tropical plants, and even fruit can be made into table centerpieces.
As far as fake flowers go, there's nothing that looks more romantic than a flower garland made of roses, lilies, or just plain ol' greenery. 
3. Mr. and Mrs. Name Sign
This might be the first time the bride sees her and her partner's nose together like this. If it were us, there'd be lots of tearing up—that's for sure. Make this name sign super trendy by using unique materials and colors. We'd go especially crazy for pink neon!
4. Tableware
If you thought that tableware was part of the practical elements of planning a bridal shower, then we definitely have a surprise for you. There's nothing more worthy of an Instagram shot than a decked-out tablescape. 
Fortunately, when it comes to this, you're not stuck with plain ivory plates and silver cutlery. Instead, there are tons of different colors and designs that you can try out for the bridal shower. For plate designs, we're definitely not impartial to designs like Moroccan Nights and Blush Bouquet. And, of course, when it comes to cutlery, the more gold we see, the happier we feel!
5. Candles
Candles are another one of those decorations that are fit for any bridal shower theme. You can do a few things with these.
Our favorite choice is grabbing some impressive-looking candleholders (preferably ones that match the party's theme) and putting plain ol' white candles in them. The focus is on the gorgeous candle holders and illuminating the place with a soft glow. Another option is to create table centerpieces by placing various candles in rustic lanterns.
But our favorite option for candles is giving them out as party favors. While not technically a decoration, goodie bags with candles (amongst other things) will look great laid out on a gift table. 
Showering Your Loved Ones With a Lifetime of Happiness
Although the bridal shower has some slightly sketchy origins, today there's no better way to celebrate the soon-to-be bride's love and happiness (okay, maybe the bachelorette party comes pretty close). 
If you're throwing a bridal shower for one of your loved ones, then the right decorations can take it from a casual get-together to an Instagram-worthy affair. And when it comes to creating the perfect tablescape, Sophistiplate always has your back!
Our Sources:
The Wedding Shower: A Plan of Action | The Wall Street Journal 
Wedding Q. & A. | The New York Times 
How to Arrange Flowers for an Unexpected, Wild-Looking Table | The New York Times 
---