Top 6 Brunch Table Settings That Look Amazing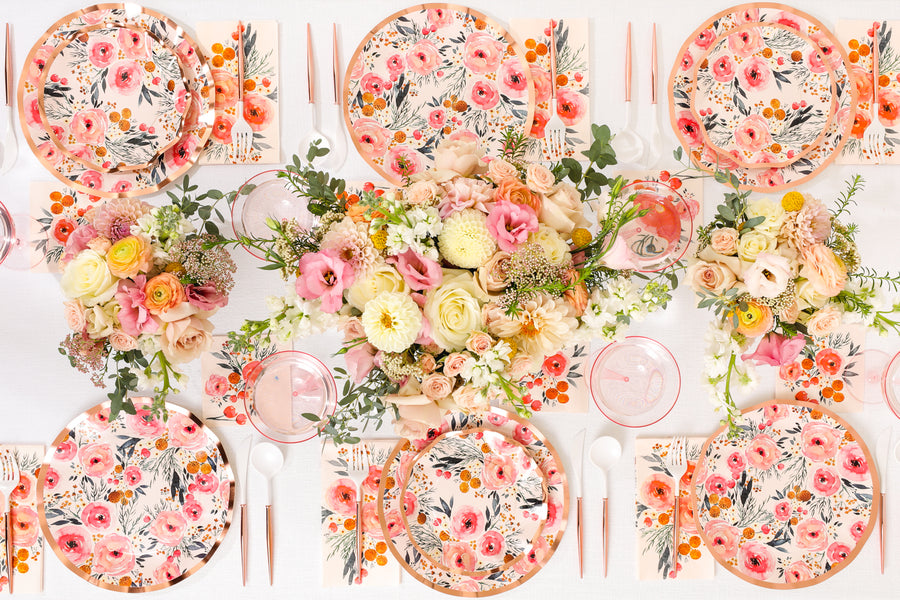 As much as we love having someone else cook for us, sometimes there's nothing better than making your own omelets, scones, and mimosas. And, of course, if you love decorating as much as we do, then choosing to host your next brunch party is a no-brainer.
Essentially, brunch parties are just like dinner parties—but with better lighting. So, once you have your venue, guest list, and menu figured out, it's important to put some serious thought into creating a picture-perfect table.
To give you some ideas, check out our guide on creating the perfect brunch tablescape along with our favorite six brunch table settings. 
The Art of the Tablescape
Although a tablescape is a serious exercise in creativity, you don't have to be an artist to create a beautiful brunch table setting. Follow these five steps for unleashing the interior designer within and creating a tablescape that will be sure to impress anyone.
Get Inspired
The perfect tablescape will be a true reflection of your personality. For that reason, spend a few minutes reflecting on which colors, patterns, and designs vibe with you. Do you love bright neon colors or are you more into soft pastels?
Do you adore all things floral or do they feel old-fashioned to you? Are there designs that you keep coming back to in your clothing, accessories, and even home décor? 
If you're having trouble coming up with answers, then do like an artist and look for inspiration elsewhere. Take a walk out in nature and notice all the textures, shapes, and colors around you. A trip to the music with lots of abstract art is another great idea. And, of course, movies can expose us to unique aesthetics we never could have imagined, such as the French Riviera, L.A. neon lights, and ancient ornamentalism. 
Pick a Backdrop
Once you have an idea of which aesthetic you want to emulate, you can start thinking about the practical details. A great place to start is with table linens. Whether it's the tablecloth, the placemats, or the napkins, pick something that you will center the rest of your tablescape around.
You can choose to keep the backdrop simple. In this case, a tablecloth in a plain color (or no tablecloth at all) can make for the perfect complement to stand-out dinnerware. On the other hand, you can choose a whimsical print and keep the rest of the tablescape simple.
Choose Your Tableware
This is where it gets fun because we love nothing more than choosing plates in all sorts of unique designs. And, of course, if you come across a gorgeous tableware set before you even decide to throw a brunch party, then you can surely center the tablescape around it.
To choose the right tableware, think about the kind of dining that your brunch party will involve. Will there be appetizers, multiple courses, and dessert? Or is it something more simple? 
Once you have an idea of your dining options, read up on some etiquette rules for choosing the right plates. Let this serve as a guide for which types of plates, cups, and cutlery you'll need for the party.
With the hard work out the way, you can now start looking around for fun tableware. Whether you want something simple or extravagant, you're sure to find the best set for you. And don't worry about being perfect; sometimes the best table settings can mix tons of different colors and patterns while still looking amazing.
Add Something Tall
Break up the composition of your tablescape by contrasting the tableware with something tall. And for brunch, you probably were already thinking of doing so. After all, who doesn't love a good flower bouquet on a bright weekend morning?
Of course, there are so many more ideas besides flowers for decorating your brunch table. For instance, a gorgeous vase that compliments your tablescape can make for an incredibly bohemian accent. While you may be tempted to fill it with something, well-designed vases can stand all on their own. 
Another idea for adding height to the brunch table can include small statuettes and pictures. While it may seem a little odd, it's all about the occasion. So, if you're throwing an Easter brunch party, then ceramic bunnies will make the perfect addition. Or if you're celebrating your parents' retirement, then photos in decorative picture frames will be totally nostalgic and appreciated by everyone.
Last but not least, candles are an absolute must for any table setting. Not only does the subtle lighting look gorgeous, but the various candle holders and lanterns that exist can be decorations in and of themselves. If you have kids at the party and want to avoid a potential fire hazard, then lamps can make for another beautiful addition to your table.  
It's All in the Details
Last but not least, think about the various small details that you can add to make your brunch table really special. For example, personalized name cards can make your guests feel extra special. 
To take it a step further, why not make some personalized glasses that your guests can take home as a keepsake? You can even be extra old-fashioned and use napkin rings with your guests' names on them. 
Our Favorite Brunch Table Settings
Even if you just devised your perfect tablescape for the next brunch party you throw, it's never a bad idea to see how others are decorating. Here are our six favorite brunch table settings that are great options for all kinds of brunch parties. 
1. Formal and Elegant
For formal brunch parties, an elegant aesthetic is a must. We prefer to keep things as sophisticated as possible with classic colors and patterns. While many options fall into this category, we're personally big fans of black, white, and gold. And when it comes to design, the preppy houndstooth and polka dot look perfectly elegant on plates. 
This table setting will pair perfectly with an arrangement of lilies, roses, and peonies. For an extra touch of sophistication, you can place well-crafted seating cards on top of each guest's plate setting.
2. Flower Garden
For the hopeless romantic in us, there exists the perfect table setting. A rosy pink and coral red floral bouquet accented with gold trim makes for the perfect tableware against a white backdrop. Decorate with a romantic floral arrangement, rose petals, white candles, and lots of string lights. 
3. Citrus Delight
From fresh-squeezed orange juice to mimosas to orange scones, citrus fruits are guaranteed to make an appearance at brunch. Celebrate all the countless variations on citrusy treats with a lemon-print table setting. 
This table setting won't only make you feel happy just by looking at it, but it will match perfectly with all kinds of unique colors. So, if you have a set of dark blue glasses at home, this is the perfect time to bring them out. 
With this table setting, the food can do all the speaking. Whether it's an assortment of pastries, pitchers filled with boozy concoctions, and heart-healthy dishes, the vibrant colors and patterns will be all the décor you need. 
4. Moroccan Nights
For a completely unique take on the brunch theme, Moroccan Nights will be the perfect table setting that your guests would never expect. Not only will this table setting look gorgeous on Instagram—especially combined with some yellow floral arrangements—but it's appropriate for virtually any brunch occasion. So, whether it's a wedding, birthday, or holiday, a Moroccan Nights table setting will be sure to impress all your guests. 
5. Casual Picnic Brunch
If the weather outside is warm, why not hold your brunch party out in the fresh air? With a picnic theme, you can use the oh-so-classic checked tablecloth along with napkins and plates in a similar design. Use decorations such as fresh sunflowers, small woven baskets, and mason jars to give off picnic vibes. 
6. Confetti Birthday Brunch
If you're throwing a surprise brunch party for a loved one's birthday, then the perfect table setting will match the party spirit perfectly. With a pink tablecloth, confetti-print tableware will look equal parts adorable, festive, and sophisticated. Add some crystal accents, balloons, and candles for a birthday your loved one will never forget.
Let There Be Brunch
If you're throwing a brunch party, then the perfect table setting will do wonders for its ambiance. Every one of us is more creative than we know. For this reason, the perfect brunch tablescape totally can and should reflect our personality. But if you ever find yourself getting stuck, then our favorite brunch table settings will be a hit for any occasion. 
Sources:
Many Ways for Artists to Find New Sources of Inspiration | Huffington Post 
Orange-Currant Scones Recipe - NYT Cooking | The New York Times 
---