4 Reasons To Use Disposable Tableware At Your Wedding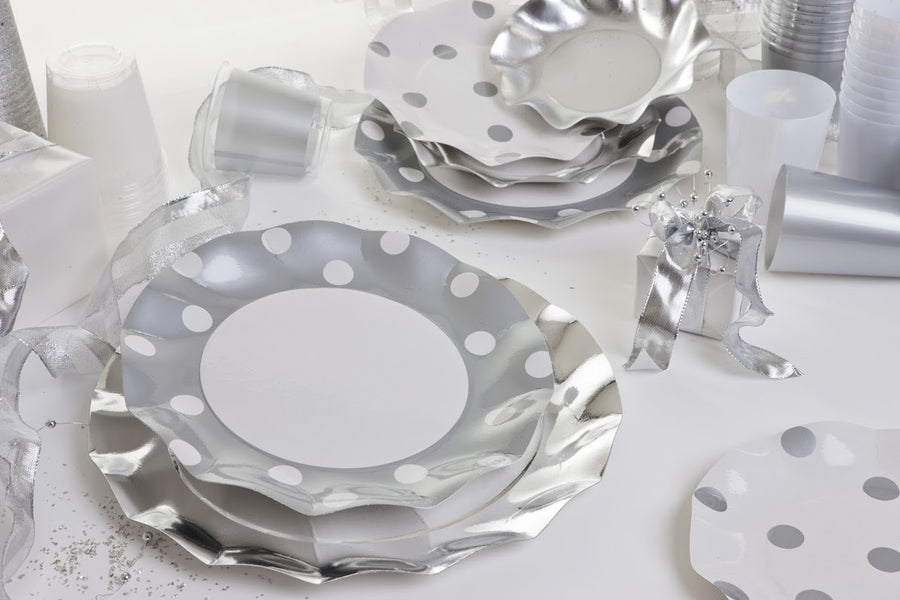 4 Reasons to Use Decorative Disposable Tableware at your Wedding 
Are you ready for the next big thing in wedding trends? It's paper plates! Wait, wait, hold on. Before you scoff at the idea, stop picturing a single-ply white paper plate like you use when you have a picnic. Unique paper plates are making a beautiful resurgence, and you won't believe where you'll see these gorgeous tableware! They're popping up all over in all sorts of wedding styles – not just the rustic, hay-bale-filled one you're wrinkling your nose at, either.
They're Totally Affordable
Renting plates, glasses and flatware gets super expensive. Each piece adds up and soon your rental fee is sky high and you don't know what went wrong. Even if you just choose to use little decorative paper plates for serving cake slices (or cupcakes) on – that's a lot of savings! Cake plates can cost up to $2.50 each for the rental fee – a designer paper plate makes a perfect and cost-effective replacement.
They're Fun and Whimsical
If you're having a spring, summer or fall wedding, your range of themes is nearly endless. So are your choices for serving meals. A recent article featuring a Packed-Lunch Picnic Wedding Reception was so unique, as was this Carnival-themed wedding. Both of these fun, casual and inspired wedding reception ideas were perfectly suited for using disposable tableware in place of breakable rental glassware and dishes. There are an endless variety of colors and styles for decorative paper plates, so you don't have to settle for boring white catering dishes!
They Go with Any Theme
The best part about using unique tableware at your wedding reception is that you can mix and match different colors and styles for an offbeat look or use all one color in a variety of shapes and sizes for a cohesive presentation. You can have a different size plate for each color in your wedding, or you can mix and match the same color family with different patterns.
They're High Class
With finishes such as pearl and metallic, guests won't believe they're paper. And the fact that you can combine a charger, dinner plate, salad plate and soup bowl as a setting makes a very dramatic display on any table. Whether you're going for a look that's boldly contemporary or one that's classically elegant, you can indeed find one-use tableware that suits your style. You'll never regret spending significantly less on something that is lovely, easy on the budget and on time, and just downright FUN!
---