Reusable Heavy Duty Plastic Cutlery for Your Next Party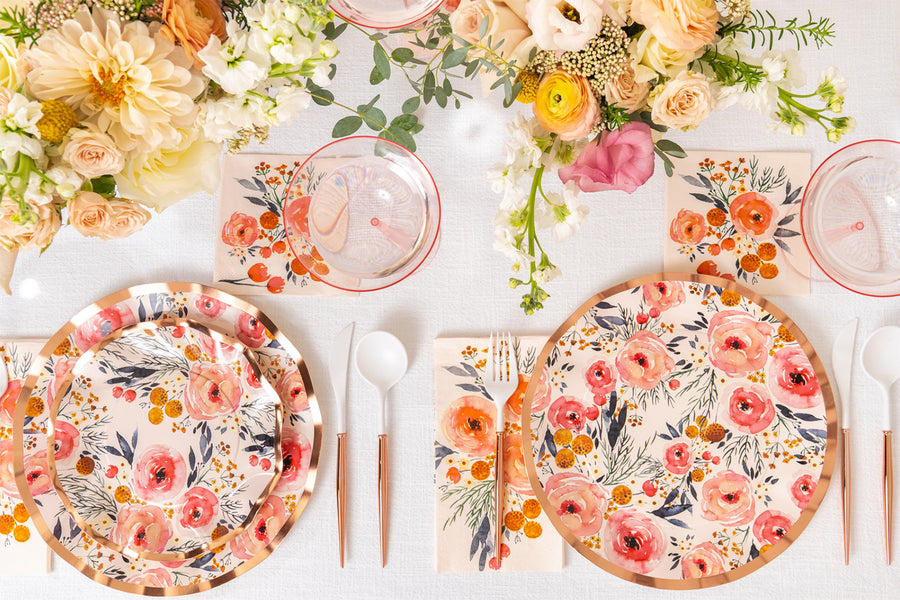 Nothing beats the joy of throwing a successful party. However, having to clean up a bunch of silverware after it can certainly put a damper on the festivities. 
For this reason, we recommend using heavy-duty plastic cutlery for your next party. Not only does our collection save you lots of cleaning time, but it looks (and feels) just like real silverware. 
Read on for everything you need to know about using plastic cutlery at your next party. 
What Are the Benefits of Reusable Heavy Duty Plastic Cutlery?
If you're using high-quality plastic cutlery, then the benefits extend beyond them being easy to clean. Here are five of the top benefits of using plastic cutlery at your next party—starting with the most important one. 
1. You Don't Have To Clean It
After you finish throwing a successful party—which is, by the way, no easy task—the last thing you want to do is collect, rinse, and wash a bunch of silverware. And, let's face it, after the pandemic, the washing part has been requiring a lot more time and effort than usual. 
With plastic cutlery, the main benefit is obvious: you can simply throw it out after your guests are finished using it. This allows you to lay out clean cutlery for each course, such as the appetizer, the entrée, and the dessert—without having to worry if everyone has a utensil to eat with every time. 
Of course, if you're using Sophistiplate's heavy-duty plastic cutlery, then there's no reason you can't reuse it. Unlike the flimsy plastic forks and knives we're traditionally used to seeing, our plastic cutlery won't bend and stain after just one use, making it perfect for multiple uses. 
2. It's More Economical
If you're throwing a party where you serve food (which, we think, is the vast majority of all parties) then you need to make sure that you have enough utensils for each course that you're serving. After all, the soup course needs different utensils than, let's say, the dessert course. 
If you're using regular silverware, then you'll need to make sure that there are enough spoons, forks, and knives of various sizes for all of your guests. (And then some!) This means that you'll either need to rent or buy enough silverware for your party, which can seriously add up. However, if you're using plastic cutlery, then you'll be saving a pretty penny—especially if you plan to reuse it. 
For this reason, we recommend using plastic cutlery if you have a large number of guests or a large number of meal courses—or both! 
3. It's More Lightweight
At a party, we'd much prefer our guests to mix-and-mingle than to be chained to their seats. After all, that's how the party comes to life! Whether it's small talk next to the bar, multiple trips to the buffet table, or busting out moves on the dancefloor, we love seeing our guests on their feet.
Of course, doing this with heavy silverware can be challenging. As such, your guests might have to choose between getting up from their seats and eating their food. Thankfully, with lightweight plastic cutlery, heaviness isn't a problem, which will allow your guests to walk around as much as they want with their plates and utensils. 
That said, we also don't want flimsy utensils that can easily break. For this reason, our plastic cutlery is manufactured with a special coating that makes them super sturdy and barely distinguishable from the real thing (while staying incredibly lightweight). 
4. It's Safer for Kids
If some of your guests are going to be on the younger side, then you'd naturally want to keep sharp objects out of their reach. We all know that forks and knives can be instantly transformed into tools for fighting imaginary battles, which can certainly put a few people on edge. For this reason, we'd avoid using metal silverware where kids are involved. 
Plastic cutlery, however, doesn't pose a safety issue. It's not heavy or sharp enough to cause any kind of damage. And although our plastic cutlery is sturdy, it won't be strong enough to injure anyone. This makes it perfect for use at parties with kids. 
By the way, airport security agrees with the safety of plastic cutlery. If you find yourself needing to bring food on your travels, you can safely bring along all the plastic cutlery you need in your carry-on bag. 
5. It Looks Much Prettier
Metal silverware tends to come in just one color—silver—which makes it quite boring for those of us with a passion for color and design. In addition, this makes it hard to match it to various party themes in which beautiful tablescapes are a must. 
With plastic cutlery, there are many more options for color and design, which makes them a much more fun and pretty option. In addition, it'll be much easier for you to match your cutlery to your party theme if you go the plastic route. 
How Can I Use Plastic Cutlery at a Party?
There are many ways that you can display plastic cutlery at a party that are equal parts cute and elegant. Here are three of our favorite ways. 
1. Lay It Out on the Table Setting
If you're throwing a multi-course dinner party, then you'd want to lay out all your flatware along with the table setting. In this case, we'd recommend following a few rules so that you can really impress your guests with your knowledge of dining etiquette. This will also give you more opportunities to take #dinnerparty Instagram snaps.  
You should have different cutlery for each course. Once you have all of this laid out, you can place it on the table in the order that it will be used. Remember, the flatware that's used first goes on the outside, while those utensils to be used last will go on the very inside. 
Because the majority of people are right-handed, the utensils that we use with the right hand—such as the knife—should go on the right side. The fork should go on the left side. To prevent cluttering, make sure that there are no more than six utensils on the table at once. 
2. Wrap It in a Napkin
Wrapping your flatware in gorgeous paper napkins is another way to add some flair to the dinner table. And it's super easy to do! Once you have acquired your napkins and plastic cutlery, follow these steps to wrapping your flatware:
Place the knife on the napkin diagonally

Stack the fork on top of it with the blade facing up

Fold the bottom corner over the end of the cutlery

Roll in one side of the napkin over the cutlery until it's completely wrapped

Keep it in place with a festive sticker
Keep in mind that while the dinner knife-and-fork combination is the most popular one, you can wrap any utensils that you wish this way. Just make sure to keep it to a minimum to prevent the napkin from ripping. Once you have all your roll-ups made, you can place them in a decorative container by the buffet table—or anywhere else you plan to serve food.  
3. Display It Next to the Buffet
If you want to keep things more low-key, then you can place your plastic cutlery in a pretty container and keep it on the buffet table. We'd recommend using something like a mason jar for a cute retro aesthetic. However, anything that will get the job done can work for setting up the display!
Our Favorite Plastic Cutlery
It never hurts to get some inspiration for the pretty cutlery you can use at your next party. Here are our favorite three options to consider using. 
Gold Bella Plastic Cutlery
Our Gold Bella Plastic Cutlery has white and golden handles, which makes it perfect for matching virtually any party theme. Whether your aesthetic is glamorous, bohemian, or casual, this flatware set will be an incredibly versatile choice. 
Blush & Gold Bella Plastic Cutlery
Our Blush & Gold Bella Plastic Cutlery is a gorgeous combination of pastel pink with gold accents. If you're throwing a party with a whimsical and romantic theme, then this flatware set will make the perfect addition. We recommend it for events that are just beginning for some pink, such as a bridal shower brunch. 
All Black Bella Plastic Cutlery
Searching for something sleek and modern? Look no further than our All-Black Bella Plastic Cutlery, which comes in a stunning matte black shade. Use it to add a contemporary aesthetic to any event. Match it with some of our favorite table settings. 
Keeping It Pretty With Sophistiplate
Our reusable plastic cutlery is the perfect addition to your next party. Not only does it free you from having to clean up when the party's over, but it can go a long way in elevating your event's aesthetic. For all your party needs, Sophistiplate's got your back. 
Our Sources:
Utensils | Transportation Security Administration 
7 Simple Rules for Setting Flatware on a Table | Etiquette Scholar 
---