Top 15 Halloween Party Decorations You Need for the Holiday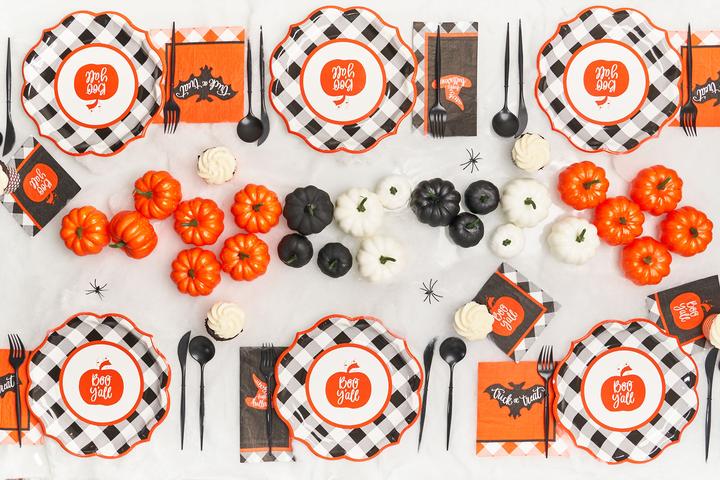 If you want to throw a stylish Halloween party, you may not be crazy about decking out your place in pumpkins, skeletons, and zombies. Thankfully, it's completely possible to throw an elegant but spooky Halloween party by putting a twist on traditional décor, food, and activities. 
To show off your good taste and impress your guests, consider playing around with color palettes, going for unique spooky decorations, getting creative with food and drinks, and picking grown-up party activities. 
Here are 15 ideas from Sophistiplate to inspire your best Halloween party yet.
1. Themed Invitations
To make a great first impression, consider getting creative with your invitations. Here are some fun ideas your guests are sure to appreciate:
You've Been Bit Zombie Invitation
Reminiscent of a zombie apocalypse movie, tell your guests they've been bit and have to quarantine at your party.
Mini-Tomb With a Skeleton
For a cute trinket that your guests can keep as a memory keepsake, send out (or hand out) small tombs with a plastic skeleton inside. You can also include a mini-scroll with the party details.
Severed Finger in a Box
If you want to get a little more grisly with your party theme, then a fake severed finger (or any body part) will surely creep out your guests and get them excited for your party.
Bottle of Poison
To set the tone for a boozy bash, send out a small bottle of a libation of choice with a "poison" label. You can add the party details to the label, too. 
2. Door Decor
Who said only the inside of your home should be decorated? Even if you don't have a front yard, you can still impress your guests and passersby with creepy and fun door decorations. 
Here are some ideas you can consider.
Quarantine Zone
The classic black-and-yellow sign that we associate with the zombie apocalypse can be pasted across your door along with some yellow caution tape.
Keep Out
Buy red decals or even use washable paint to write "keep out" on your door. For horror movie buffs, "redrum" might be another great idea for your door decor. 
String Lights
For a simple and chic door decor idea, grab some string lights with dark-colored bulbs and hang them up on your door. 
3. Flying Bats
To keep things simple (and easy to clean up), get some bat decal stickers in the size of your choice and stick them around your home. Some great places to put them include the ceiling, hallway walls, and doorways. 
4. Creepy Mirror Decor
There's a reason why mirrors are a favorite of the horror movie genre. For your Halloween party, you can play on your guests' innate fear in two ways. 
If you want to keep things as simple as possible, then grab a red lipstick and scribble phrases on random mirrors throughout your home such as "you are next," "help me," or "get out." 
If you want to get a little more elaborate, then you can even buy prop mirrors. These tend to have motion-activated sensors which set off a creepy image to appear or a scary sound to play when your guests pass by. 
5. Bright-Eyed Cat's Garland
Even though cats are definitely not the favorite pet of America, they are classic Halloween characters. Bring these fascinating creatures to your party in the form of a cat garland. You can either buy ready-made ones or make this a DIY project by gluing cat face cut-outs onto string lights. 
6. Halloween Tablescape
A beautiful table isn't just pretty to look at but can make food look and taste more appetizing. So, if you plan to serve food at your Halloween party, then consider putting together a tablescape. This will be useful whether you decide to go all out with a multi-course dinner, serve a buffet-style spread, or just put together a snack bar.
Here are some ideas you might want to incorporate in your tablescape:
Gothic tablecloth in a dark color or creepy design

Gothic candles and candle holders

Dark-colored or dead flowers
7. Spiderweb Placemats
Dark spider web placemats eerily resemble the real thing. While you can choose to keep these at the dining table, there are unlimited ways to use them as decorations. Try using them in unconventional ways, such as for candle displays, doormats, and even wall decorations.
8. Ghost Chair
Putting three holes through a white bed sheet is truly the easiest DIY costume. Bring this simplicity to your home decor by adorning a plain white sheet with holes or felt features to make it resemble a ghost. Put these on the backs of chairs for a fun seating option. 
9. Handsy Charcuterie Spread
Meat, cheese, and fruit platters are one of the most Instagrammable foods you can serve at your party. Play up the Halloween spirit by adorning a charcuterie board with plastic zombie hands to hold some of the spread.
10. Bloody Baked Treats
There's no easier way to decorate your Halloween treats than by drizzling a little fake blood on top. Make your own fake blood at home and put it on top of white-frosted baked goods such as cupcakes. 
11. Pick Your Poison Treat Bar
Create a treat bar with an assortment of savory snacks and candy. The best part about this idea is that all you need is a "pick your poison" sign that you can put next to your treat bar. If you want to add some extra oomph, then you can adorn the spread with some apothecary bottles and a bit of smoke. If you can't get your hands on a fog machine, dry ice is another great option.
12. Mad Scientist's Boozy Chemistry Lab
If you plan to have a self-serve bar, play up the mad scientist theme by putting different liquors and cocktail mixers into labeled beakers. Bonus points for keeping your libations a mix of odd colors such as neon green, dark red, and electric purple. 
13. Witch's Brew
For a classic party drink, mix a virgin or alcoholic fruit punch into a large cauldron. When your guests begin to arrive, drop a block of dry ice in the concoction to keep a creepy smoking effect going for hours. 
14. Creepy Critter Ice Cubes
There's nothing grosser than finding a critter in your cocktail. Play on this fear by freezing plastic critters such as spiders, ants, and roaches into ice cubes and serving them in an ice bucket during the party. 
15. Creepy Clown Piñata
For a fun Halloween activity, consider going with a piñata. While you can choose to go with a traditional pumpkin or ghost piñata, there's nothing creepier than staring into the face of a grinning clown. Fill your piñata with classic candy choices that your grown-up guests will definitely appreciate. 
Treats To Go
At the end of the night, there's no better way to thank your guests than by giving out gifts. Of course, candy is a classic option. If your guests are mostly adults who don't go trick-or-treating anymore, they will love getting a bag of classic candy treats. 
If you want something a little more unique, then your options are really endless. Here are some other amazing Halloween gift ideas.
A Small Bottle of Potion
This can be liquor, maple syrup, hot sauce, or even non-edibles such as hand lotion. All you have to do is stick a Halloween-inspired label on top of the bottle and you have an amazing gift ready to go. 
Apocalypse Survival Kit 
Your health-conscious friends will definitely appreciate a gift bag filled with hand sanitizer, band-aids, and protein bars. You can either make your own gift bag or buy one that's already pre-made. 
Horror Anything
Classic horror movies are a great gift for lovers of the genre. While you can't count on everyone having a DVD player, you can always gift a digital horror movie subscription. Other options include horror books and magazines. 
It's Time To Decorate
With a little creativity, it's completely possible to throw a Halloween party that's equal parts fun, creepy, and sophisticated. All it takes is to put a twist on classic Halloween decorations, food, drinks, and activities to show off your good taste. For a sophisticated Halloween party, Sophistiplate has all you need for the perfect tableware to throw your best party yet. 
Sources:
Locking Eyes with a Monster | Scientific American 
U.S. Pet Poll | National Geographic
Enhancing Food Presentation | The Culinary Institute of America 
---