Charcuterie Board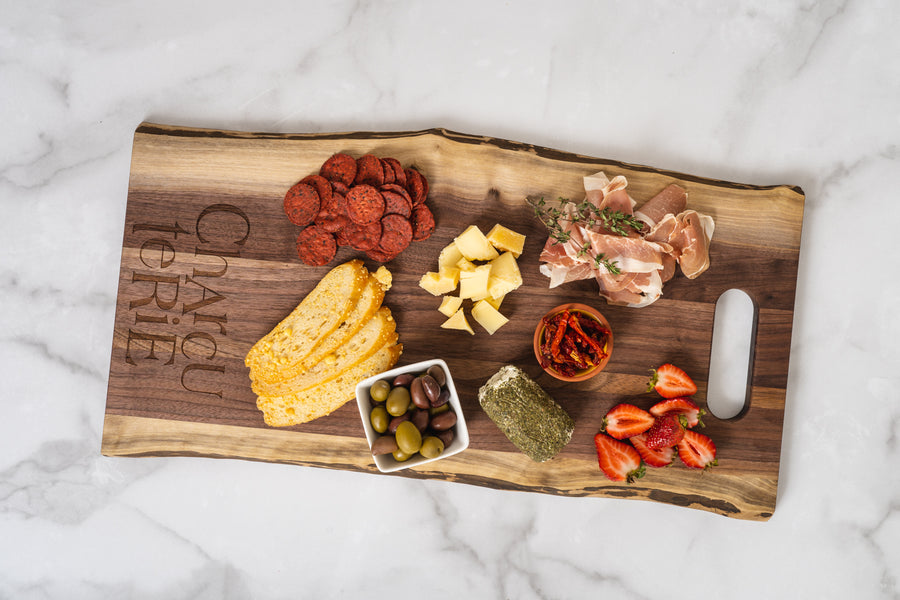 A charcuterie board is hands-down the best (and most Instagrammable) way to keep your guests well-fed. Whether you're throwing a sophisticated dinner party or a casual get-together, finding the right charcuterie board will pay off dividends. Here's our quick guide to finding the right one for you. 
What Is a Charcuterie Board?
"Charcuterie" is a French word that describes the preparation of cured meats. For this reason, a charcuterie board is centered around some type of cured meat. Of course, there's so much more to a charcuterie board than that. These days, a variety of cheeses, bread, fruits, nuts, and condiments are a must-have part of the display. 
How Do I Choose a Charcuterie Board?
Choosing the right charcuterie board is all about your needs. Here are three factors to consider when choosing your next charcuterie board.
Size
Due to the sheer number of items that make up a charcuterie board, we say bigger is better. But while three-foot-long charcuterie boards aren't uncommon, we'd go for something a little easier to store. We think that anything from 12 to 20 inches will fit everything your heart desires while looking elegant. 
Material
Charcuterie boards come in various materials. Out of them all, wood will always be our top choice. Not only does it look gorgeous, but it's 100% non-toxic, antimicrobial, and durable to the tune of decades. Oh, and it won't damage your knives if you choose to cut your meats and cheeses on it. 
Design
Although the classic charcuterie board is rectangular, that's definitely not the shape you have to choose. If you're anything like us, you'll be thrilled with the unique shapes that charcuterie boards come in. 
And while nothing beats the appearance of clean wood, an engraving always adds a nice touch. Anything from a funny saying to a beautiful picture to a personalized message will go a long way in reflecting your good taste.
Can I Use a Cutting Board Instead?
Since you'll probably be serving your charcuterie board during a gathering, you'll want to avoid using your cutting board. Because of all the knife action that your cutting board gets, it might develop some nicks and cuts—not something you want to display. For this reason, we recommend investing in a separate wooden board just for those special occasions. 
What Goes on a Charcuterie Board?
Although there are no rules for making this party favorite, we have a few suggestions to get you started. 
To make your charcuterie board, start with a variety of cured meats—these will be the centerpiece of your display. This could be ham, salami, prosciutto, and everything else that your heart desires. If you wish, you can even sub out cured meats with smoked seafood. 
Once you have that down, you can really get creative. While you definitely need some sliced baguette and a few types of cheese, the rest is really up to you. Dried figs, fresh apricots, raw honey, and stuffed olives are just some of our favorite ideas to get you going. 
Here's to the Prettiest Charcuterie Board
Elevate your next gathering with a premium charcuterie board from Sophistiplate. With a variety of shapes, sizes, and designs, we have the perfect charcuterie board for your needs and your great taste!
Our Sources: 
Testing the Antimicrobial Characteristics of Wood Materials: A Review of Methods | NCBI
Charcuterie Board Recipe - NYT Cooking  | The New York Times
Bringing Seafood Charcuterie to the Table | The New York Times 
---