10 Different Styles of Baking Cups 2021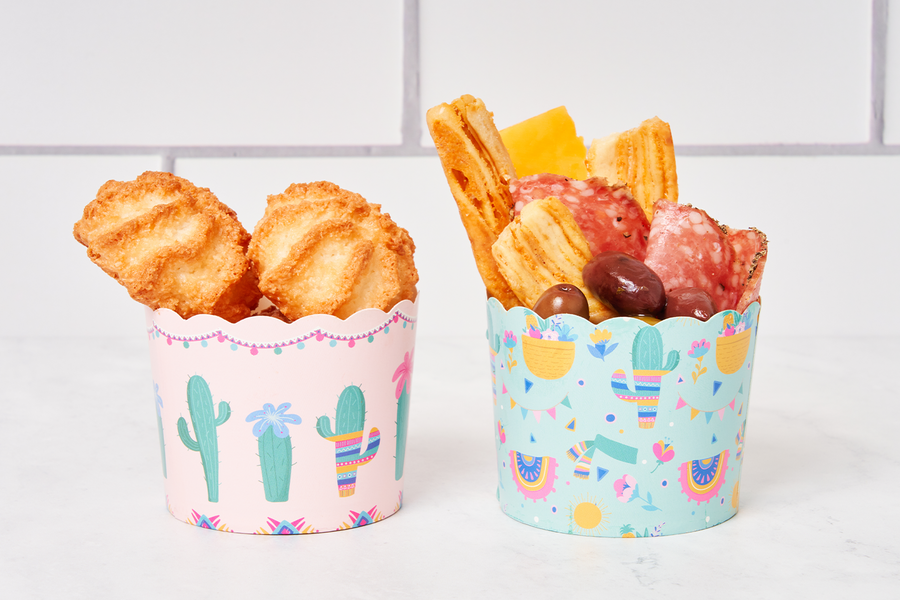 While you can find dozens of different uses for baking cups, when it comes to their designs, that number grows exponentially. To make things easier for you, here are 10 of our favorite styles of baking cups—along with some yummy ideas for using them. 
What Are Baking Cups?
Cupcake liners, muffin papers, baking cups... There's no shortage of names when it comes to this versatile kitchen tool. 
In their most basic form, baking cups are used to line muffin tins so that the baked goods don't stick to the aluminum. While that's their most common use, baking cups come in all shapes and forms.
If the word "paper" conjures up images of flimsy cupcake liners that can't hold their shape, not to worry! Today's paper baking cups are made out of a sturdy paper material that stands up on its own, holds (mostly) everything you put in it, and doesn't leak. 
Aside from paper, other options for baking cups include silicone and ceramic. While ceramic baking cups are reserved mostly for fancy desserts such as soufflė, silicone ones are another great multi-purpose option. 
With that being said, because paper baking cups are disposable, biodegradable, and don't need to be cleaned at the end of the day, they're a clear winner in our book. 
What Are Baking Cups Used For?
We won't bore you by telling you more about using baking cups to make muffins and cupcakes. Fortunately, that's not all baking cups are good for. Here are some unique ideas for what you can do with these handy kitchen tools.
Make Other Baked Treats
While we love a good cupcake, there are so many more things to bake in baking cups. Even though there are hundreds of ideas for this, we keep coming back to the same five recipes that we think you might enjoy yourself.
Cornbread: Is there a more classic baked good to serve at a backyard BBQ? And this time, there's no need to use a whole baking tray. Just use your favorite cornbread recipe and pour the batter into your baking cups of choice. Once they're done baking, serve them exactly as they are—no cutting or plating required. 
Egg Bites: For a quick, easy, and (if you want it to be) healthy breakfast, egg bites are a perfect choice. Just like an omelet but in a cute baking cup, these bites can be whipped up with your favorite fillings (we'll take mushrooms and swiss cheese, please!) and the perfect ratio of whole eggs to egg whites. For extra convenience, they can be stored in the fridge for up to a week and heated in the microwave whenever hunger strikes.
Meatballs: For a super innovative way to present these party favorites, mix some ground meat with breadcrumbs, spices, and parmesan cheese, and roll into a ball. Put the meatball into a baking cup of your choice and bake until browned. You can even pour marinara sauce right into the baking cup to add some creaminess. Oh, and don't forget to serve them with some food picks for easy snacking!
Focaccia Bread: Who doesn't love a good loaf of focaccia bread served with dinner? This time, nix the whole loaf in favor of individual-sized portions. To make this, all you have to do is put a small piece of pizza dough into a baking cup and top it with your favorite focaccia ingredients. For us, that's tomato, pesto, and rosemary, but if you think of this as a pizza dish, you can get as creative as you want. 
Mac & Cheese Cups: If there's one snack that's guaranteed to be a hit with adults and kids alike, it's creamy mac & cheese. Baking this comfort food classic will really give it a crispy top and help the flavors come out. The best part is that you can add toppings of all kinds to this treat: think pulled pork, truffle oil, and, of course, let's not forget the veggies! 
Make Ice Cream Sundaes
Who doesn't love a good ice cream sundae bar? If you're throwing a party, this will make the perfect dessert for guests with all kinds of dietary preferences. To make things extra pretty, use colorful baking cups (hopefully in the largest size you can find) to serve the ice cream and to let your guests play around with different toppings.
And if you're not throwing a party anytime soon, you can still use baking cups to make an ice cream sundae at home. With the right design, your ice cream sundaes will look that much prettier on Instagram. 
Use Them as Serving Cups
Okay, we get that an ice cream sundae bar is kind of a lot of work. If you want to keep things hassle-free at your next party, then snack bars will be just as impressive. Whether it's chips, popcorn, or cookies, you can use paper baking cups for serving individual-sized snacks.
Dipping Cups
When we think of communal-style dining, we sometimes wish things were a little more sanitary when it came to condiments. Well, small baking cups are a cute solution to the problem. 
Next time you're serving something that requires dipping sauces, just make ready-made dipping cups ahead of time. Whether it's ranch, ketchup, barbecue sauce, or salad dressing, sturdy paper baking cups will hold up to the greasiest sauces. 
Preparing Cooking Ingredients
Any home chef knows the number of ingredients that go into even the simplest of dishes. Running between your fridge and cupboard every time you cook can get tiring, but who wants to invest in a ton of ramekins for preparing ingredients?
For this reason, we're huge fans of using paper baking cups to lay out everything we need to cook a meal. Whether it's melted butter, dozens of dry spices, or chopped-up produce, baking cups can help you make the perfect mise en place.  
Different Styles of Baking Cups
Now that we've looked at the different uses of baking cups, let's take a glance at what some of them might look like. While there are countless variations, here are 10 of our favorite baking cup styles. 
Baking Cups by Size
1. Petite: These small baking cups are incredibly cute at 1 ¾" inches in height with a two-ounce capacity. While baking muffins in these can present a challenge, they're great for making Jell-O shots, serving condiments, and even making your own chocolate peanut butter cups. 
2. Large: This is pretty much the standard size for baking cups. They are slightly taller than 2" inches and have a holding capacity of five ounces. 
3. Jumbo: The largest of all, these baking cups are taller than 3" inches and can be used for serving treats that we like in large amounts (such as ice cream and popcorn). 
Baking Cups by Shape
4. Standard: This is the shape we're most used to seeing in stores. With a scalloped shape, these baking cups create baked goods with a simple and elegant appearance.
5. Wavy Top: With a wavy rim, these baking cups take it one step up in creativity while maintaining their classic look. If your baked treats are the star of the show, this option will be the perfect compliment to them. 
6. Tulip: These baking cups have four triangular edges that give them the appearance of this popular flower. They're not only incredibly pretty but make the perfect option for serving snacks that have a tendency to fall out of the cup—popcorn being the prime example.
7. Novelty: If you're feeling more adventurous, there are plenty of other shapes to consider. Options such as heart, star, and flower shapes are cute for any purpose but are especially great options for making your own chocolate. 
Baking Cups by Design
8. Unique Color: There's no reason to stick to plain white baking cups with the variety of colors available today. If you want something glitzy for a New Year's Eve bash, then metallic is the way to go. Throwing a garden party? Pastels are the perfect choice for you. For those of us with a bit of a dark side, there are even black baking cupcakes available. 
9. Patterned: There is no shortage of unique patterns when it comes to baking cups. We're personally big fans of pretty florals, preppy gingham, and stunning Moroccan-inspired prints. But the sky is truly the limit when it comes to designing paper baking cups. 
10. Holiday-Themed  If you're serving up treats during a holiday, then you want to get into the spirit as much as you can. Luckily, holiday baking cups allow you to do that seamlessly. Whether it's Halloween, St. Paddy's Day, or the Fourth of July, you'll always have a way to be extra festive. 
Happy Baking!
We hope you're also starting to agree that baking cups are super versatile. Even if you're not a cupcake person, you can find dozens of different uses for them. We hope this guide inspired some ideas for using baking cups and wish you lots of fun in your baking adventures!
Sources:
Eggplant Focaccia with Ricotta and Olives - NYT Cooking | The New York Times
Chocolate Peanut Butter Cups  Recipe - NYT Cooking | The New York Times 
What Is Mise en Place? Here's What It Means for Baking | Southern Living
---