Mom's Corn Bread Muffins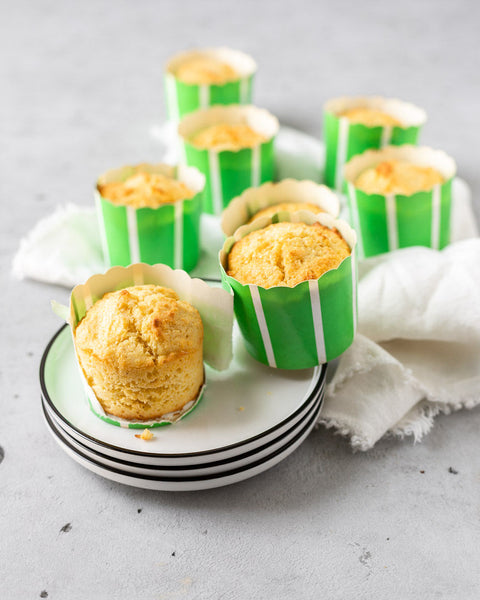 Mom's Corn Bread Muffins
Servings: 8 muffins Prep Time: 10 minutes Bake Time: 25 minutes
Fall is here and there's nothing we love more than dishes like cornbread with a hot cup of chili, warm honey butter, or with pretty much anything. This corn bread recipe is my Mom's, and always a favorite at our family Thanksgiving. These can be made in a loaf pan or cast iron skillet, but also bake perfectly in our pre-greased paper baking cups. We chose to go with the large cup size this time, but you can use our small, large, or jumbo! Just fill the paper cup with batter halfway and you're good to go! 
Ingredients you'll need: 
1 ¼ cup cornmeal

1 cup all-purpose flour

1 teaspoon baking powder

½ teaspoon baking soda

⅓ cup granulated sugar

½ teaspoon salt

1 cup buttermilk

1 stick unsalted butter, melted and cooled

1 large egg
 Instructions
Preheat your oven to 400 degrees (F). Place 8 Simply Baked baking cups on a sheet pan. Set aside.

In a medium bowl combine the cornmeal, flour, baking powder, baking soda, sugar, and salt. Whisk until fully combined.

In another medium bowl combine the buttermilk, cooled butter, and egg. Whisk until fully combined.

Pour the wet ingredients into the dry ingredients. Use a rubber spatula to fold the ingredients together until just combined.

Divide the batter evenly between each of the cups.

Place the sheet pan in the oven and bake for 20-25 minutes or until a toothpick inserted into the center comes out with only a few moist crumbs.

Remove from oven and allow to cool slightly before serving.
---