Top 25 Best Cutting Board Designs You'll Love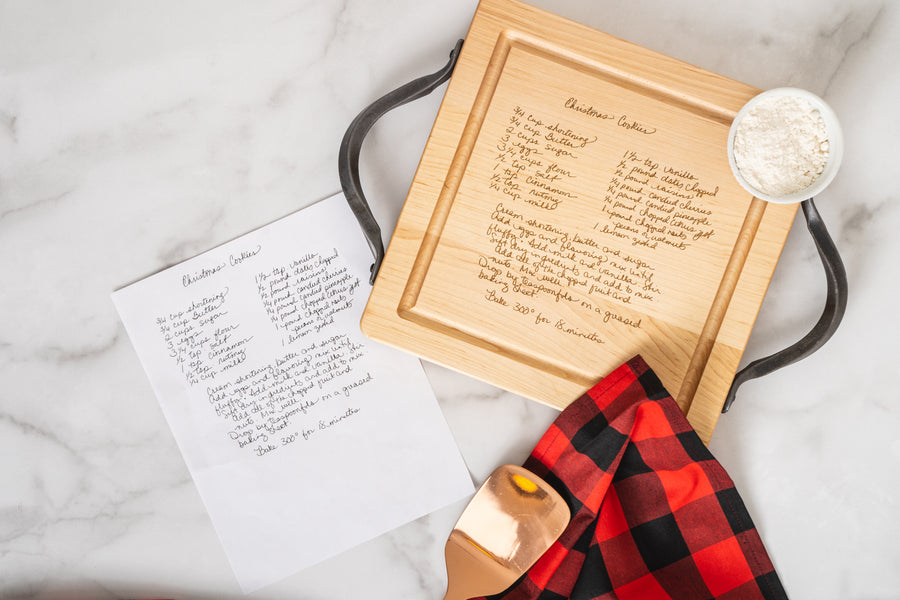 Although we all know the importance of choosing a high-quality cutting board that will last you for ages, focusing on just the functional features can get a little boring. 
Thankfully, our choices are not confined to a plain cutting block. With the many design options available to us today, shopping for a new cutting board can be truly a fun experience. 
Check out 25 of our favorite cutting board designs to get you started. 
Our Favorite Designs
When it comes to design, some words that come to mind are floral, checkered, or polka dot. While we wouldn't mind having a cutting board adorned with flowers, there's so much more to consider when choosing a cutting board design. Here are some options to consider.
Shape
Square/Rectangular: This is a classic cutting board shape that will probably be the option you're most likely to find. And it's so popular for a reason! A rectangular cutting board gives you the most surface area for prepping your ingredients, is easy to store, and makes transferring chopped-up produce a breeze. 
Round: Round cutting boards are a unique option that can spruce up your kitchen aesthetic. While they may not be the most comfortable type of cutting board when it comes to transferring ingredients, they do make for a pretty charcuterie display.
Oblong: An oblong cutting board can be either rectangular or oval, but what separates it from the classic shapes is its length-to-width ratio. Although it's not our top pick for chopping, dicing, and mincing, it does double as a gorgeous serving platter. For this reason, many oblong cutting boards come with attached handles.
Paddle-Shaped: If you're a fan of homemade pizza, a round cutting board with a long handle can double as a pizza peel. But if you prefer to leave pizza-making up to the professionals, then a paddle-shaped cutting board still makes for a pretty option that you can proudly display on your wall. 
Novelty: Fortunately, there is no shortage of shapes when it comes to novelty-shaped cutting boards. While they're still functional, these cutting boards are meant to be cute, which can mean shapes resembling a cute piglet, your home state, or even a bottle of wine. The options are endless with this type of cutting board. 
Size
Small: A small cutting board will be about 10 inches in length, which is certainly not enough for chopping up large quantities of meats and veggies. But when it comes to ingredients you need in small amounts, such as garlic, then a small cutting board is a perfect size. It minimizes the amount of cutting board you have to wash after and just feels right. 
Standard: A standard cutting board will be about 18 inches long, which makes it the perfect size for preparing home-cooked meals. While it's not as easy to store as a small cutting board, the standard size will certainly not give you any problems when it's time to put your cutting board away. 
Large: Anything longer than 22 inches is considered a pretty large cutting board. If you're the type to cut up all your ingredients all at once, then you'll definitely want the extra surface area provided by a large cutting board. 
Thin: Certain materials, such as plastic and rubber, tend to make for thin cutting boards. They will typically be under one inch in thickness. While it's all about what you prefer, some chefs may find this type of cutting board a tad bit flimsy. 
Thick: Most wood cutting boards fall under this category. They are usually two inches thick, which makes for a heavy and sturdy board that's up for any challenge. 
Material
Wood: For centuries, wood has been the prime choice for cutting board materials. Thanks to its naturally self-healing and antiseptic properties, wood makes for a hygienic and durable cutting board. While thousands of tree species abound, we're personally big fans of maple and walnut wood.
Plastic: We now know that plastic cutting boards are not the most hygienic option. With that being said, there are still a few reasons to get your hands on one. Plastic cutting boards come in a variety of trendy colors, they can be thrown in the dishwasher, and they're pretty inexpensive to boot. 
Silicone: Made from a type of rubber, silicone cutting boards are known for being extremely flexible. This makes them very easy on your knives—which we know can dull easily when used with hard materials. Some silicone options can even fold, which makes it easier to transfer chopped-up produce from the cutting board to the pot. 
Marble: White marble is an exquisite material that has long been a favorite of classical artists. Without a doubt, it would look absolutely gorgeous on your kitchen countertop. With that being said, there is a reason you don't commonly see marble cutting boards on cooking shows. It's because marble is harder than the steel your knives are made from. So, if you value your knives, then a marble cutting board should be used for display purposes only.  
Glass: Glass is another beautiful material for a cutting board that looks and feels uniquely modern. Plus, the type of glass cutting boards are made from— tempered glass—won't shatter into pieces all over your kitchen floor. But for the same reason as marble, glass cutting boards should be avoided to extend the life of your knives. 
Color
Natural Wood: Mother Nature really outdid herself with the gorgeous aesthetic of natural wood. Whether you're looking for a creamy white that Maplewood provides, a sleek chocolate brown synonymous with walnut wood, or a modern ashy grey, there's a natural wood option for you. 
Matte Black: Sometimes, the ingredients you prep with (we're looking at you, beets!) can leave a nasty stain on your cutting board. To prevent this from happening, it's best to stick to darker colors. And what's darker than matte black? Not only is black a modern color, but a matte finish can make it look extra trendy. 
Bright Neons: We appreciate color-coded cutting boards, but the standard greens, reds, and yellows can look a bit outdated. Spruce it up with neons that are sure to bring a smile to your face every time you cook. 
Abstract Prints: When it comes to cutting boards, there's no shortage of available abstract prints. So, if you can imagine it, you can probably find it (please excuse us while we go look for a cheetah print cutting board).
Personalized: If you have an idea for a cutting board design that no one has thought of before you, then you can absolutely make it a possibility. Whether it's a name engraving, a funny saying, or an inspirational quote, there are no limits to the cutting board that you can design. 
Extra Features
Electronic Attachment: Some cutting boards come with a built-in stand for your phone, tablet, or reading device. If you're the type to want to follow a recipe word-for-word while you cook, this cutting board will make your life that much easier. 
Built-in Colander: Reduce the number of trips you have to make between the sink and kitchen counter by getting a cutting board that you can place over the sink. The built-in colander makes it simple to wash your veggies and start cutting them up right away. 
Garbage Disposal: Since we're on the theme of staying in one place while doing your cooking prep, another extremely useful attachment is a garbage disposal. Simply slide out the built-in compartment at the bottom of the board and discard anything you won't need for the dish. 
Storage Containers: For elaborate meals requiring dozens of ingredients, some cutting boards even come with slide-out containers for storing what you need to cook a particular dish. If you want to avoid laying out tons of bowls, this type of cutting board will be incredibly useful. 
Knife Sharpener: If you're anything like us, you may find yourself cutting with a dull knife only to realize that it hasn't been sharpened in months! To serve as a constant reminder, a knife sharpener built into your cutting board can make prepping ingredients a breeze. 
Should I Get More Than One Cutting Board?
Going over all these great options can give you some serious cutting board envy if you only end up getting one. 
For this reason, we recommend investing in one high-quality cutting board made out of natural wood and in one fun choice that may not last you as long but be a blast to use. If you work with meat often, then a smaller cutting board will be easy to wash and keep separate from your other ingredients. 
What Else Can I Use a Cutting Board For?
Just because it's called a cutting board doesn't mean that cutting is all it's good for. 
A beautiful cutting board can be used to serve food, such as a charcuterie spread, fresh fruits and veggies, pastries, and, come to think of it, almost anything edible. 
We're also fans of doubling down on its use as a cutting board and pizza peel. And, If all else fails, a beautiful cutting board makes for some amazing kitchen décor.   
Happy Hunting!
We hope our favorite cutting board designs have given you some ideas that you absolutely love. For more designs, check out our selection of premium cutting boards that are guaranteed to last you a lifetime. 
Sources:
Plastic Cutting Boards May Be Riskier Than Wooden Ones | The Chicago Tribune 
The RIght Cutting Board Can Keep Your Knives Sharper | The New York Times
The Durability and Translucency of Marble, a Popular Sculpture Medium | Spoken Vision
---