Top 5 Halloween Paper Plates for Your Next Party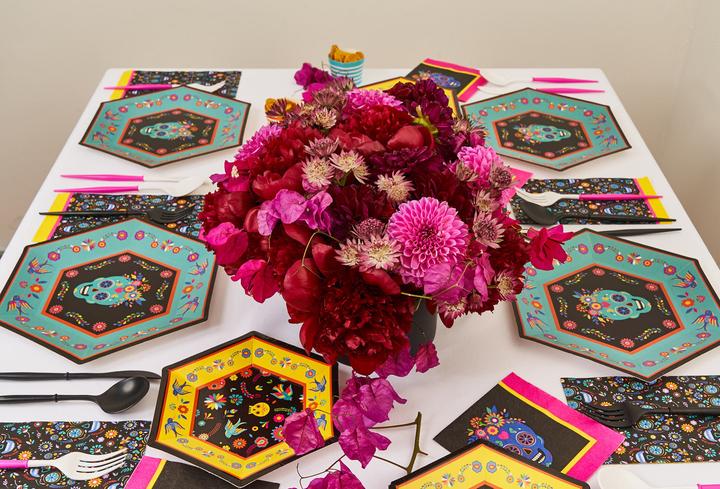 Serving food at your next Halloween party is something your guests are sure to appreciate. Whether it's an assortment of tapas-style bites, an elaborate dinner buffet, or a Halloween-themed dessert bar, you're sure to find the perfect ideas for your party. 
And while food is always the star of the show, the paper plates you use can definitely make an impact on the whole dining experience. So, to help you decide on the best recipes for your next party, as well as which plates to serve them on, Sophistiplate has created this brief guide. Read on for your best Halloween party yet!
Should I Serve Food at My Halloween Party?
While boozy drinks and sweet treats are non-negotiable, you may be wondering if serving food at your Halloween party is really necessary. Although not an absolute must, food can definitely add an elevated touch to your Halloween party. 
Instead of the usual display of candy, your guests will surely appreciate some savory bites to go with their cocktails. Plus, if you plan on serving snacks, appetizers, and even entrees, then you'll have that many more opportunities to get creative and show your Halloween spirit. 
What Kind of Food Should I Serve at My Halloween Party?
The kind of food you choose to serve really depends on your Halloween party theme. 
If you're going for a classic Halloween party theme—themes like a zombie apocalypse, haunted house, or pumpkin festival come to mind—then a buffet-style display is the best way to serve up some grub. We think that putting a creepy theme on classic party dishes like hot dogs, pizza, and even spaghetti and meatballs is the perfect way to do Halloween food.  
If your party is more about boozing it up and dancing, then it's a good idea to skip heavy meals in favor of lighter finger foods. Halloween-themed hors d'oeuvres such as pigs-in-a-blanket, deviled eggs, and bacon-wrapped anything—coupled with some food picks for easy snacking—are all stellar options.
And, of course, if you want to be ultra-sophisticated this Halloween and throw a grown-up dinner party, then you'll have even more dishes to play around with. In addition to Halloween-inspired craft cocktails, you can serve multiple courses. Whether it's a roasted pumpkin soup, black squid ink pasta, or candied red apples, you can really let your culinary creativity shine through. 
Our Favorite Halloween Recipes
Regardless of the type of party you choose to throw, putting a Halloween spin on classic dishes is a ton of fun. Here are some of our favorite Halloween recipes to inspire your own culinary adventures.
Appetizers
Graveyard Dip: Whether you prefer spinach artichoke, black bean, or just plain ol' hummus, you can recreate creepy graveyard vibes with this dish. Simply take a large bowl and fill it with your dip of choice (bonus points if it's a dark color). To create tiny tombstones, cut pita bread into oval shapes, toast them up, and stick them into the dip. This will make your dip look like a cemetery in no time. 
Bite-Sized Eyeballs: This recipe is so great because it can be used with pretty much any base ingredient. Whether you want to make mini pizzas, meatballs, or even grilled veggies, it's possible to make them look like creepy eyeballs. Our favorite take on this dish is the classic mini pizza topped with round slices of mozzarella and black olives.
Creepy Quesadilla: This is a super easy dish that can be made with any yummy filling that you choose. All you have to do is grab one tortilla and fill it with all the cheeses, meats, and sauces your heart desires. Then grab another tortilla and cut out the shape of a skull, ghost, or jack-o-lantern. Put the tortilla on top of the other and throw it in the oven until it's hot and crispy. Easiest meal we've ever cooked!
Main Courses
Stuffed Pepper Jack-O-Lanterns: The biggest selling point of this dish is that it can be made super healthy, which is great for balancing out all the candy we tend to eat on Halloween. To make it, all you need is an orange bell pepper and a stuffing of your choice. Ground beef is always a solid option, but it'll work well with virtually anything! Simply cut the bell pepper into the shape of a jack-o-lantern, stuff it with the filling, and bake in the oven until the pepper is tender. 
Monster Burgers: This dish is super versatile because it can be made with any kind of patty, toppings, and sauce. To make it, prepare a burger as you normally would and deck it out in Halloween-inspired toppings. Slather on ketchup to make it look like dripping blood, cut up some cheese slices to look like teeth, and top it off with "eyeball" olives. 
Cauliflower Brain: To make this dish, all you need is cauliflower and a few sauces in several colors. We recommend topping the cauliflower off with a spicy red sauce to look like blood and a creamy cheese sauce with breadcrumbs. Aside from preparing the sauces, all you have to do is bake the cauliflower in time for the party, making it a very low-hassle dish.
Desserts
Bloody Cupcakes: Truly one of the easiest desserts to make in the Halloween spirit, all you need to do is to frost some cupcakes with white cream and drizzle a red-colored syrup on top. Perfectly creepy and perfectly yummy! Don't forget baking cups to complete the look.
Poison Apples: A classic treat, candied apples can be made with any type of dip. Some tried-and-true choices include caramel, red candy, and, for extra creepy vibes, dark chocolate. Top it off with some toppings like crushed peanuts, shredded coconut, and crumbled cookies.
Moss Cookies: An unexpected Halloween treat, these cookies are made with crumbly graham crackers and a green-colored frosting that look like moss. As for the best part, any type of cookie—oreo, sugar, and chocolate chip—will do the trick. 
What Are the Different Types of Plates I Need?
While there are tons of different plates for all types of dining, a Halloween party with food will only need three types of plates.
If you're serving finger foods, then the appetizer plate is an absolute must. It measures about 6" inches across, which makes it look super easy to carry around. Plus, with smaller bites, the plate will look like it's filled with food. 
For main courses, the dinner plate is a must. It's about 10 inches in size and can accommodate hefty meals. If you plan to serve entrees at your Halloween party, then you'll need dinner plates in addition to appetizer plates.
And last but definitely not least on Halloween night, dessert plates will be used for the many treats your guests will indulge in. Whether it's candy, mini pastries, or even a slice of cake, dessert plates are the perfect size for Halloween sweets. 
Top 5 Halloween Paper Plates
Now that we have some food ideas for your big night and the types of plates you'll need, here are some of our favorite paper plates that will be perfect for any Halloween party.
1. Boo Y'all Paper Dinner Plate
Nothing screams Halloween more than an orange pumpkin coupled with a black-and-white checkered pattern. For a fun (and kid-friendly) Halloween plate design, this is a perfect choice. 
2. Satin Silver Wavy Appetizer Bowl 
If you want to get something that you can use beyond Halloween, then this silver appetizer bowl is a perfect choice. It's useful and versatile enough to be used for virtually any occasion. 
3. Blanc & Noir Wavy Paper Dinner Plate
If you're throwing an elegant dinner party but still want to show your Halloween spirit, then there's nothing better than sticking to classic prints and dark colors. This gingham print plate is adorned in black, white, and gold accents, making it the perfect addition to a grown-up Halloween party. 
4. Large Paper Baking Cup
While this isn't technically a plate, it can certainly serve as one come Halloween night. Whether you use it to serve popcorn, an assortment of candy, or even a hefty dinner dish, this baking cup can double as a perfectly cute and sturdy bowl. 
5. Day of the Dead Paper Dinner Plate 
Day of the Dead is one of the most instantly recognizable holidays. And while it's not exactly the same as Halloween, it celebrates the passing of the dead into the afterlife with food, booze, and music. Plus, the happy skulls and bright colors of this plate make it super Instagrammable for your next party. 
Time To Get Spooky
If you're serving food on Halloween, then getting creative with spooky recipes is only half the fun. For the perfect plates to show off your culinary creations, Sophistiplate has everything you need for your next Halloween party. 
Sources:
Wowing 'Em with Black Pasta Flavored by a Hint of the Sea | The New York Times
Dishing the Dirt on Halloween Candy Consumption | Forbes
---