18 Innovative New Year's Eve Dinner Ideas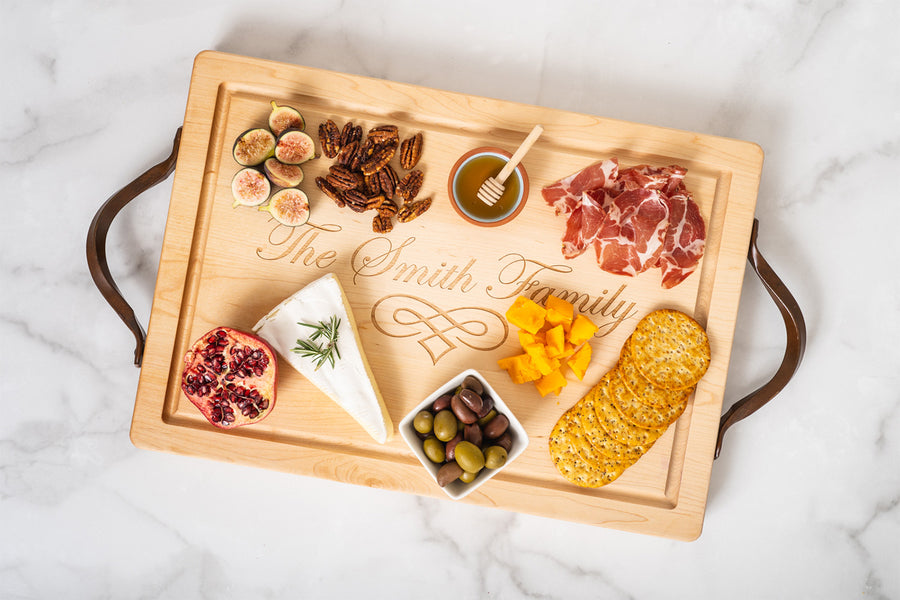 With the year that 2020 has been, we're long overdue for an extravagant New Year's Eve party. And to keep things ultra-sophisticated, there's nothing we love more than a good dinner party. 
To make your dinner party your most extravagant one yet, here's a guide from us with some of our most innovative New Year's Eve dinner ideas. 
How To Plan a New Year's Eve Dinner
It definitely takes a bit of planning and preparing to throw an extravagant New Year's Eve dinner party. But there are things you can do to make the process as seamless as possible. Here are five of our favorite party tips to make your New Year's Eve dinner a success. 
1. Pick a Theme
Although it's not technically necessary, picking a theme will be the glue that holds everything together—from the décor to the dress code to the dinner menu. For this reason, we'd dedicate some time to thinking about which themes you love. 
To give you some ideas, here are three of our favorite New Year's Eve themes.
Great Gatsby Bash

: Great Gatsby brings to mind

gilded gold accents

, feather centerpieces, art deco design, flapper dresses, and most importantly, towers of champagne. These are all the elements that will make a stunning

New Year's Eve

dinner party. 
Disco Dance Party

: If you want to incorporate a little music and dancing into your

New Year's Eve

dinner, then a disco party theme will blend these elements perfectly. For this theme, decorate your space with silver accents, neon lights, and a disco ball. You can even ask your guests to come dressed in their best disco night attire, ready to bust some moves. 
Ball Masquerade

: Few themes are as elegant as a ball masquerade. For an ultra-sophisticated aesthetic, ask your guests to come dressed in their best formal attire with an ornamental mask to match.
2. Invite the Right People
Whether you want this to be an intimate dinner with your loved ones or an all-out bash with everyone you know, it's truly the people that make the party. Try to have at least a few guests who are social butterflies and will bring life to the party atmosphere. And since New Year's Eve isn't exactly a family holiday, don't feel obligated to invite all of your relatives (unless you would love to celebrate with them!). 
3. Choose Some Fun Activities
Time flies by when you're surrounded by friends. That said, have a few backup activities to get the ball rolling. Aside from watching the ball drop on New Year's Eve, some dinner party activities include sharing and guessing New Year's resolutions, playing charades, and—our favorite—singing our hearts out in karaoke. 
4. Make Sure There's Plenty To Drink
New Year's Eve is synonymous with champagne (amongst many other cocktails). For this reason, make sure that there are enough boozy drinks so that everyone can drink to their heart's content. 
5. Craft a Menu
Because it is, after all, a New Year's Eve dinner party, the food and flavor will be the center of attention. We would take some time to plan out the starters, main courses, and desserts and to make sure that they reflect your taste and culinary skills. 
And since it's the New Year, it's not a bad idea for the menu to be as extravagant as possible. To us, there's no such thing as "over-the-top" on New Year's Eve!
Innovative New Year's Eve Dinner Ideas
As much as it is about looking forward to a bright future, a New Year's Eve dinner is about the delicious food that will grace the dining table. For this reason, dishes that wow your guests will go a long way in elevating your celebration. Here are some of our favorite dinner ideas that will make your New Year's Eve an exquisite experience for the senses.
Cocktails
Cocktails are front and center at every New Year's Eve celebration. Here are some ideas for your dinner party libations:
Champagne Anything

: Champagne is part of a

long tradition

that stretches back thousands of years. While a glass bubbly in a

champagne flute

is a classic, we'd take it a step further by serving

champagne cocktails

. We're thinking classic

cocktails

topped off with champagne, champagne Jell-O shots, and plain ol' bubbly with fun additions like edible glitter. 
Full Bar

: If you'd rather leave the bartending to someone else, then we totally recommend hiring a professional bartender to serve any

cocktails

your guests can think of. If that's not an option, then a fully-stocked bar that your guests can play around with is another great idea.
Wine Pairing

: If you're a true wine aficionado, then you'll be ecstatic to know that you can serve this beverage all night long. We'd start the evening with crisp whites wines, offer some rich reds to pair with food during dinner, and finish off with a glass of

sweet

moscato. 
Appetizers
Appetizers are the first impression that your guests will get of your New Year's Eve dinner. Here are some ideas guaranteed to wow them.
Cheese Fondue

: We can't think of many things that are more delicious than melted

cheese

. Serve a

cheese

fondue

pot

alongside cubed French bread, bite-sized pieces of

tender

steak

, and various roasted

vegetables

—along with some

pretty food picks

—for a fun and decadent treat. 
Charcuterie Board

: With the thousands of varieties of cured meats and

cheeses

, we can't think of a better way to have an around-the-world culinary experience than a charcuterie board. Lay out your favorite meats,

cheeses

, breads or

garlic

bread, and spreads on a

gorgeous charcuterie board

. Drizzle

olive oil

where appropriate, and don't forget to take lots of pictures!

Goat cheese

,

ricotta

, and

parmesan

make great choices.
Caviar

:

New Year's Eve

is all about the extravagant. What better way to get in this spirit than by offering

the

most extravagant

dish

we know?

Serve

a few varieties of caviar either by itself or accompanied by plain crostini. 
Main Courses
The main course is the star of your New Year's Eve dinner. Impress your guests with dishes that are anything but basic. 
Seafood Tower

: There are two reasons why we love seafood towers. First, they look

stunning

and will leave your guests in awe. Second, all of its components—the chilled lobster, lump crab meat,

shrimp cocktail

,

salmon

, oysters, and any other seafood goodies you can think of—pair perfectly with all that champagne you'll be drinking. Top with a

twist

of

lemon

or drizzle

lemon juice

to finish it off. 
Succulent Roast

: A

beef

roast is a classic

dish

to serve at a festive dinner. We'd take it a step further by serving something extra decadent such as an orange-glazed duck. 
An Extravagant Classic

: A good formula for any

New Year's Eve

dish

is to take a well-known classic—such as pasta—and to add something that takes it to a whole new level. This is how we end up with decadent

dishes

such as lobster

risotto

, truffle pizza, and foie gras pasta. 
Side Dishes
Side dishes may not be the star of the show, but they go a long way in enhancing the main course. Here are some must-have side dishes to serve this New Year's Eve.
A Variety of Classics

: Serving a variety of side

dishes

—such as glazed carrots, roasted potatoes and

tomatoes

,

butternut squash

,

mac

and

cheese

, and creamed

spinach

—doesn't only make for a stunning dinner table. Indeed, the more options you have, the more your guests will have to choose from. That way, there'll be something that's guaranteed to satisfy everyone's unique taste. 
Something Healthy

: With the decadent meal and various

cocktails

, we'll want at least a little bit of a balance. Serve a few lean or plant-based side

dishes

made out of fresh produce (the greener, the better!).
Freshly-Baked Bread

: For serving with

butter

, for piling on various meats, and for wiping our plates, bread is a must-have

side dish

for any dinner. We'd go for a few varieties such as a French baguette, brioche rolls, rosemary ciabatta, or focaccia with

olives

. 
Desserts
For a sweet finish to the evening, we'd go for the richest desserts we can get our hands on. 
Luxury Chocolate

: Chocolate is sure to be a hit with (almost) everyone—especially if it's high quality. We'd go for a variety of options such as dark chocolate, white chocolate, truffles infused with liqueur, and chocolates with all sorts of unique

ingredients

added to them. As a bonus, these will pair perfectly with champagne.
Anything Incredibly Decadent:

We don't think you can go wrong with any type of dessert. That said, we'd go for the extra decadent options on

New Year's Eve

. Think crème brûlée, flourless chocolate

cake

, and chocolate lava

cake

. 
Grapes

: Not so much a dessert as they are a

sweet

New Year's Eve

tradition, it's customary for some cultures to eat twelve green grapes at midnight for good luck. If you're not superstitious, then grapes are still a great pairing with champagne. 
Bonus: Recipes for the Morning After
New Year's Eve dinner doesn't end when your guests leave the party. The following morning is another opportunity to celebrate (and to try and cure that hangover).
Brunch Cocktails

: Since New Year's Day is a national holiday, you can feel free to start the day off with a

cocktail

(or three). We'd take a little champagne with our morning OJ, please and thank you!
Breakfast Casserole

: If you're eating New Year's brunch at home, then you'll want to prepare something as yummy as possible without having to spend hours in the kitchen. A make-ahead

breakfast casserole

can be prepared days in advance and heated up just in time for New Year's brunch. (And avoid having to do the

dishes

with our

disposable tableware

!)
Green Smoothies

: With all the eating and drinking we did the night before, we'd definitely want something healthy (read: green) to balance things out. A smoothie with electrolyte-rich coconut water,

sweet

fruit, and green veggies will go a long way in restoring you back to normal. 
Happy New Year!
Throwing a dinner party for the New Year is an incredibly elegant way to celebrate. By keeping a well-stocked cocktail bar, serving decadent dishes, and keeping your guests entertained with plenty of activities, we know this will be your most extravagant New Year's Eve dinner yet!
Our Sources: 
Why We Drink Champagne on New Year's Eve | Imbibe Magazine 
Dippers and Accompaniments for Cheese Fondue | The Spruce Eats 
Bacon
, Egg and
Cheese
Breakfast Casserole - NYT Cooking | The New York Times
---