Rehearsal Dinner Ideas for a Wedding You'll Love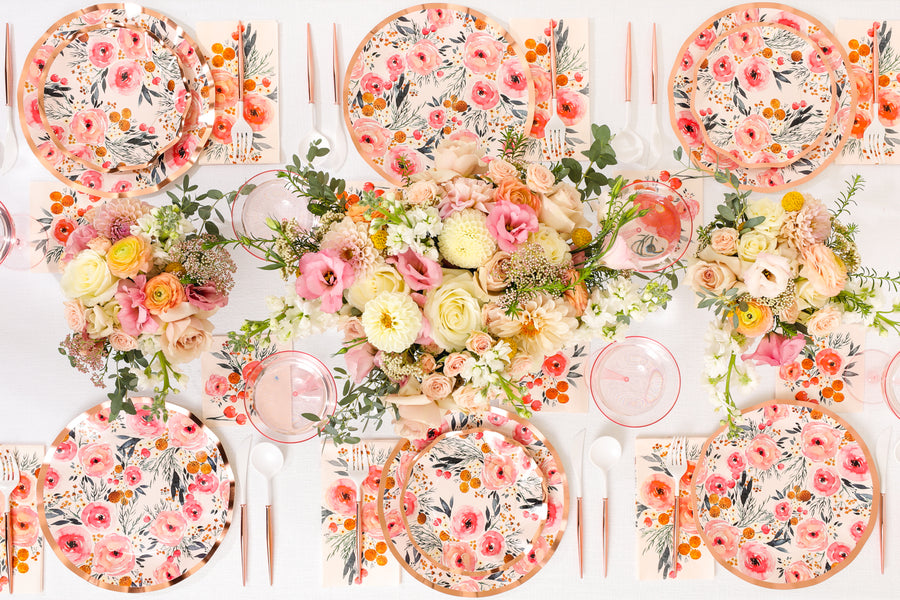 Oh, rehearsal dinners! They truly are beautiful events at the end of the day—that is, except for the stress that comes with putting it all together. But they don't necessarily have to be that way. 
With the right ideas in mind and a respectable amount of time, you'll have every detail down in no time. Read on to learn about some rehearsal dinner ideas for a wedding that you'll love!
What Is a Rehearsal Dinner?
First, let's define the topic at hand. A rehearsal dinner is a pre-wedding ceremony that usually occurs after the wedding ceremony and the night before the actual wedding. 
You can think of it sort of as a "party before the party," as it primarily serves as a time for the bride and groom, as well as their families, relatives, and close friends, to get to know each other and have fun together. During this event, there are usually activities such as toasting and handing out small gifts, particularly to those who helped out with the wedding planning. 
Rehearsal dinners are considered the second most important event of a wedding, right next to the wedding reception. Some may perceive it as being a waste of time or money, but this ceremony is truly a blessing in disguise, especially for the bride and groom. It provides a less stressful environment for the couple to enjoy before the wedding day which, after months of constant planning, is needed more than ever. 
Of course, many people get stressed at the mere idea of planning an event. There is a way to minimize this, though. Our best advice: find some feasible ideas that you love and go for it! It's helpful to plan these things well in advance, and by bringing to life ideas that you already love, you won't dread every minute of the process—not to mention, you'll have something to look forward to in the end!
Rehearsal Dinner Ideas
So now that you know how to make your life a lot less stressful during the process of planning, it's time to explore some ideas. If you don't know where to begin, don't worry. There are so many wonderful options out there, so you're guaranteed to find something that fits your style. 
Here, we highlight some rehearsal dinner ideas for a wedding that you'll love.
A Unique Location
You don't necessarily have to stick to a traditional venue for a rehearsal dinner. It's a perfect time to get creative by selecting a place that's special to you or even just somewhere that sounds exciting.
The rehearsal dinner is an opportunity to spend time with your relatives and friends before the wedding day. Think about aspects of your and your future spouses' story or the things that you like to try to create an experience with deep meaning for the guests. 
Perhaps you'd like the rehearsal dinner to be at the place where the engagement occurred, or maybe a location where you had your first date. This gives you more of an opportunity to tell and share your love story with those closest to you.
Alternatively, consider some of the aspects of your wedding for an idea on where to hold the rehearsal dinner. If you're having a destination wedding, you're faced with an abundance of options. Have your rehearsal dinner on the waterfront, perhaps one with yachts and boats that you and your guests can take out—nothing says fun like cocktails on the water while enjoying some beautiful sightseeing!
Have Fun With a Theme
One of the easiest and best ways to make a rehearsal dinner pop and really come together is by having a theme. This allows you to build your rehearsal dinner from the ground up, as it gives you a good foundation. 
Think of it kind of like putting together an outfit. If you have an aesthetic or color combination in mind, you just need some basic clothing that you can style and accessorize to pull it together. Once you have your theme in mind for the rehearsal dinner, you just need to find the basics that can get you started, and then you can go above and beyond with the extra additions. 
So with a rehearsal dinner, maybe you'd like to go with a love story fairytale theme. In that case, you may want to include soft colors such as light pink and blue to express the theme. Our Blush & Gold Bella Assorted Plastic Cutlery would be perfect for making guests feel immersed in a royal love story.
The theme of your rehearsal dinner can be showcased in a multitude of ways from there. Consider making a mood board so you can get yourself to visualize what the event could look like. It could include string lights to set the mood or more decorations that would be fitting in such a theme. Truly, the possibilities are endless, so have fun with it!
Get Creative With Food and Drinks
Nothing brings people together more than food and drinks—well, except for food and drinks that have a theme.
Your choice of food and drinks is another key aspect to immersing them into the theme through taste. With a careful selection of appetizers, entrees, cocktails, and desserts, you can create quite the experience for your guests. 
If the theme is, let's say, a night in Italy, perhaps some creamy pasta, delicious wine, and, to top off the evening, a nice cup of gelato. And if you have the rehearsal dinner on the waterfront where you could schedule a gondola ride, that's even better!
Of course, the presentation of the food is another simple yet significant aspect of the full-themed experience. The dollar signs can add up pretty quickly with any big party, so it's best to opt for products that are sufficient yet elegant. Once again, this is where the basic foundation for the theme comes in handy. 
Sophistiplate has a plethora of options to choose from to fit the specific color theme and aesthetic you're going for. For a majestic look, perhaps the Emerald & Gold Bella Assorted Plastic Cutlery would make the theme pop. Or, if you want to have just a touch of elegance, you may like the Confection Paper Salad Plate—a mint beauty with a metallic silver rim—paired with the Confection Paper Cocktail Napkin. 
Exploring these options as well as mixing and matching whenever it seems appropriate is perfect for creating a baseline for an evening that you and others are sure to love and enjoy!
The Best Entertainment
Like with any other party, there's food, drinks, and of course, some form of entertainment. How you choose to entertain your guest is truly up to you and what you know about them and their interests. 
You can never go wrong with a band or DJ. For bonus points, you could have them match the theme by dressing up accordingly and performing music that fits! This is great for immersing them into the theme while they engage in other things such as socializing and eating. 
Another wonderful idea that is worth considering for your rehearsal dinner is an interactive activity. If your rehearsal dinner is in a unique location, perhaps a scavenger hunt around the town would be fitting! Or, if you'd prefer to keep everyone in one location for some bonding time, you can never go wrong with a bit of karaoke to kick off the party. 
Of course, some activities may be more suitable than others. If you have younger kids that are in attendance, a family-friendly game night might be a great call. On the other hand, if it's an adults-only party, you could perhaps consider splurging on something only you all can enjoy, such as DIY cocktail mixing. 
A simple idea that is guaranteed to appeal to guests of all ages is a photo backdrop. Set up a small space in one location of the venue and fill it with an aesthetically pleasing background—think greenery, string lights, and props! Your guests won't be able to resist a photo op, and you can even help them remember the moment by taking Polaroids of them to take home. 
A Rehearsal Dinner You'll Never Forget
With all of the incredible ideas, it's going to be hard narrowing down what ideas to use for your rehearsal dinner. At the end of the day, go with whatever would make you and your guests the happiest. All of these ideas are sure to come together well to create a rehearsal dinner you'll never forget.
Sources:
Tips for Planning a Stress-Free Rehearsal Dinner | Georgia Bride Show
Our 11 Favorite Rehearsal Dinner Themes | The Knot
How to Make a Moodboard: Step-by-Step Guide - 2021 | Master Class
---