Top 16 Sophisticated Birthday Table Decorations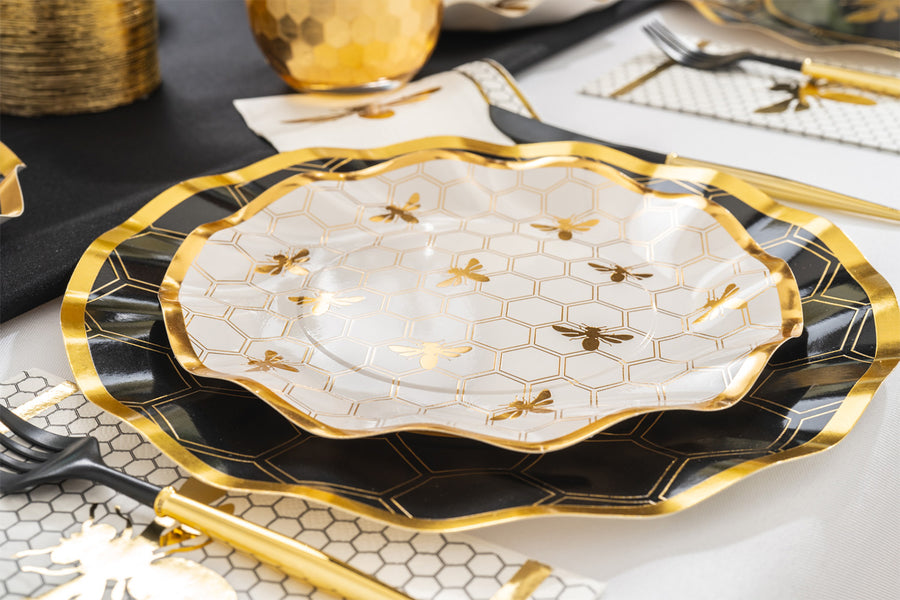 If you're throwing a birthday dinner party, then you'll probably want to keep the dinner table as pretty as possible. However, it's easy for some party decorations to make your table look, well, a little tacky—something we want to avoid if a sophisticated aesthetic is our goal. Thankfully, there are plenty of décor options that are the furthest thing from tacky. 
For a list of ideas on how to decorate your birthday dinner table, keep reading this guide from Sophistiplate. Our fifteen birthday table decoration ideas will make your dinner party a super elevated experience that's sure to impress all of your guests. 
1. Tablecloth
The tablecloth is the canvas of your birthday dinner décor and, as such, sets the tone for everything else that goes on top. Although white linen is the classic choice when it comes to tablecloths, we'd prefer to go with something a little more bright and colorful—as long as it matches our party theme. 
If you can't find a tablecloth that perfectly matches your birthday dinner party theme, then you can even get a personalized design made just for your party. Don't forget to pair it with an elegant table runner! 
2. Birthday Candles Table Setting
If you have a decorative table setting, then you have most of what you need for a festive birthday dinner table. We love this Birthday Candles table setting because it's the perfect combination of playful and sophisticated. The festive birthday hats and candles that are part of the design would make a perfect design for anyone's style and taste. 
3. Moroccan Tile Table Setting
This table setting is in the print of Moroccan tile, which is a design that dates all the way back to the ancient Islamic Empire. This design is instantly recognizable in much of Moroccan architecture and is officially called zellij. 
But you don't have to be an architecture buff to appreciate this design. Whether you recognize this pattern or not, it's still dreamy, bohemian, and eclectic enough to elevate any dinner table. 
4. Everyday Blush Table Setting
For a table setting that's a bit more subdued, we love the Everyday Blush design. With a simple pastel pink color and golden rims, this table setting looks clean, fresh, and very romantic. If you're throwing a birthday party dinner in the spring, then this table setting couldn't be more perfect.
5. String Lights
String lights are one of the most romantic ways to decorate any space. And fortunately, they don't need to be hung up on the wall. Instead, they can be used in many ways as part of your table décor. 
You can experiment with different ways to incorporate string lights into your table decorations. One idea is to twist string lines into a floral garland and lay it out onto the table. You can also twist up the string lights and put them into mason jars all around the table. Another idea is to attach the string lights to the edges of the table and allow them to elegantly drape off. 
6. Candles
Your options are endless when it comes to candles. 
You can place several impressive candles in decorative jars in the center of the table. You can also place dozens of taper candles on the table (preferably in candle holders that match your party theme). Another option is to buy a bunch of tealight candles and to place them into colorful tealight jars. Or try a combination of all three!
7. LED Signs
LED signs can add a super retro touch to any birthday table dinner. 
Go for a variety of colors to match your party's theme (we personally love neon pink). The sign can say a variety of cheeky things, such as "love," "good vibes only," and "party starts here." 
Of course, if you need another reminder of the birthday person's special day, then you can get custom-made LED signs with their name on them. 
8. Balloons
While we're used to seeing these party staples floating up towards the ceiling, you can totally make them a part of your dinner table décor. Simply blow them up with a little bit of helium and attach them to the place settings—or something else that's equally sturdy—on the table.  
When the finished product is complete, you should have a bunch of balloons floating directly above the dinner table. If you use light-colored balloons, the effect will be something like sitting directly under the stars. 
9. Table Confetti
Who said that confetti can't be sophisticated? Against the right backdrop, it can be an extra festive touch that adds a perfect touch of elegance to any dinner table. You can either go for classic confetti—such as silver or gold circles—or for more unique designs, which can include hearts, stars, and even crowns in various colors. 
10. Party Treat Stand
A treat stand—also known as a cake stand—can be a stunning way to display desserts. It has three tiers that you can fill up with your favorite treats. We prefer cupcakes, but the options here are endless. You can fill up the cake stand with desserts such as cookies, mini pastries, and—for the super healthy amongst us—even fruit!
You can also use it to serve appetizers before the birthday dinner. If your dinner table is quite long, then you might want to invest in several cake stands and place them equally along with the table. 
11. Personalized Glassware
Beautiful glassware can make for some stunning décor on the birthday dinner table. After all, what screams "party" more than a pretty champagne glass? To really spruce it up, you can personalize the glassware with the birthday person's name. Better yet, get each guest a glass with their own name on it as the perfect take-home souvenir. 
12. Coasters
To go along with your glassware, you need a set of decorative coasters. Luckily, there are tons of options on the market with many different options for prints, designs, and colors. If you want, you can even take the personalized route and get each guest their own coaster to take home!
13. Card Placeholder
Even if the birthday party dinner you're throwing is small and intimate, putting place cards with your guest names on the table is a classy move that they're sure to appreciate. 
Instead of using basic metal place card holders, choose something unique that adds to the décor of the dinner table. You can choose a place card holder in the shape of a star, flower, heart—the options are endless. And don't forget to experiment with different colors for a super Instagrammable effect! 
14. Menu Card
Placing a professionally-made menu card on each guest's plate prior to the dinner can be a super elegant move. Even if your menu is small, it can make your guests feel excited as they wait in anticipation for the different courses of the dinner. 
The best part is that you can design and print these menu cards all on your own. Make sure to take advantage of this opportunity to add some extra colors and prints to the birthday dinner!
15. Floral Arrangements 
Because you have so many options for a floral arrangement, you can make one that perfectly matches your birthday dinner theme. If you want something uber elegant, then you can include a combination of lilies, orchids, and roses. Looking for something a bit more rustic? Sunflowers and daisies are the way to go. You can even make floral arrangements out of succulents.
You can definitely order floral arrangements from a florist to save yourself time and effort. That said, we think that making your own floral arrangements can be a fun way to get your creative juices flowing and to make sure that the birthday dinner party décor is a true reflection of your good taste. 
16. Vases 
Even if they don't hold any flowers, vases can be a unique way to spruce up the dinner table. Something as simple as a plain crystal vase can be an elegant addition to the dinner table. That said, we'd prefer something bright and colorful that really jazzes up and compliments the rest of your table decorations. 
A Festive Birthday Dinner Table
A sophisticated birthday dinner party definitely doesn't have to be boring. By incorporating a decorative table setting, floral arrangements, candles, and a few of the other elements we mentioned above, our birthday dinner table will be the most Instagrammable part of the evening. 
For your most elegant birthday dinner party, Sophistiplate has everything you need to help you decorate. From our unique dinnerware sets to our personalized glassware to our serveware, your dinner table will be remembered for years to come! 
Our Sources: 
Inspiration: Morocco | The New York Times
How to Arrange Flowers for an Unexpected, Wild-Looking Table | The New York Times 
---