Top 5 Thanksgiving Themes To Make Your Turkey Day Special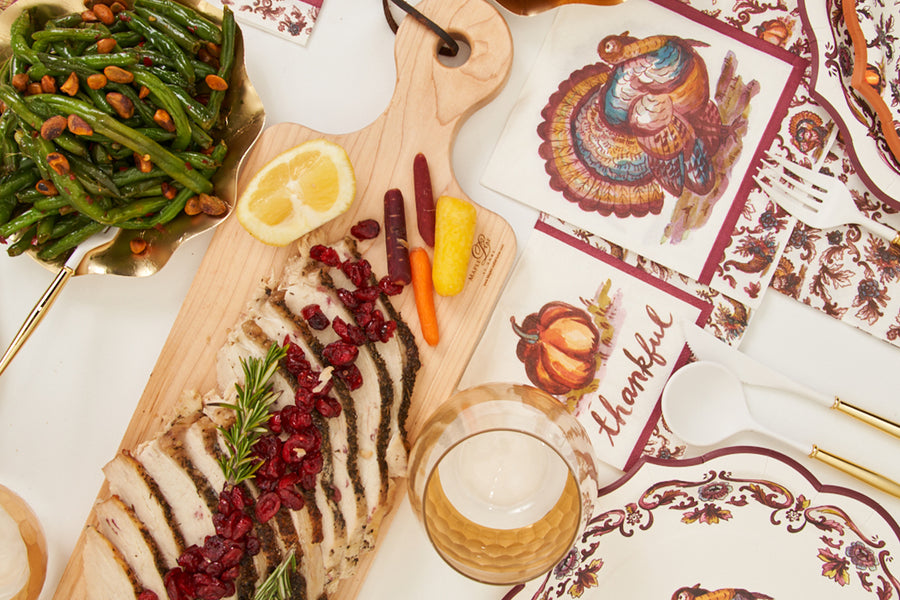 Thanksgiving is by far one of our favorite holidays. We can never get tired of gathering with our loved ones, feasting on delicious food, and having an excuse to nap for two days in a row. These are the things we wouldn't change for anything in the world.
But when it comes to picking a party theme, sometimes we want to spruce things up a bit. While traditional Thanksgiving décor will never go out of style, sometimes we just want to go in a slightly different direction. 
If that sounds like you, then read on for five unique themes that can make your Turkey Day really special. But before that, let's take a look at the unique ways that some other people celebrate their Thanksgiving. 
How Your Favorite Celebrities Do Thanksgiving
There's nothing we love more than diving into the world of celebrities. And it's especially heart-warming to see all the unique ways they spend their Thanksgiving: From giving to food drives to creating 100% vegan menus to—gasp—working, they all give us some ideas to spruce things up. 
So, to inspire you, here are some of the ways our favorite celebs do turkey day.
They Smoke Their Turkey
If you've never tried cooking a turkey in a smoker, you'll be blown away by its complex flavors. A smoked turkey comes out perfectly juicy with flavorful meat and crispy skin. It's no wonder Jimmy Kimmel wakes up bright and early to smoke his Thanksgiving bird. 
And waking up early (or going to sleep late the night before) is definitely a must. Considering that the average Thanksgiving turkey weighs 30 pounds and needs to be smoked for 30 minutes per pound of meat, we're looking at a pretty long cooking time. But, in our opinion, the results are definitely worth it!
Baking Contest
What's Thanksgiving without the many different pies that we love to serve up alongside each other? If you have a seriously sweet tooth, then you can take it a step further and serve up all kinds of desserts, be they cookies, mini pastries, or chocolate-covered fruit. 
Reese Witherspoon had the same idea by hosting a bake-a-thon on her Thanksgiving morning where she made all kinds of baked treats. It seems to us like a super sweet way to spend the early part of the day—especially if you enlist your family to help out. 
Skiing in the Swiss Alps
Although a bit unexpected, it makes total sense to us! Thanksgiving is super close to winter and usually comes with a few days off work. While we're not all able to book a flight to the Alps a la Rebel Wilson, we still think that Thanksgiving is an amazing opportunity to take your family on a ski trip. 
Beachin' It Up
As the complete opposite of a ski trip, we've seen quite a few personalities pack up and head to the beach. If you live closer to the North, then the weather surrounding Thanksgiving isn't exactly warm. Getting some sun during this time seems like a solid idea to us!
Helping Those In Need
With all the abundance we experience on Turkey Day, it's hard to remember that not everyone is so fortunate. For this reason, it warms our hearts to see Arnold Schwarzenegger donate tons of food to soup kitchens. Since the word "giving" is literally in the name of the holiday, it's only natural to want to help those who are in need. 
Our Tips for the Perfect Thanksgiving
Whatever you choose to do on Turkey Day, there are a few ways to make sure that it goes as well as it possibly can. Here are our top ways to foolproof your Thanksgiving Day:
Plan a Menu

: To plan the perfect menu, it's important to do two things. First, be real with yourself about how much cooking you want to do. It's pretty hard to have to spend time in the kitchen when you want to be enjoying it with your family. Second, try to double-check with everyone about their preferences. If you have someone with an intolerance, a plant-based lifestyle, or a special diet they don't want to break, then make sure to make them plenty of their own side dishes to nosh on. 
Create a Tablescape:

Although we don't associate Thanksgiving with it, decorating should definitely be a part of this holiday. The perfect way to do that is to keep everything at the table by creating a stunning tablescape. Grab an autumn-colored tablecloth, lay out some harvest vegetables, and deck the table in Thanksgiving-inspired

dinnerware

for an Instagram-worthy tablescape. 
Avoid Doing the Dishes

: If you're cooking an elaborate Thanksgiving meal, the last thing you want to do is clean up dishes afterward (or really, any time in the following week). Keep it simple for yourself by grabbing some

disposable dishes

, many of which—to be honest—we can't tell apart from the real thing. 
Plan an Activity

: You know that awkward moment when the food is almost ready, but not quite? To stave off boredom, keep your guests busy and entertained by planning a fun activity such as a turkey trot. If you want to keep it more low-key, then watching the Thanksgiving Day parade with a cocktail in hand always does the trick. 
Make Sure to Enjoy Yourself

: Just because you're the host, doesn't mean you have to work the entire day. Take the morning before the preparations start to drink a cup of coffee in peace and do something that brings you joy. And it's totally fine to enlist some of your guests to help out so you can have a breather yourself. 
Top 5 Thanksgiving Themes
Now that we got an overview of some of the ways you can make your Thanksgiving awesome, let's take a look at our favorite Thanksgiving themes. When we say special, we really mean it. And while we love traditional themes, these are five unique ones for you to try out this year: 
1. Friendsgiving
Since so many of us were separated from our families during the pandemic, we had to find ways to improvise. Enter Friendsgiving. Not only is being with friends an amazing way to spend your Turkey Day, but there are so many things you can do that wasn't possible with your family. 
For instance, make this a sleepover by asking your friends to bring pajamas and lots of stories to tell at night. Or you can go in another direction and make it similar to a Superbowl Party, thanks to all the football games on TV that day. Honestly, any fun activity you can think of would be a hit with your friends on this day.
2. Super Healthy Thanksgiving
Do you sometimes regret all the feasting you do on Thanksgiving? Honestly, neither do we. But trying out a super healthy Thanksgiving menu could be a fun way to experiment with how you feel after eating. And if you're into the wellness movement, then this can be a fun way to show off your knowledge and skills.  
For this dinner, you can try serving organic kombucha as cocktails before dinner. Instead of the usual casseroles, make a variety of veggie side dishes such as roasted Brussels sprouts, steamed collard greens, baked string beans, and roasted carrots. For dessert, you can replicate traditional Thanksgiving desserts but give them a gluten and sugar-free twist. 
Get some extra calorie burn in the morning by doing some super intense exercise. 
3. Thanksgiving Around the World
Did you know that Thanksgiving is celebrated in many other countries around the world? As you can imagine, there's a unique menu to go along with these celebrations. Imagine, for example, a roast pork shoulder with fried sweet plantains and rice with beans. 
You can show your appreciation for other cuisines by incorporating some international dishes into your own Thanksgiving dinner. A fun way to do this—especially if you're celebrating with friends—is to ask your guests to bring in a unique beverage, side dish, or dessert along with them. This will make the dinner a type of potluck that gets everyone involved. 
4. Day of Gratitude
One fun fact about early Thanksgiving celebrations is that they were more of a religious observance. Indeed, instead of feasting as we do today, early celebrations included fasting and prayer.
While we definitely don't want to get rid of our delicious dinner spread, there is some value to be taken from celebrating this way. So switch it up this year by implementing a gratitude practice—whatever it may mean to you. 
One way we like to show gratitude is by helping others. So, if you can get your family to volunteer the morning of Thanksgiving, then it's something that you'll feel grateful about for years to come. 
5. Harvest Day
Technically, the first Thanksgiving was held to celebrate a bountiful harvest. You can recreate these vibes by making your own harvest, too (albeit in a slightly different way).
For instance, you can grab your family and head to a farm to pick out all the Thanksgiving staples such as corn and potatoes. And if a farm isn't available, then a farmer's market will do just as well. Honestly, any time spent outside in the autumn weather will help you reconnect with this part of Thanksgiving. 
Keep Calm and Gobble On
We hope that you're inspired—at least somewhat—to reinvent your Turkey Day with these unique themes. Trying new things can always be fun! But if you prefer to stick to traditional themes, we got your back with that, too!
Sources:
Thanksgiving 2020: How Celebrities are Celebrating Turkey Day This Year  | Glamour 
Before Filling Up On Thanksgiving, Many Run It Off  | The Wall Street Journal
8 Thanksgiving Celebrations Around the World | HISTORY 
---