What Are the Best Party Holidays To Host For?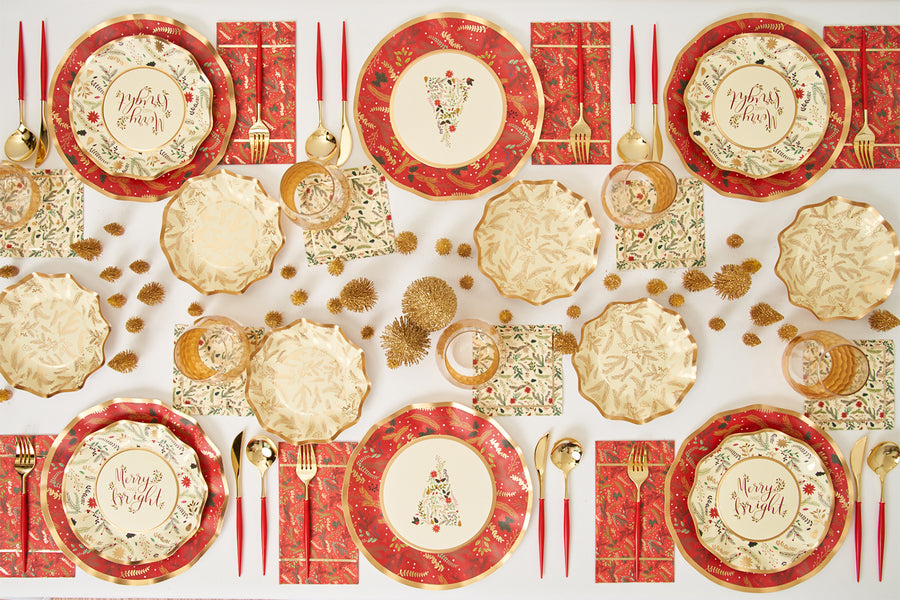 While there are technically 12 official holidays on the calendar (in other words, holidays that get you a day off work), there are countless more unofficial ones that we tend to celebrate nonetheless—most often with a party. 
If within your family and friend circle you take turns hosting parties, then it's important to make the right choice for which holiday you will host. On the other hand, if you're just looking for some more reasons to throw a party this year, then centering it around a holiday can make it easier to get guests to come and can even help you with picking a party theme. 
So, without further ado, here are some of our favorite holidays to play party host to, along with some tips on how to throw them. 
Holidays Around the World
Sometimes, it helps to take a page out of another country's book—especially when it comes to holidays. Aside from making you wish you lived somewhere else (because why can't we also have National Cat Day?) learning about other holidays can inspire your own festivities. 
That said, here are some awesome holidays that are celebrated in other parts of the world.
Day of the Dead (Mexico)
Celebrated on the first and second of November, this holiday originated in Mexico thousands of years ago. Today, it is celebrated in dozens of countries and is one of the most highly recognized holidays in the world. 
Instead of mourning the dead, this holiday celebrates them and their enduring presence—in our thoughts and memories. It's a holiday of joy, which is expressed in the bright colors and patterns associated with the holiday. 
Because the point of the celebration is to welcome back the souls of gone relatives, this holiday abounds with food, drink, and dancing. It's very common to place the favorite treats of those relatives on altars—called ofrendas—dedicated especially to them. We couldn't think of a more beautiful way to celebrate the memories of our loved ones. 
Winter Solstice (England)
Winter Solstice is a tradition that dates as far back as the Stone Age and is celebrated on the shortest day of the year in the northern hemisphere. Although it's celebrated all over the world, England is the first nation that comes to mind due to its association with Stonehenge. As a matter of fact, on the day of the holiday, hundreds of people buy tickets for Stonehenge to experience the sunrise. 
This holiday is a celebration of the cyclical nature of the world. Plus, since it's the shortest day of winter, it means that the days can only get longer and that warmer weather (yippee!) is upon us. 
Postgraduate Student Day (Russia)
This is one of those holidays that you seldom hear of, but when you do, you realize it makes complete sense. 
In Russia, most postgraduate education trains specialists in science fields. The degree awarded is similar to the Ph.D.—not a small endeavor. However, this degree didn't exist until 1925 when the government created new regulations for postgraduate education. 
So, to commemorate this event, the holiday is celebrated on January 21 with award ceremonies, concerts, and academic conferences organized by universities, research institutions, and student organizations. It's a wonderful day to celebrate burgeoning scientists and all the amazing work they will accomplish in the future. 
Diwali (India)
Diwali is an ancient holiday that celebrates the power of light over darkness during a five-day festival of lights. It's typically celebrated in the fall but similar to our Thanksgiving, the date is different every year. 
The celebration is filled with all kinds of lights. One of the most prominent sights is small hand-crafted lamps lined up in rows against houses and temples. Another tradition involves honoring the Hindu goddess of wealth, Lakshmi, by keeping all the doors open in the hopes that she will enter and bring her wealth along. You will also see colorful patterns painted on walls and floors. 
This sounds to us like a beautiful way to celebrate the idea of good and bad—a concept that's existed since time immemorial. And the fact that the celebration lasts five days makes it all the better in our book. 
Black Day (South Korea)
It may seem a little grim, but this holiday is a celebration (of sorts) of single people. 
It was created in South Korea with the help of some international influence. Since South Korea celebrates Valentine's Day, there's a tradition in which females buy gifts for males. A month after, on White Day, males reciprocate by buying gifts, as well. 
But for those who didn't receive gifts on either day, there is still an opportunity to celebrate on April 14 with Black Day. On this holiday, single people usually wear black clothes, eat comfort food, and give each other gifts. To us, that's an awesome way to celebrate exactly where we find ourselves in life. 
Best Holidays for Hosting a Party
Looking at international holidays has no doubt made us wish we had some of the same traditions. But even if we're staying local, there are tons of holidays that warrant throwing a party—we're looking at you, National Cheese Lover's Day. 
However, when it comes to getting our guests to plan for a night off, get dressed up, and travel to celebrate with us, we prefer to stick with the classic holidays. So, going over the holidays that we know, love, and make sure to celebrate every year, here are the best ones to play host to this year.
Halloween
We don't have to tell you why throwing a Halloween party is so much fun. You already know that as a Halloween party host, you get to have tons of creative freedom. Anything from choosing spooky decorations to planning a creepy-crawly food menu to deciding which costumes your guests should wear makes Halloween an awesome party to host. 
New Year's Eve
Is there a holiday more synonymous with boozy libations and great music? If you love dancing, serving cocktails, and getting a party really started, then NYE is the perfect holiday to host. Just don't forget to pop some champagne at the end of the night!
Christmas
On the opposite end of the New Year's Eve festivities we have Christmas—a low-key family holiday with soothing music and comforting food dishes. This is the perfect holiday to host if your alternate dream career is owning a bed and breakfast and especially if you enjoy having your family over. 
Thanksgiving
For those who consider themselves pretty close to being professional chefs, Thanksgiving is a great chance to show off those cooking skills and to even experiment with unique new dishes. Pick a theme to make everything really come together. And don't forget to implement some fun activities such as the turkey trot. 
Valentine's Day
If you're spending the day with your sweetheart, then hosting a party is probably the last thing you want to do on this holiday. But if you don't have such plans, then Valentine's Day is a great way to gather some of your closest friends and celebrate your independence. Since there are no rules for celebrating Valentine's day, you can get really creative with the party food, cocktails, and activities. 
Mother's Day
Brunch lovers rejoice! On the second Sunday of May, we celebrate our grandmothers, mothers, or anyone else who has brought the joy of life into the world. If you love bright decorations, making baked treats, and serving up mimosas, then this holiday will be the one that you really enjoy hosting.  
Fourth of July
If you have a backyard and own a grill, then it would be a waste not to host Fourth of July this year. Gather all your friends and family for a celebration of the nation's day of independence. Some grilled meat, beers, and our favorite cornbread will make this a deliciously low-key party to host.
Tips for Hosting a Holiday Party
Hopefully, our list of holidays gave you an idea of what you'd like to host next. Once you decide on which holiday it will be, here are some of our party-hosting tips to make this a breeze for you: 
Pick a Theme and Stick to It

: A party theme can really bring everything together—from the food to the decorations to the music.
Plan a Menu

: You can choose to do tapas-style bites, a buffet, or a three-course dinner. Either way, planning the menu will give you ample time to shop and cook. Oh, and it'll definitely be something to look forward to.
Curate a Music Playlist

: Even if you don't plan to dance, music playing in the background can do so much to elevate the atmosphere. Take some time to plan a playlist with all kinds of tracks. Better yet, ask guests to suggest some of their favorites.
Choose the Right Activities

: Unless you're throwing a dinner party, every party should have at least some activities to fall back on in case things start getting a little stale.
Give Some Gifts

: Party favors will make your guests remember your event for a long time to come. Plus, putting together little goody bags is super fun in itself. 
Don't Stretch Yourself Too Thin

: The perfect party is one that you enjoy. So, remember to have fun—your guests will appreciate it.
Time To Celebrate
While we definitely don't need an excuse to throw a party, it sure helps to have a holiday to go along with it. We hope our list of party holidays gave you a few ideas about which holiday you want to host next. Happy partying!
Sources: 
US Federal Holidays 2021: Full List and Calendar As Americans Get Extra Day of Holiday | Newsweek 
Day of the Dead: Holiday | Britannica 
Diwali: Definition and Facts | Britannica  
Pumpkin Sticky Toffee Puddings for Two - NYTimes Cooking | The New York Times 
Galentine's Day Is Everywhere. Here's Why. | The New York Times
---