How To Throw a Unique Halloween Party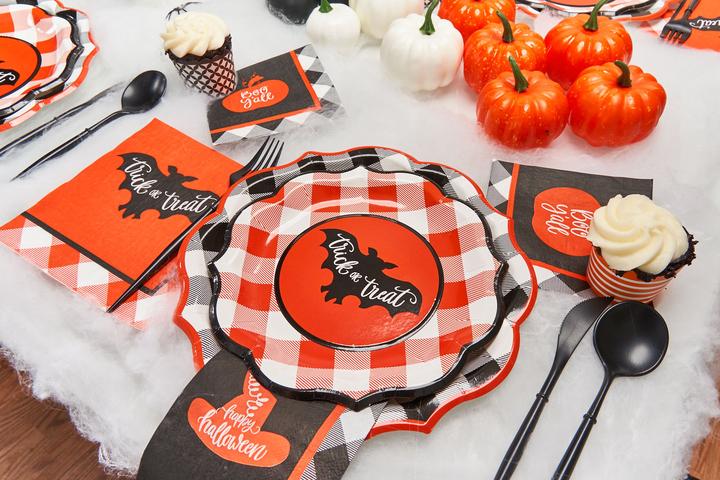 From the eerie decorations to the creative costumes, Halloween truly is a fun time unlike any other. With Spooky Season just around the corner, it's time to start gearing up for the festivities. 
During this season, it's not uncommon for people to get together with friends and family for an exciting Halloween party. It's a popular activity that people do for many different reasons, but overall it's a night to remember with some of your favorite people! 
If you're looking for a sign to throw your own party this year, this is it! Never hosted one before? Don't worry, we've got you covered. Read on to learn how to throw a unique Halloween party.
Determine the Theme
First things first: a theme—because what's a Halloween party without one? Having a theme in which the party can be centered around paves the way for so much more creativity and fun for you and your guests. 
It's important to give it a lot of thought and consideration, as it sets a roadmap for your party and helps determine your next steps in the planning process. Ask yourself: what do you want this party to look like? 
With so many Halloween aesthetics out there, the options are endless! You could go for a spooky, horror-movie-inspired party with a haunted house vibe, or, for a less niche approach, perhaps a glow-in-the-dark Halloween costume party with fun fall-themed activities. 
Know Your Crowd
If you're struggling to pinpoint the best theme for you, consider who you're planning to invite. For an adults-only party, a more refined theme and spirituous night might be up your alley. Halloween parties that are specifically for younger kids might look more PG and upbeat than that, whereas if it's for teenagers and young adults, a haunted house dance party could be more appealing to the crowd.
Of course, if the guest list consists of people of various ages, you can definitely find a happy medium with a bit of strategic thinking on your end. Whatever you decide, it'll work out in the end. At the end of the day, everyone loves Halloween, so your party won't be a bust!
Spread the Word
Once you've settled on a theme, be sure to let your guests know. It's just as important for them to know the theme as it is for you to know it. Just like with any other party, the theme of the night determines how people dress. 
A 70's inspired Halloween party calls for a certain type of costume just like a haunted house and horror party does, so guests are going to want to have a sense of what would be appropriate for the party, especially if they have multiple different parties to attend.
Similarly, the theme should be communicated to them well in advance so they can have time to find a costume that fits the theme if they so choose. It's useful to state the theme on the invite, or better yet, make an invite that matches the theme as well.
Create a Theme-Inspired Night
Once the theme is established and the invites are sent out, it's time to bring the theme to life. You want your guests to feel immersed in the Halloween aesthetic, so incorporating elements around your house that match the theme can do wonders in creating that euphoric spooky season feeling. 
Here, we highlight the ways that you can create a theme-inspired night. 
Utilize Decorations
Adorning your house from top to bottom in decorations is the best and easiest way to pull together your theme—and our Halloween Collection is a one-stop destination for everything you need.
We have a variety of options for you to choose from. If you're going for a colorful and more upbeat look, we'd recommend going for our Day Of The Dead Table Setting, which includes the Day Of The Dead Paper Dinner Plates and the Day Of The Dead Cocktail Napkins. It may seem like such a small thing but never underestimate its powers. The vibrant colors and seasonal theme of these items are sure to make the evening pop for your guests!
Alternatively, we also have items that follow a more general Halloween theme, which is perfect if you're struggling to find decorations that fit a niche theme. Our Boo Y'all Table Setting is full of plates and napkins with black and orange accents, as well as cutlery and cups to complete the table. It's perfect for adding a pop of Halloween to your space without going overboard.
Of course, if you're worried about how many to get, we'll take care of that for you. By selecting the number of party guests on our website, we can suggest the perfect quantity for each item. Once you have the table setting down, you can get creative with other decorations to put up around your house, such as creepy skulls or evil ghosts that you can hang at the front of your house to greet guests.
Go All Out With Food
When it comes to Halloween parties, the guests come for the costumes and decorations but stay for the food!. While candy is a staple, you can play around with different recipes for appetizers, finger foods, drinks, and desserts to match your selected theme. 
The world is your oyster here—get creative and have fun with it. There are so many fun recipes to choose from, such as Witch Finger Cookies to Mummy Muffins. Even if you can't find any that you like or that fit your theme exactly, there are plenty of ways to make it work. 
Sometimes even a simple recipe with an eye-catching appearance is enough to do the trick—think a witches brew punch or cocktail with dry ice to give it an eerie look. And hey, worst comes to worst, you can slap a spooky name on a delicious treat and call it a day! And of course, you can never go wrong with classic fall recipes too, such as Caramel Apples.
Turn Up the Music
Music really has a lot of power when it comes to setting the tone of the evening, as well as adding to the theme of the party. Just like with any other major holiday, there are many classic Halloween songs that never fail to liven up the crowd (who doesn't love Monster Mash?). 
Once again, you should consider your theme and audience carefully before looking into specific types of music to play. If it's a party with younger kids, sticking to the classics might be best. For older crowds, you can think outside the box. 
Perhaps you'd like to curate a playlist of songs with titles that have words like "haunted" in them. 
If the theme is haunted house, maybe some music with no lyrics would be better, like The Phantom of Opera Overture. 
You can always mix and match to fit the crowd's mood. Jumping from eerie background music to upbeat songs that everyone would recognize and want to dance to, like the Rocky Horror Picture Show's Time Warp or Michael Jackson's Thriller, can create the perfect environment for your guests!
Lighting Sets the Mood
So you've got your spooky decorations, your themed treats, your Halloween music—what do you have left? Last but not least: lighting. You may be wondering what significance lighting holds in pulling together a Halloween party. Well, the answer is a lot.
When you think about scary movies, what do you think creates the feeling that makes you crawl to the edge of your seat and shake with fear? Music plays a huge role in this, but so does lighting. After all, if the lights are bright and fully on, there's less fear and mystery than there would be in a dimly lit room.
Of course, you might not want to create a horror movie-like environment for your party, unless it's haunted house themed. But even then, you can create a chilling atmosphere by playing around with just a few different types of lighting. 
For example, putting up candle-lit lamps or torches around the house can create an eerie sensation as guests move around your space. You can also put up lights that intentionally flicker, as that along with the natural flickering of the candle lights is sure to make guests feel more in-tune with the theme and party.
A Night You'll Never Forget
Sure enough, this is all it takes to create the best Halloween party ever. With just a few staple decorations and a bit of fun and creativity with the lighting and music, your guests are sure to have a night to remember. 
Beware, though; once you throw such an amazing party, everyone is going to want to come back next year! But don't worry, you've got it all figured out from here. Before you know it, you'll be a pro at throwing together a Halloween party that no one can resist coming to. 
Sources:
Why Throw a Halloween Party? | Punch Bowl
40 Best Halloween Party Themes for Adults and Kids 2021 | Oprah Daily
Our Top 50 Halloween Recipes | Recipes, Dinners and Easy Meal Ideas | Food Network 
---