Sophisticated Butterfly Birthday Decorations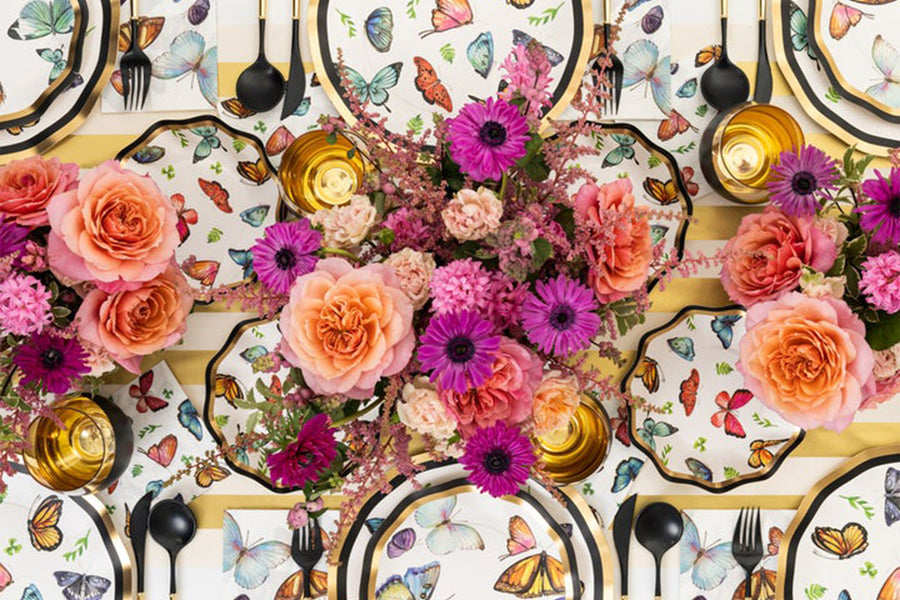 While some party themes are pretty easy to decorate for—such as Christmas, New Year's, or Valentine's Day—others take a bit more thought and effort to get exactly right. If you're looking for decorations such as romantic, feminine, and playful, why not try out butterfly décor? If done right, this can result in an incredibly sophisticated aesthetic that's fit for any kind of style or taste. 
To give you some ideas on how to work with butterfly decorations for your next birthday party, here's a guide from Sophistiplate on everything you need to know about decorating. Read on for your prettiest party yet!
How To Decorate for a Party
Before we get into how you can incorporate butterfly decorations into your party aesthetic, let's take a look at some of the principles behind smart and stylish party decorating. 
Here are ten steps to take to make sure your party looks amazing every time.  
1. Pick an Occasion 
Do you need an occasion to throw a party? Absolutely not! However, having a party occasion helps a ton when it comes to the rest of the party-planning process. In addition, the promise of a celebration can make your guests much more excited to show up.
While the occasion for a holiday is pretty obvious, you can find a reason to celebrate any time you get a bunch of friends and family together. Impressive career accomplishments and life milestones can make for a great reason to get everyone to come over. 
If you can't think of any, then check this calendar of unofficial holidays. If it coincides with the date of your party, then your party invitations will look that much better with the holiday's name printed on them. 
2. Decide Who's Invited
If you think about it, who you invite to your party has a major impact on how you decorate. 
For instance, if you're gathering with a group of your closest buds, then there's a lot less pressure to go all-out with your party décor. However, if you're inviting guests who you're dying to impress—such as, let's admit it, your mother-in-law—then the necessity of getting your decorations just right suddenly increases. 
So, try to make your guest list way in advance to guide your party decorating. 
3. Pick a Theme
Although it may seem like a party theme is best left up for holiday parties, we couldn't disagree more! Your party—regardless of the occasion—can take up any theme you'd like it to. Sometimes, your entire party theme can be in honor of a favorite color, delicious food, or a fun activity. Check out our guide to picking the perfect party theme for you to make decorating a breeze.
4. Set a Budget
Before you begin buying your decorations, make sure that you're working within your budget. Of course, you don't want to spend more on party decorations than you can afford. But on the other hand, you don't want to miss the opportunity to get some really impressive décor if it's within your means. 
Just because you're working with a small budget, don't think that you can't throw an impressive party. Many inexpensive party supplies pack a big punch and can go a long way in elevating your party aesthetic.  
5. Pick a Venue
Picking a stunning venue can instantly amp up the impressiveness factor of your party. If it's an option for you, try to rent out a stunning space such as a rooftop bar. Such a venue will look gorgeous with string lights and white floral arrangements. 
While throwing your party at your home is a great option, you can also consider renting out someone else's home via Airbnb—especially if it has some coveted amenities, such as a pool or jacuzzi. If you're lucky enough to land one, then you can look for some poolside decorations, such as colorful floaties. 
6. Decide How Much (or How Little) To Decorate
It's your party, after all. So, make sure that how you choose to decorate is in line with your personal taste and style. In addition, be realistic about how much time and effort you have to dedicate to the endeavor. 
If you want to keep your party elegant and understated, then you can get away with creating a beautiful tablescape with some candles for an added touch. However, if you live for the glitz-and-glamor of extravagant parties, then there's no reason why you shouldn't deck out the entire space in party décor. 
7. Choose the Right Lighting
The right lighting can make or break your party. After all, if you're going for a romantic dinner soirée, then the last thing you want is a flood of fluorescent lights beaming down on you. On the other hand, if you're throwing a brunch party, then you'll want all the natural lighting that you can get. 
As such, make sure to pay extra attention to this important element. To create the perfect ambiance for your next party, make sure that you incorporate various types of lighting, such as string lights, paper lanterns, and tons of candles. 
8. Create a Stunning Tablescape
If you're serving dinner at your next birthday party, then try to steer clear of plain colors and designs, and make your table a sight to behold. With the right plates, napkins, and cutlery, your dinner table can be transformed into a work of art that your guests won't be able to get enough photos of. And, of course, with Sophistiplare's tableware, your guests won't believe that they're not eating from real china!
9. Attach Decorations to Walls and Windows
While the dinner table and cocktail bar are the definitive centerpieces of any party, that doesn't mean that your decorations should be confined to just those two areas. Make sure to spruce up your place with all-over decorations, which you can accomplish by buying (or making your own) cut-outs of elements that match your party theme. Make sure to attach them all around the perimeter, such as the walls and windows of your space. 
10. Keep the Small Details in Mind 
Paying attention to the small details of your party will ensure that your party décor checks off all the boxes. We promise, your guests will notice and greatly appreciate it! Things as seemingly basic as straws, food picks, and napkins can all add to your party's aesthetic if they come in the right color and design. 
Best Butterfly Birthday Decorations: How To Pull It Off 
If you're longing for a butterfly-themed birthday party, then there are a few things you can do to pull it off. Here are some of our favorite tips for working with butterfly decorations: 
Hang up a butterfly garland around the party. While you can certainly buy one, we would recommend making your own by using butterfly cut-outs with a bit of string running through them.
Attach paper butterfly cutouts to your walls, windows, curtains, and any other surfaces that will look good with them.
Create a stunning tablescape with our Butterfly Table Setting, which includes butterfly-patterned plates and napkins—with cutlery to match. Make sure to take plenty of pictures before your guests start eating!
Place floral arrangements on the table. Make sure they come in colors that match the stunning colors of butterflies, such as light pink, bright purple, or periwinkle blue. 
Decorate with pink and purple balloons. You can rent a helium tank for the day to make sure your balloons float as high as the butterflies! 
Hang up a metallic birthday banner (or any other elements) that compliments the pinks and purples of your party decorations.
Set up a photo backdrop. We'd go for a dark green color with some butterfly decorations attached to it. 
Wear a butterfly headband for taking photos. You can even give this out as a party favor!
Attach butterfly cutouts to cocktail straws for an instantly-elevated drinking experience.
Don't forget to add some butterfly elements to the birthday cake. This can take the form of butterflies being drawn in the icing. Or you can just use butterfly toppers to add to the aesthetic. 
Sophistiplate Butterfly Decorations for Your Next Birthday Party
There's nothing more fun than decorating for your birthday party. Once you pick the right party theme, set your budget, and evaluate how much effort you're willing to put into the process, you'll be well on your way to creating a beautiful party aesthetic. 
If you want to decorate with butterflies for your next birthday party, then you have tons of options for incorporating this element into your party decor. With the right combination of pink and purple colors, butterfly cutouts, and our whimsical Butterfly Table Setting, your party will be one that your guests remember for years to come.  
Our Sources:
National Day Calendar | National Day Today 
How to throw a cheap (but elegant) dinner party | The New York Times 
Where do butterflies get their striking colors? | HowStuffWorks 
---