Thanksgiving Breakfast and Other Ideas To Make Your Turkey Day More Special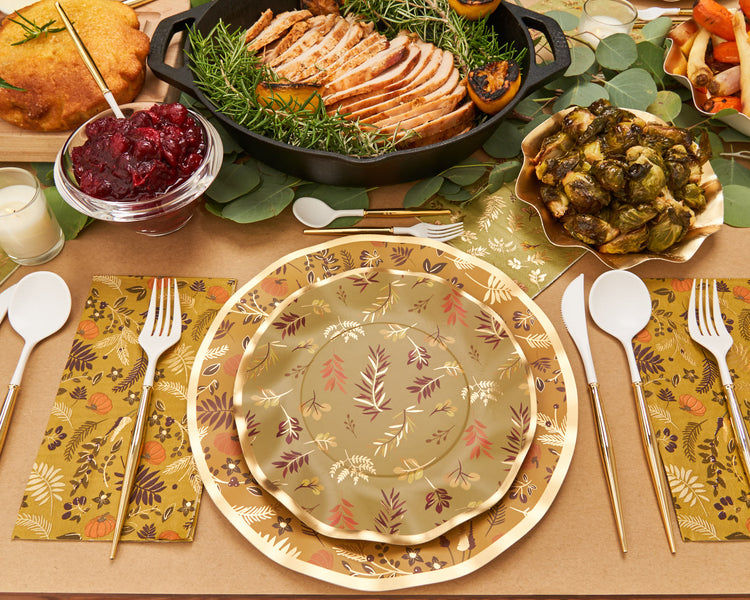 Between the gorgeous autumn foliage, the yummy feast, and a gathering of friends and family, it's no wonder that Thanksgiving is our favorite holiday. 
Whether you're a first-time turkey day host or a seasoned veteran, we hope this Thanksgiving turns out to be your best one yet. For that, read on for some of our top tips to make your turkey day even more special.
The Week (or Month) Before: Planning the Menu
Coordinating the ingredients, serving unique dishes, and creating a gorgeous presentation can go a long way in making this the best Thanksgiving meal yet. Here are some tips for making this a reality.
Assess Your Culinary Skills
First and foremost, be real with yourself about what you're comfortable with on turkey day. 
While a roasted big bird with cranberry sauce is non-negotiable, you can absolutely choose to make only a few side dishes and grab dessert at a local bakery. 
On the other hand, if you're a seasoned cook and feel up for a challenge, experiment with adding unique ingredients to classic Thanksgiving dishes.
Use Non-Repeating Ingredients
When you plan your menu, try to make sure that every dish is made from unique ingredients (because no one wants to eat sweet potatoes for three courses). 
So, for example, if you're serving a butternut squash soup as a starter, then your side dishes shouldn't contain butternut squash, but instead, be replaced with another starch like yams. 
This kind of variety will make every dish feel much more special. 
Taste the Rainbow
Okay, eating healthy is probably not at the top of your to-do list on Thanksgiving, but it's worth mentioning either way: eating a variety of colored plants is the best thing you can do for your health. 
Plus, a table decked out in colorful side dishes just looks that much more appetizing. 
Include plenty of yellow and orange starches, crunchy greens, and sweet reds and purples for the most beautiful Thanksgiving table. 
Buy the Right-Sized Turkey
A good rule of thumb is to get at least a pound of turkey meat per guest. If you want leftovers—which we almost look forward to more than the dinner itself—then add a few extra pounds to that bird. 
Don't Forget About Dietary Restrictions!
While no home chef wants to have someone refuse the elaborate meals they've prepared, some of our guests are bound to have dietary preferences. Whether you'll have guests who eat vegetarian, non-dairy, or gluten-free, make sure to prepare a few special meals for them to make them feel, well, special. 
Consider These Classic Dishes for Ideas
Roasted Bird

: We know that a roasted turkey is the centerpiece of the Thanksgiving dinner table but if that's not your meat of choice, feel free to go with duck, goose, prime rib, or any other meat reserved for special occasions. Vegan? There are plenty of

plant-based alternatives

to turkey that you can serve up on Thanksgiving. 
Gravy

: One of the easiest condiments you can make with simple pan drippings, stock, butter, and flour. For a unique spin on this classic, add some mushrooms, garlic, or your favorite spices. 
Green Bean Casserole

: Crunchy green beans combine with a creamy, cheesy topping for the best of both worlds. 
Mashed Potatoes

: If you can only serve one side dish, then this is it. Creamy mashed potatoes are the perfect side dish to absorb all that gravy and cranberry sauce. With extra butter and even a dash of your favorite spices, this dish is anything but boring. 
Candied Yams

: If you like to have your dessert twice, then baked sweet potatoes with a sugar glaze and warm spices is sure to be a pleaser. 
Stuffing

: If you're like us, Thanksgiving is the only time of year you get to eat this yummy side dish. Baked inside the turkey, stuffing is made with your favorite bread, spices, and other add-ins like celery and mushrooms. 
Cornbread

: We definitely don't eat a special occasion to eat

cornbread

, but it sure helps to have a variety of Thanksgiving side dishes to pair it with. 
Pie

: Apple, pecan, pumpkin, blueberry, sweet potato, coconut… Did we leave anything out? Pie is a must-have Thanksgiving dessert that goes great with vanilla ice cream and whipped cream. Make things easier on yourself by grabbing a few from your local bakeshop. 
Don't Forget the Cranberry Sauce:

You can definitely make your own, but store-bought versions taste just as good to us.
The Day Of: The Thanksgiving Dinner
Set the Scene
We know the turkey is the centerpiece of the meal, but before it comes out of the oven, take advantage of perfect picture opportunities by creating a stunning tablescape. 
To do this, set the table with Thanksgiving-inspired dinnerware. You can even decorate with fall flowers, like chrysanthemums, sunflowers, and dusty pink roses. Plus, a few decorative pumpkins would look amazing. 
Offer Some Boozy Drinks
While food is at the center of Thanksgiving, there's no reason not to make alcohol an important part of the meal. Fall-inspired drinks such as mulled wine, hard cider, and pumpkin spice martinis can all make for an excellent aperitif. And since you're hosting such a big event, a pre-dinner cocktail can help you to relax and unwind before sitting down to eat.
Enlist a Few Helpers
Planning and cooking a Thanksgiving dinner is a monumental task. Even the most seasoned hosts will feel exhausted after this undertaking. For this reason, assign tasks to a few willing guests. Things like keeping the ice bowl filled, setting and clearing the table, and even last-minute cooking are all things that your guests can lend you a hand with. 
Enjoy Yourself
This one is easy to forget, but it's definitely the most important tip. You worked hard to make this day special for your loved ones and you deserve to enjoy it, too. With a beautiful table setting, helpful guests, and a cocktail in hand, sit back and savor what you have created on Thanksgiving. 
The Day After: Thanksgiving Breakfast
If you have your loved ones staying with you for the holiday, then it goes without saying that Thanksgiving dinner won't be your last meal together. Thankfully, the morning after is a great opportunity to repurpose those Thanksgiving leftovers. 
Of course, after all that eating, the last thing you want is another heavy meal. Plus, you probably don't want to spend even more time cooking an elaborate breakfast. For this reason, we recommend serving a European-style breakfast the morning after your Thanksgiving dinner. 
How To Serve a European-Style Thanksgiving Breakfast
Buy a few loaves of your favorite bread (for variety, this could include sourdough, whole-grain, and even challah). Slice them up into individual servings.
Get an assortment of hard and soft cheeses. Along with the bread, lay them out on a large

cheese board

. 
Carve up the leftover turkey and put it next to the bread and cheese.
Put out some spreads, such as butter, cream cheese, or even Nutella. 
Buy a variety of fresh fruits that are especially popular for breakfast, such as grapes, strawberries, blueberries, and oranges. 
For some feel-good protein, serve plain yogurt. 
Last but not least, to make this feel really European, offer some fruit preserves for spreading on bread.
Healthy, simple, and involving virtually no cooking, the European breakfast the day after Thanksgiving will be an immediate hit. 
The Week After: Thanksgiving Leftovers
If you overestimated how much turkey you needed for Thanksgiving dinner, then this week should be a fun culinary adventure. While we love a good turkey and cranberry sandwich, here are some unique recipes to try out this time.
Turkey Quesadillas
To make this yummy comfort dish, simply nestle a few turkey slices between two tortillas. Fill them with your favorite cheese (mozzarella is our top pick) and place it in the oven. Add hot sauce for an extra kick.
Turkey Chili
Use your favorite chili recipe, but instead of ground meat, throw in chopped-up pieces of leftover turkey. Don't forget to serve it with some cornbread!
Turkey Eggs Benedict
To make this totally dinner-appropriate dish, place a thick slice of turkey over leftover stuffing. Top with a fried egg and hollandaise sauce. If you don't feel like making the sauce, then gravy makes a great substitution. 
BLTurkey Salad
Chop up some romaine lettuce, tomatoes, and crispy bacon for a quick and healthy meal. If you have any fresh veggies leftover from dinner, this salad is a great way to repurpose them. 
The True Meaning of Thanksgiving
Even though we talked about planning an elaborate dinner menu, going all-out for breakfast, and getting creative with leftovers, food is not all there is to Thanksgiving. Instead, it's a chance to get together with your loved ones and to give thanks for everything you're grateful for in life. 
We hope that between the yummy food, being with your loved ones, and feeling thankful for all of life's joys, this turkey day turns out to be your most special one yet!
Sources:
What Are Phytonutrients? | Live Science 
The Best Meatless Turkey Alternatives for Thanksgiving | One Green Planet
---