Top 6 Disposable Christmas Plates Designs for the Holidays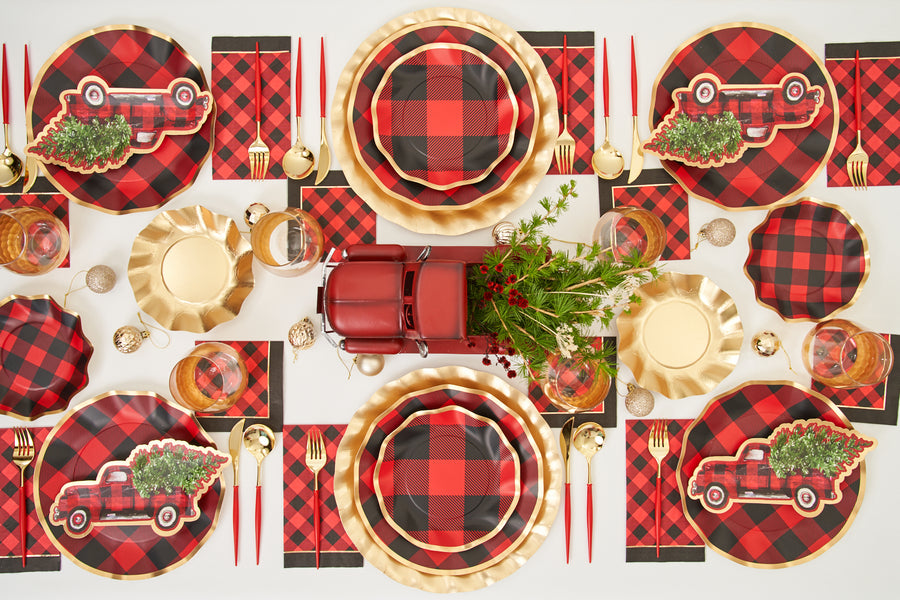 If you missed celebrating last year's Christmas with friends, family, and co-workers, then this year is the perfect chance to make up for the missed holiday. And what better way to do that than with food—the centerpiece of holiday celebrations? There's a lot to think about when it comes to being prepared for hosting holiday parties, from small parties to large events:
Christmas napkins

Christmas tableware themes

Dessert plates

Party supplies

Durable Christmas paper plates

Invitations

Utensils including spoons, forks, knives

The full details of the event
To make things extra festive this holiday season, we have a list of our favorite dinner plates designs for Christmas. And to make things easier for you (especially if you're playing host this year) they're all made from a sturdy paper material that can be disposed of at the end of the night. You don't need to load the dishwasher; cleanup will be quick and easy, we guarantee it! 
But before we get to the fun stuff that'll get you in the mood for holiday cheer, let's go over some of our top tips for having an amazing holiday season (which includes making our favorite Christmas recipes)! Read on for an amazing holiday season. 
Tips for Thriving This Holiday Season
When it comes to the holidays, we could write a book on how to celebrate, what to cook, and most importantly, how to stay stress-free. For our top takeaways, here are some tips for staying happy and healthy this year, from family gatherings to weddings to corporate Christmas parties. 
If You're Traveling
Book Your Flight Way In Advance: Travel has come back in full swing this year and that likely won't change come the holidays. So, if you've made plans to visit family this year, then it's best to get your tickets ASAP before prices shoot up (as they usually do).
Consider Expedited Check-In: Personally, we're not huge fans of standing in crowded security lines—especially after everything the pandemic has taught us. So, it might be worth it to pay extra to breeze through security. As a bonus, you can get to the airport much later than the recommended two hours before departure.
Don't Wrap Your Gifts  This is especially true if you're not checking your luggage. If the TSA needs to check the contents of the packages, they will rip apart the gift wrapping that you put so much effort into. And even if you're checking your bags, the gift wrapping won't be 100% safe. So, keep your gifts in regular bags and wrap them when you get to your destination.
If You Have a Lot of Christmas Gifts To Buy
Make a Separate Bank Account: If you want to make saving for gifts fun this year, then make a separate account and transfer a certain amount every two weeks or so. Watching the money add up is extremely fun when you know it will be spent on your loved ones (and will make it easier not to add too much stuff to your shopping cart). 
Be Extra Thoughtful: Of course, we know the importance of buying thought-out gifts for our loved ones. But what about those people you're not that close to, like co-workers? Well, we think that everyone should get a gift they will use and appreciate. So, put some thought into buying the right present for everyone on your list (if you're not close at all, you can't go wrong with chocolate, candy canes, or ornaments for their tree). 
Shop Early: Even if you missed Black Friday, getting a head start on gift shopping will make you feel super accomplished and not as stressed as those leaving gift shopping to the last minute. Plus, you'll have ample time to personalize your Christmas gifts. 
If You're Hosting a Christmas Party
Plan Your Party: Is this an intimate family gathering, an elegant and formal event, or a get-together with co-workers before you go off on vacation? Choosing your party theme plus the level of food, music, and gift-giving will make the rest roll smoothly. 
Designate a Time for Opening Gifts: If there's one thing that's synonymous with Christmas, it's getting presents. So, whether it's Christmas morning with the family or Secret Santa at the office, setting aside a time to give (and get) gifts is a must. 
Check Out Our Favorite Recipes Below: Yummy food and boozy drinks are the highlights of any party. Our classic Christmas recipes will go a long way in setting the right tone for your celebration (and will look delicious on our party plates, which can come in a solid color or fun pattern). 
Our Favorite Christmas Recipes
Unlike Thanksgiving, there isn't exactly a traditional menu associated with Christmas. But over the years, some dishes have come to be associated with this holiday. So, it's only right to serve them. Here are some of the best recipes for your next Christmas party.  
Cocktails
Eggnog: This is a decadent cocktail made with heavy cream, bourbon, sugar, warm spices, and (optional) egg yolks. Make it kid-friendly by skipping the bourbon and adding whipped cream on top. Serve it in disposable cups for clean-up that's quick.  
Mulled Wine: The fact that half the countries in the world have a variation on this cocktail speaks to its yumminess. Choose a fruity red wine and mix it with sliced oranges, sugar, warm spices, and even some brandy for an extra kick. 
Hot Buttered Rum: Best served to your freezing guests on arrival, this cocktail is made with rum, hot water, warm spices, and, you guessed it, butter (have it waiting in cute paper cups on a tray when they get there).  
Starters
Charcuterie Board: If there's one starter dish that we keep coming back to, it's the elaborate charcuterie display. Whether it's kits of cheese, cold cuts, an assortment of fruit, or baked goods, all you have to do is whip out your trusty cutting board and lay out what you've got on hand for a highly Instagrammable appetizer.
Finger Foods: You can go for any mini bites that you think your guests will enjoy and serve them with a pick for easy snacking. Personally, our favorites include pigs-in-a-blanket, meatballs, and virtually anything wrapped in puff pastry. 
Soup or Salad (Or Both): To keep things light and (relatively) healthy, a yummy salad, such as a Waldorf, and a soup, such as butternut squash, will make the perfect starters for a heavy Christmas dinner (don't forget your disposable plates and bowls).
Main Course
Thank goodness Christmas isn't Thanksgiving and we won't upset anyone by not serving a turkey at dinner. While a roast is the traditional choice of the main course, there's so much freedom when it comes to picking which one exactly you will serve. 
This can be a glazed ham with pineapple, a baked lamb rack with mint jelly, or even something as simple as a baked chicken. The choice is all yours!
Side Dishes
Mashed Potatoes: This is a classic side dish that's comforting but mild enough to not clash with the main course. Put a unique spin on it by adding ingredients such as garlic, cheese, or even bacon bits. 
Roasted Brussels Sprouts: For some reason, this is the one side dish that keeps popping up at Christmas dinners. And we don't mind! Add to this veggie's complex flavors by adding balsamic glaze, shallots, and bacon.
Glazed Carrots: Another side dish that seems to be always present at Christmas, it can be baked in 20 minutes with some carrot sticks, sugar, water, and butter until a glaze is formed.
Dessert
Gingerbread Cake: Is there a more classic dessert than gingerbread on Christmas? Make this classic cookie a hit with your guests by turning it into a cake. 
Upside Down Cake: We didn't start the pineapple craze on Christmas, but we sure are glad it's here. This treat is full of fruit while managing to satisfy our wildest sugar cravings. And it pairs perfectly with any cocktail!
Cookie and Pastry Assortment: There's no happier feeling than running to your local bakery for an assortment of mini treats. And the best part? Zero cooking involved.  
Our Favorite Paper Plates
Now that you have an idea of what you'll be serving at your Christmas dinner party, let's take a look at some pretty plates to serve them from. Here are six of our favorite designs that you're sure to love.
1. Eternal
Is there anything that says Christmas more than the colors green and red? With these rich hues colors and a hand-designed floral pattern, these plates will make for an incredibly elegant Christmas dinner. 
2. Jolly Gnomes
For the cutest Christmas table ever, this design will hit all the right notes. These plates are adorned with jolly gnomes and come in the perfect festive colors of red, white, and metallic gold. 
3. Jolly Santa
This is a plate design that's not only the right colors but the most festive shape, too. Its design features a smiling Santa head that is sure to put a smile on your face. 
4. Holiday Buffalo Check
If you're hosting a grown-up Christmas gathering, then this sophisticated red-and-black checkered pattern is a perfect choice. We love matching it with gold cutlery and a few gold bowls for an extra regal touch.
5. Holiday Elegance
If you want to keep things elegant and low-key but still love Christmas-themed patterns, then this is the perfect design for you. With printed branches and leaves on a creamy white background and gold rim, your guests will feel ultra-sophisticated at your gathering.
6. Classic Gold
We get it: you've been seeing Christmas decorations everywhere you go this season and the last thing you want to do is bring this to your own party. In that case, a metallic gold hue is still incredibly festive without being too Christmas-y. And as a plus, if you end up with extra plates, you can always use them to celebrate New Year's Eve (or any other holiday). 
Merry Christmas
'Tis the season to have your best Christmas party yet! With the right holiday planning, yummy Christmas recipes, and beautifully designed tableware, we have no doubt that this season will more than make up for anything you might have missed out on last year. Our disposable paper plates are the best choice for an easy clean up.
Happy holidays to you from Sophistiplate!
Sources: 
Air Travel Numbers are Climbing, According to the TSA | The Washington Post 
Creamy Double-Garlic Mashed Potatoes Recipe - NYT Cooking | The New York Times 
David Lebovitz's Fresh Ginger Cake Recipe - NYT Cooking | The New York Times
---