18 Exciting 10th Birthday Party Ideas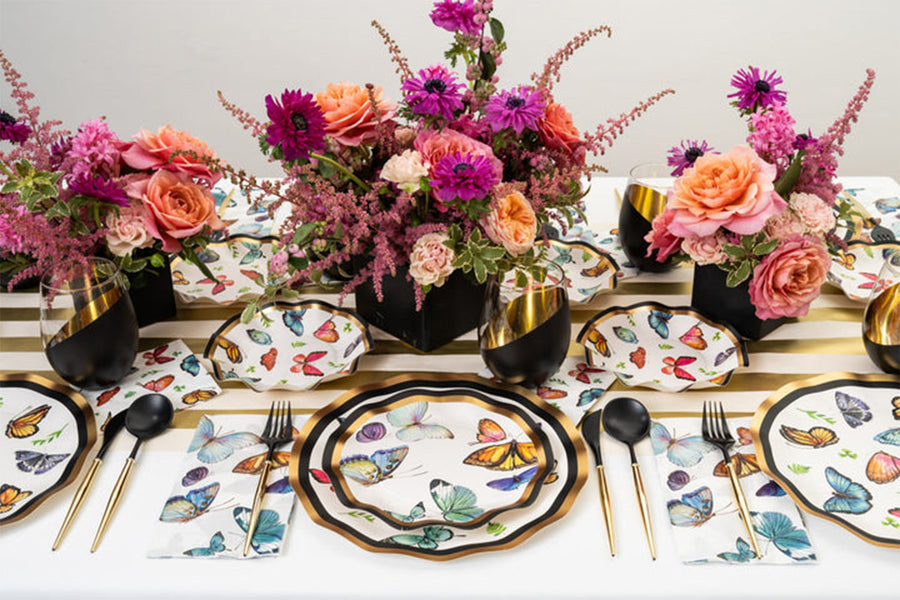 While birthdays are a fun occasion at any age, kids tend to get especially excited about celebrating their big day. To add to their excitement, why not plan an elaborate birthday bash with a theme, decorations, and lots of engaging activities? If you need some inspiration, here are 18 exciting 10th birthday party ideas from Sophistiplate to get you started.
1. Host a Fancy Tea Party
We'll admit it: Seeing the kids dressed up in their finest tea party attire — complete with a floral dress, white gloves, and pearl necklace — is most of the reason we love this party theme so much. Add to that the fact that it's super easy to throw with a well-decorated table, a variety of finger foods, and a selection of teas, and you have yourself the perfect 10th birthday party idea. 
2. Hula With a Tropical Luau 
For a super photogenic party theme, consider throwing a tropical luau. To decorate, spruce up the party space with tropical leaf garlands, banners, and inflatables. To make it look super cute, add in some accents of pineapples, flamingoes, and yellow hibiscus — Hawaii's national flower. 
For a fun activity, have the kids participate in a hula hoop dancing contest while listening to traditional Hawaiian music. You can even give the guests some grass skirts to wear to make the experience feel super authentic. 
3. Serve Tropical Mocktails 
Instead of plain ol' soda and juice, why not spruce things up with some elaborate  (non-alcoholic) concoctions? Your favorite tropical cocktails — such as piña coladas, Mai Tais, and bay breezes —can be easily transformed into kid-friendly drinks by nixing the alcohol. That said, we'd still serve them in cocktail glasses to make the kids feel super grown-up. 
4. Make a Splash at the Pool 
If you're lucky enough to have access to a pool, then you have an instant setting for throwing a fun 10th birthday party. To keep the kids engaged, make sure you have plenty of activities lined up for them. This could be pool volleyball, Marco polo, or even a belly flop contest! Decorate with plenty of colorful pool floaties. 
5. Choose a Candy Land Theme
It seems like kids have a special affinity for candy. Make them happy by centering the birthday party around a Candy Land theme. Deck out your space in plenty of bright colors using banners, garlands, and balloons. Serve cupcakes and cake decked out in various candies. Last but not least, make sure that you have a seriously impressive candy bar that the kids can keep running to all night. 
6. Throw a Slumber Party
If you want to keep the birthday party to just a few close friends, why not turn the birthday party into a sleepover? Decorate the space in plenty of cute and cozy accents, such as fur rugs, fluffy pillows, and warm throws. Set up plenty of activities for the kids to engage in, such as movie marathons, makeup and hair makeovers, and board games. Serve them lots of yummy snacks in these cute containers to keep them noshing all night long. 
7. Pet Some Puppies
Is there anything cuter than a bunch of 10-year-olds cuddling with puppies? As much as we love to see it, we guarantee that the kids will be absolutely thrilled with this activity. And don't worry: You don't need to adopt a bunch of puppies for your kid's birthday party. Instead, you can rent them out for the day for all the puppy-petting benefits and none of the fuss. 
8. Spa Day at Home
Going to the spa is always a good time. However, if your kid's birthday party guest list is seriously large, then traveling with everyone might be difficult. In this case, you can bring the spa to your home! 
Lay out aromatherapy candles, set up hot foot baths, and make a table with spa treatments, such as face and eye masks. To make the kids feel super-fancy, serve them infused beverages — such as water made with cucumbers, limes, and mint. 
9. Get Lost in a Fairytale Dream
A fairytale party theme is a foolproof choice for many 10-year-olds. Decorate the space in romantic and whimsical colors and prints. Have the kids dress up as their favorite princes and princesses. You can even hire a dance instructor to teach the kids how to waltz. 
10. Decorate With Butterflies 
Butterflies are an easy way to instantly spruce up any party space. Attach butterfly cutouts to your ceilings, curtains, and anywhere else you can think of. Add lots of pink and purple accents to the party to go with the butterfly theme. If you're serving food, take advantage of the opportunity to add to the décor with our Butterfly Table Setting. 
11. Host a Swanky Dinner Party
We may think of dinner parties as something fit only for adults. However, it can be a fun way to get the kids fed. You can either take the kids to a swanky restaurant to give them the full experience or host the dinner party in your own home. Make sure to serve appetizers, entrée, and dessert courses using elegant tableware. At the end of the dinner, engage the party guests in a fun activity, such as dancing. 
12. Make Your Own Pizza 
Hosting a make-your-own pizza party kills two birds with one stone: getting the kids fed while keeping them engaged in a fun activity. If you want to keep them engaged all night long, then you can teach them how to make pizza dough — a skill they'll surely appreciate for years to come. 
Lay out a toppings bar with plenty of unique options for the kids to experiment with. To keep hands out of the oven, use a professional pizza peel for sliding in the pizza and removing it once it's cooked. 
13. Serve Snacks With a Twist
For any kid's birthday party, a constant stream of snacks is a must. However, instead of the plain snack options, such as pretzels, popcorn, and chips, why not put a fun twist on these classics? 
You can have the kids experiment with making their own caramel-drizzled popcorn or even baking chips out of various fruits and vegetables. To spruce up the party, make sure to serve party snacks in these Cactus Baking Cups. 
14. Take the Kids Ice-Skating 
If your kid's birthday is in the winter months, then a great idea for an all-day party is to take the kids to an ice-skating rink, whether it's indoor or outdoor. Not only will this keep them occupied for hours on end, but many ice-skating rinks serve more than enough food to keep the kids well-fed. In some places, you'll be able to bring in your own birthday cake for a sweet end to the evening. 
15. Play Some Laser Tag 
For an exciting birthday party idea, you can take the kids to a laser tag arena. With all the excitement of using laser guns, we're sure that the hours will pass by instantly. Afterward, you can take the kids to a restaurant to eat or host dinner in your home. 
16. Host a Sports Competition 
If your kid is a fan of sports, then a sports competition will make for the perfect activity on their birthday. Pick their favorite competitive sport and split them up into teams. For the winning team, make sure to have some kind of prize in-store to sweeten their win. 
17. Do Some Arts and Crafts
For those who are more creative, you can host an arts-and-crafts party. To make this happen, choose your kid's favorite craft(s). Make sure that it's something the guests will be able to do without supervision while creating an impressive item that they'll cherish for years to come. Here are some of our favorite ideas for arts and crafts: 
Finger painting

Mug painting

Jewelry-making

Tie-dye t-shirts

Scrapbooking
18. Set Up an Ice Cream Bar
Is there anything kids love more than ice cream? For a sweet end to a fun night, treat the kids to an elaborate ice cream bar. Set up a table with plenty of various toppings, such as sprinkles, cookie crumbles, fresh fruit, whipped cream, and hot fudge. To keep the ice cream cold, store it in its original containers in an ice chest. Make sure to have at least two cups of ice cream per person to make sure everyone is more than satisfied!
While the ingredients are the star of the show, we would put a bit of effort into making the display look super cute with decorative serving bowls, retro mason jars, and colorful signs for the ingredients. 
A One-of-a-Kind Birthday Party
While kids are notoriously easy to please, putting extra thought and effort into planning their 10th birthday party can make them even more excited. Whether you're using a fairly theme, decorating with butterflies, or setting up an ice cream bar — or all three — we're sure that your efforts will go towards making their birthday party the best one yet. For everything you need to throw the perfect party, Sophistiplate has your back. 
Our Sources: 
What Is Hawaii's State Flower? (with pictures) | Wise Geek 
The Power of Pets | NIH News in Health 
---