Top 16 18th Birthday Party Ideas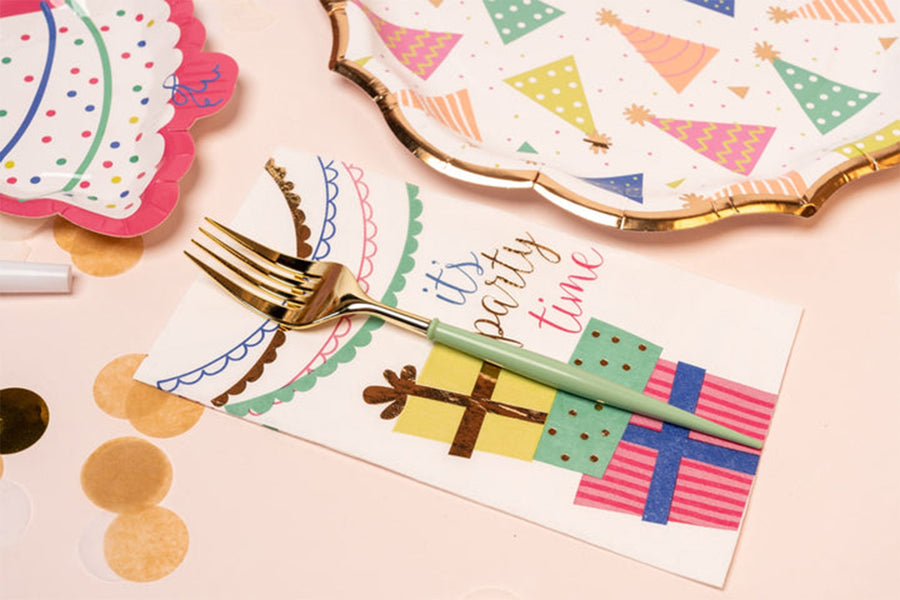 An 18th birthday party celebrates your child's official entry into adulthood. To celebrate how much they've grown up — in addition to how much more is left to come — you want the celebration to be extra special. 
To help you make the party as exciting as it can be, here are some 18th birthday party ideas from Sophistiplate that are sure to impress anyone who attends. 
Best Themes and Decorations
To make the party extra Instagrammable, picking the right theme and decorations will take you a long way. Here are some of our favorite ideas to inspire you. 
1. Summer Pool Party Theme
If you're throwing a party in the warmer months, then a pool party would make for the perfect theme. Deck out the party space with colorful pool inflatables, blown-up balloons, and pool volleyballs. Make sure there are plenty of (virgin) cocktails pouring all night. Create a fun summer playlist to keep the party going all day long. 
2. Retro Roller Blading Theme
If you can rent out a rollerblading rink for the night, why not turn it into a retro-style party? With a disco ball, glow-in-the-dark décor, and a playlist full of disco hits, your guests will feel like they've been transported to the 70s. 
3. Bohemian Vibes Theme
The bohemian aesthetic is all about free creativity, and it looks great in photos! Whichever party space you choose to go with, deck it out with macramé, floral tapestries, and plenty of earthy colors. You can even incorporate the bohemian aesthetic when creating your table setting. 
4. Balloon Arch
Whichever theme you choose to go with, a balloon arch will look seriously impressive at any party. Although they look complicated, they are seriously easy to put together. All you have to do is inflate lots of balloons and tape them together in an arch shape. Hang it up along the entrance to the party for a great first impression. 
5. Photo Booth
A photo booth is a great way to keep the party guests occupied while sending them home with plenty to remember the event by. To make it seriously impressive, we would create a photo backdrop that matches the party theme. This could include tropical greenery, bright neon colors, or glam-and-glitzy metallics. Make sure there are some fun props to play around with, such as sunglasses and hats in quirky shapes and colors. 
6. Birthday Crown and Sash
To make the guest of honor feel truly special, why not give them a crown and sash to wear all throughout the night? You can personalize it with their name, favorite color, and any other elements that would put a smile on their face. 
7. Cake Topper
A cake topper is a must-have for any birthday. To make the guest of honor feel truly special, nix the generic "happy birthday" cake topper and create a custom-made one with their name, in addition to anything else that they'd like to see on their birthday cake. For an instantly photogenic cake, experiment with creating a cake topper with different designs, font colors and sizes, and unique colors. 
8. Polaroid Garland 
A garland made with polaroids of the birthday girl/boy not only gives the birthday party space cute retro vibes, but it can be a serious source of entertainment for everyone who attends. If you can get your hands on them, make sure to include photos of the guests, as well. Add a string light to the garland to make it look super pretty. 
Best Food and Drink Ideas
A party isn't complete without something yummy to eat and drink. Elevate your birthday party with these unique food and drink ideas. 
9. Birthday Mocktails
Although the birthday girl/boy won't be old enough to drink, that doesn't mean they can't feel like grown-ups with a cocktail glass in hand. Create some yummy mocktails by using a combination of fresh fruit, juices, and soda. 
Some of our favorite virgin mixers include berry mojitos, frozen piña coladas, and fruit spritzers. Instead of using regular cups, you can use cocktail glasses to seriously elevate the "imbibing" experience. And, of course, don't forget to throw in some decorative paper straws for easy sipping!
10. DIY Taco Bar
Tacos are an instant hit at any party. Let the guests play around with making their own by setting up a taco bar with plenty of options. Make sure that there are both soft and hard shell tortillas, various meat fillings (in addition to plant-based meats), and lots of comforting toppings, such as cheese, homemade guacamole, and sour cream. Use our Birthday Confetti Tableware to add an extra festive vibe to the dinner table without having to do any clean-up after. 
11. Pizza Party 
Of course, you can order in a bunch of pizzas for an easy (but incredibly delicious) dinner. However, why not take this opportunity to engage the party guests in crafting their own culinary creations? Host a pizza party that allows each guest to pick their own pizza toppings.
Since everyone will be picking out their own ingredients, you can rest well knowing that everyone's dietary restrictions will be adhered to 100%. We recommend using a professional pizza peel to make sure that the crust comes out super crusty while keeping everyone's hands out of the oven.  
12. Charcuterie Board 
Many grown-up parties now include a charcuterie board to start the night off. Since your kid is officially an adult, why not introduce them to this elevated appetizer — or a full meal — by creating an impressive charcuterie board for them to snack on. Don't forget to include plant-based options for those with dietary restrictions. We're sure that with a beautiful charcuterie display, your kid's Instagram will never look better! 
13. Cupcake Display 
Instead of a birthday cake, why not create a cupcake tower? Cupcakes of different flavors, colors, and designs will make for the perfect décor on the dessert table. You can even customize them with the birthday girl/boy's name and plenty of birthday wishes. 
Best Activities 
Sometimes, getting a bunch of friends together into one room is more than enough to get the party rolling. But sometimes, you need a few activities to liven things up. Here are some of the activities we love for birthday parties that will keep your guests super engaged. 
14. Professional Photo Shoot
We personally believe that professional photos are everyone's rite of passage into adulthood. Make this into a party activity that all the guests will surely appreciate by hiring a professional photographer to take photos of everyone. 
To make the photos look seriously impressive, make sure to set up plenty of photo backdrops. Ask the guests to come dressed in their best outfits. As for the birthday girl/boy, arrange for several outfit changes. Bonus points if you can get professional hair and make-up to make everyone look amazing before being photographed. 
15. Movie Premiere
Hosting a movie "premiere" at your place will make the guests feel like they're (almost) at a film festival. You can really play up this activity by setting up a large screen with a film projector. You can also lay out a red carpet to the entrance to the party to make sure that the guests have plenty of photo-taking opportunities. 
As for the movie that you choose to screen, we'd recommend going with a recent blockbuster. However, depending on your kid's taste, you can also screen an arthouse movie or a classic film. Serve plenty of popcorn using these large baking cups. 
16. Host at-Home Spa Day 
An at-home spa day is sure to be an instant hit with the party guests. After all, who doesn't love being pampered with massages and facials all night long? To make this happen, we recommend hiring professionals to attend to the party guests for several hours. 
If hiring professionals isn't an option, then you can set up a DIY spa by laying out face masks, massage oils, foot baths, and anything else that can be used for at-home pampering. Make sure that you recreate all the elements of a spa in your own home by playing relaxing music, lighting some scented candles, and keeping the decorations to a minimal aesthetic
Here's to the Perfect 18th Birthday Bash 
An 18th birthday marks your child's passage into adulthood. For this reason, you want it to be as exciting as you can possibly make it. By picking a fun party theme, going all-out with decorations, serving yummy food and drinks, and engaging in fun activities, the party you throw will be an instant hit. 
For high-quality party supplies, Sophistiplate has everything you need to keep your party aesthetic as stylish as it can be. Happy partying!
Our Sources: 
The 35 Best Disco Songs Ever | Billboard 
Virgin mojito recipe |  BBC Food 
---