18 Tips for Throwing the Perfect 4th of July BBQ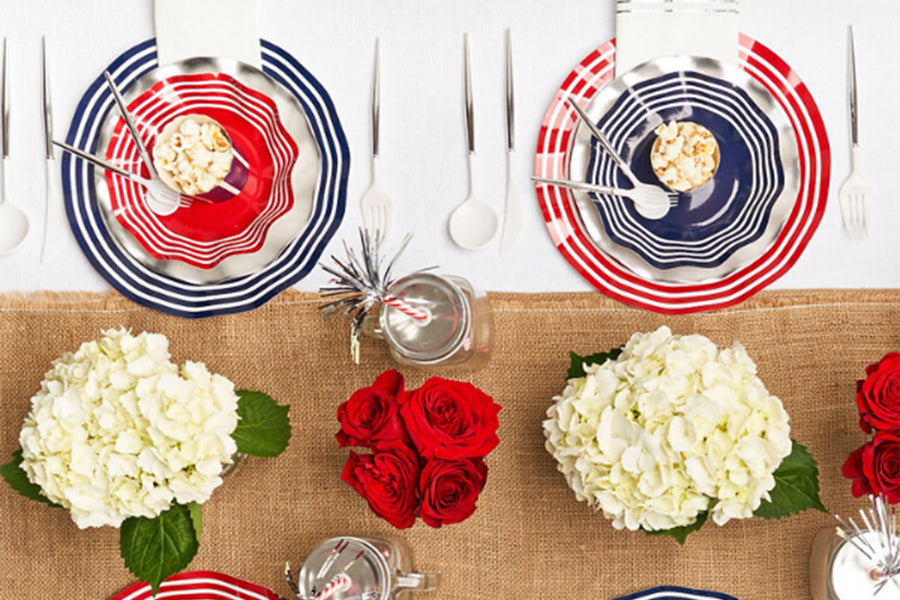 Although it may seem simple, there are actually many elements to throwing the perfect Fourth of July barbecue. To get you started, here are some ideas from Sophistiplate that cover everything from your grilling ingredients to your drink creations to your party décor. Read on for 18 of our top 4th of July BBQ ideas. 
1. Prep Your Grill Like a Pro
Before you get to grilling, make sure you have all the right tools on hand. You'll need at least the following tools to make sure that your barbecue is a success:
A grill brush for cleaning off food, grease, and other buildup.
A spatula for flipping your burger patties.
A pair of tongs for working with oddly-shaped pieces of meat.
A meat thermometer to make sure your meat is at the perfect temperature.
Cooking spray (or even a stick of butter) for keeping your ingredients from sticking to the grill. 
Serving trays (such as our

Buffet Tray

) for serving the cooked meat.
Aluminum foil for wrapping the cooked meat and keeping it warm. However, make sure that you

avoid cooking

with aluminum foil on the grill to prevent chemicals from getting into your food. 
(Optional) A cast-iron skillet for making other on-the-grill recipes, such as a

baked apple crisp

. 
2. Make Sure Your Grill Is Hot Enough 
If your grill isn't the right temperature, your first few batches of meat won't cook properly. This can make a lot of high-quality ingredients go to waste. However, there's something you can do to make sure that your grill is at the perfect temperature. 
Before you start grilling, prep the grill by thoroughly cleaning it with a grill brush. Next, apply cooking oil to the grates and fire up the grill for at least 15 minutes until the oil burns off. To make sure it's ready for grilling, hold your hand several inches over the grill. If it's ready, one or two seconds will be the absolute maximum you'll be able to keep your hand there. 
3. Go for Variety 
As much as we love classic burgers and hotdogs, there are so many more options in the world of barbecue meat that can seriously impress your guests and make for an exciting culinary experience. Consider going for some unique meat options, venison burgers, chorizo sausage, and ribs. 
If these options are a bit too exciting for you, then you can always spruce up the BBQ classics by going for unique flavors. Jalapeño hotdogs, anyone? 
4. Make Sure To Marinade
Marinating your meat before you grill it can seriously enhance its flavors. Make sure to make the marinade a few days in advance so your BBQ creations have lots of time to absorb it. And yes, you can totally marinate your burgers and hotdogs!
5. Don't Forget Your Vegetarian Friends 
With all this meat talk, we're sure that you might have forgotten about your friends who follow a plant-based diet. Make sure to keep them in mind as you shop for your Fourth of July BBQ ingredients. We'd grab some plant-based patties for those guests—in addition to many different types of veggies to keep them satiated. 
6. Keep It Healthy (but Delicious)
Unlike the other holidays that we associate with eating (such as Thanksgiving), it's totally possible to keep your Fourth of July BBQ healthy. The key to making this happen is to cook your side dishes with clean ingredients. 
For instance, you can use mayonnaise with avocado oil to make your coleslaw. You can make your cornbread with a sugar substitute, such as honey. You can even grill extra veggies to get an extra nutrient boost. Veggies such as peppers, onions, zucchini, and asparagus taste delicious on the grill while being super healthy. 
7. Put a Twist on It 
Whatever you choose to cook for your Fourth of July BBQ, you can seriously wow your guests by putting a modern twist on a traditional recipe. For instance, if you're making coleslaw this time around, then you can experiment with different flavors, such as jalapeño, apple, or even spicy Thai peanut. You can add the same variation to different dishes, such as your baked beans, mac & cheese, and even your condiments. 
8. Use Cute Servingware 
Sophistiplate's Large Baking Cups not only look super festive but can be used to serve virtually any food. You can bake your cornbread in them, use them for holding condiments, or even sub them in for plates. Because of their raised edges, nothing will spill over from these baking cups. 
9. Grill Your Dessert
Since you already have your grill fired up, why not take advantage and make some sweet treats on it after you're done with the main courses? Choose your favorite fruit, slice it up into thick pieces, and throw it on the grill until it cooks through. We're personally huge fans of grilled peaches, apples, and watermelon. You can even make cute fruit kabobs using these ingredients! 
10. Set the Mood With Lighting 
You can seriously elevate the ambiance of your Fourth of July BBQ by incorporating some lighting elements. String lights that are star-shaped in red, white, and blue colors will be an instantly festive touch that will make your guests feel seriously patriotic. If you want to tone it down just a bit, then regular string lights will make for an aesthetic that is just as stunning. 
11. Create a Festive Tablescape
The food is sure to be the star of the show this Fourth of July. Make sure that your dinner table is impressive by creating a festive tablescape with Fourth-of-July-themed plates, napkins, and cutlery. Our Stars & Stripes Table Setting will make for a perfectly Instagrammable table centerpiece that will make your guests super excited to start their meal. 
12. Ditch the Plastic 
Plastic straws are damaging to the environment and are quickly becoming obsolete. While they are still the most abundant option at the supermarket, why not ditch them in favor of more eco-friendly paper straws? Not only are Sophistiplate's Chevron Paper Cocktail Straws biodegradable, but they can seriously add to the festivities of your Fourth of July Barbecue. 
13. Cool It Down 
More likely than not, you'll experience some serious heat during your Fourth of July Barbecue. Make sure to plan ahead by preparing plenty of umbrellas, sunscreen, and—most importantly—coolers stocked with tons of chilled drinks!
14. Make Cocktails Like a Boss
You don't have to be a professional bartender to make cocktails that your guests won't be able to get enough of. Simply follow this foolproof formula to get the perfect cocktail every time: Mix two parts of liquor to one part something sour and one part something sweet. Mix the ingredients well and serve them over ice. For an extra touch, serve the drink with a cute garnish. 
15. Do a Food-and-Beer Pairing
As much as we love a good cocktail, a Fourth of July Barbecue won't be complete without beer. But instead of going for the first thing on the supermarket shelf, why not do a well-crafted beer pairing with your barbecue dishes? Doing this will seriously enhance the flavor of your food and keep your guests drinking all night long. 
16. Chill Your Beer Quicker
If you forgot to chill your beer before the party—or if you had to make a quick run to get more beers—then you certainly don't have hours to wait until the beers get to the right temperature. Thankfully, there are plenty of tricks you can use to chill your beer quicker. Our favorite trick? Salt!
To use it, grab a large bucket filled with plenty of ice and salt. Submerge the beer in the mixture. Because salt causes ice to melt quicker, your beer should be chilled and ready to drink in about 15 minutes. 
17. Use the Right Glassware
If you go to a beer brewery, you'll notice that different types of beer are served in different types of glassware. There's a reason for this: Different types of glasses bring out different aromatic compounds in types of beer. So, make sure to serve your beer in the right glassware to enhance its flavors. 
18. Set Off Some Fireworks 
For the perfect finish to your Fourth of July Barbecue, gather all your guests for a fireworks viewing. If your local laws allow for it, then you can totally create a fireworks show in your own backyard (making sure to keep safe, of course!). If that's not an option, then do some research on local firework shows and bring your guests along for the ultimate viewing experience. 
Celebrating Independence Day With Sophistiplate
While it may seem as simple as firing up the grill, packing a cooler with beer, and inviting a few friends over, a successful Fourth of July BBQ requires a bit of preparation. We hope that our 18 ideas gave you some inspiration. For all your other party needs, Sophistiplate's got your back! 
Our Sources: 
Use tin foil on your BBQ? Here's a very serious reason why you shouldn't | The Sun 
Cast-Iron Skillet Apple Crisp Recipe | Food & Wine 
The Scourge of Plastic Straws | The New York Times 
FROM ALE TO STOUT: GUIDE TO BEER WITH FOOD | The New York Times 
Essential Guidelines for Firework Safety | University of Rochester Medical Center 
---