16 Exciting 4th Of July Party Ideas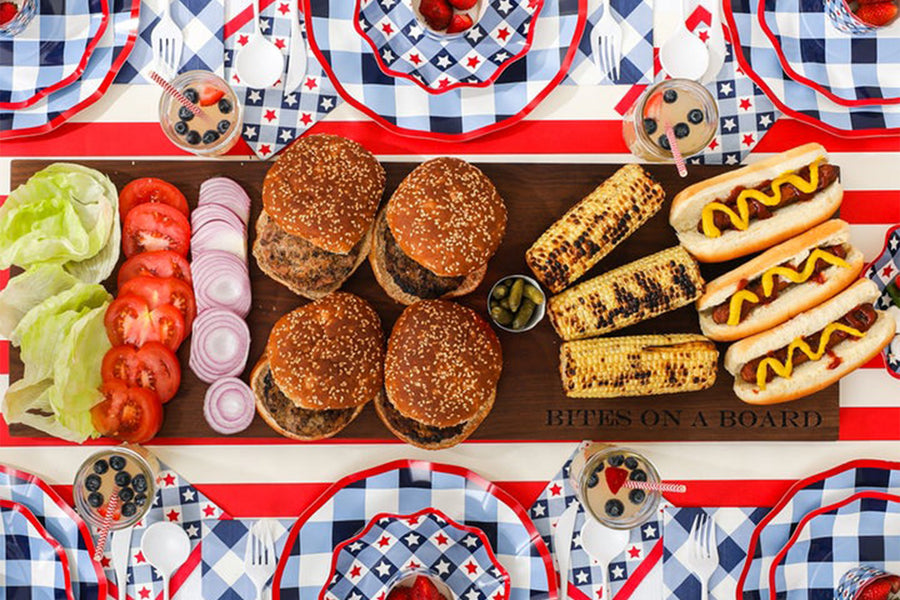 If you're throwing a party to celebrate the Fourth of July this year, then you might want to spruce things up a notch and take it beyond a regular barbecue. To give you some inspiration, here are some 4th of July party ideas from Sophistiplate to make your Independence Day the most exciting one yet. 
1. Pick a Theme
Picking a theme is one of the best things you can do to make sure that all elements of your party match with each other. Of course, since it's independence day, the theme will have to include the colors red, white, and blue. That said, we'd recommend putting a spin on this classic and going for a theme that's more glamorous, nautical, or patriotic. This will ensure that everything that goes into setting up your party goes together perfectly. 
2. Decorate Your Heart Out
For your Fourth of July party, we'd recommend going all-out with decorations. Hang up a (star-spangled) banner on your wall, drape American flag garlands around your fence, and place a patriotic wreath on your front door. When it comes to decorations, the sky is the limit. We promise that the more you decorate, the more there will be to take pictures of! 
3. Send Out Invitations
A text is definitely more convenient, but a physical invitation packs a serious punch. Send out an elaborate paper card with all the party details your guests need to know. If you want, you can even include a list of things your guests are welcome to bring along with them. After all, an extra pack of beer never hurt anyone!
4. Create a Patriotic Tablescape
If you're the type who loves to take photos of a perfectly put-together tablescape, then you'll love our Patriotic Confetti Table Setting. Not only does it look completely stunning, but our durable paper plates are basically indistinguishable from real china—while requiring no clean-up time after. Talk about seriously impressing your guests!
5. Serve Individual Portions
We get: It's important to keep things super hygienic in these post-pandemic times. If you want to prevent your guests from touching the same serving ware, then a great alternative is to serve individual options using our Sophistiplate's Large Baking Cups. 
Because they come in a variety of designs, they'll make a seriously cute addition to your party décor. And because they're super durable, you can experiment with putting all kinds of foods in them. We're thinking coleslaw, baked beans, and even ice cream—with no spills to worry about!
6. Elevate Your Classics With a Toppings Bar
No Fourth of July barbecue is complete without burgers and hotdogs. That said, we'd put a spin on these classics by setting up a bar with unique toppings that your guests can play around with. 
We'd experiment with some of the following combinations: 
Diced pineapple and teriyaki sauce
Crumbled blue cheese and buffalo hot sauce
Diced bacon, sweet baked beans, and creamy coleslaw
7. Offer Lots of Options
When it comes to Fourth of July barbecue ideas, there is plenty that you can offer to your guests to keep things interesting. As much as burgers and hotdogs are a must, you can also add in some unique barbecue options for variety. 
Interested in experimenting with unique flavors? Why not go for blue-cheese stuffed burgers, apple hotdogs, or teriyaki chicken wings? If you're more adventurous, then you can offer unique meat options. Meats such as boar, venison, or duck can be exciting options for your guests to try out at your Fourth of July party. 
8. Consider Dietary Restrictions
Modifying your menu for guests who are vegan, paleo, or gluten-free could not be easier. Because a barbecue menu is incredibly versatile, you can put a spin on any classic dish. For instance, make your coleslaw low-carb by using a sugar substitute instead of regular sugar. You can make the same recipe vegan by using plant-based mayonnaise or nixing it all together in favor of vinegar coleslaw. 
If you want, you can even make several versions of the same dish—a touch your guests will surely appreciate! And who knows? You might even teach your guests something new about how delicious different ways of eating can be.  
12. Eat Your Veggies
Because meat is the star of the show at barbecues, it can make you forget how delicious veggies on the grill can be. But that's a mistake! Not only do vegetables take on an enhanced flavor when they're slightly charred, but they can be a seriously healthy addition to your barbecue that makes you feel great after you're done eating. 
Our favorite veggies for grilling? Why, thank you for asking! We're big fans of grilled peppers, onions, and zucchini. However, if there's a vegetable that you really like, then it can be grilled 99% of the time. (This is just one example to prove our point.)  
13. Grill Your Fruit
We love serving a tray of refreshing fruit for dessert after a decadent barbecue. But what we love even more than that is serving up our fruit grilled! 
The char from the barbecue grill will seriously bring out the caramelized notes in these sweet treats, which will make for a unique culinary experience. Slice up some pineapple, peaches, and apples for grilling. Make sure to serve them with these decorative food picks for easy snacking. 
14. Serve a Signature Cocktail 
If you want to enhance your imbibing experience, then consider creating a signature cocktail. Besides being able to name it after yourself, this will give you the opportunity to make it look exactly as you wish. 
We'd take advantage of this by creating a layered cocktail that's red, white, and blue. Whichever direction you decide to take it in, we're sure a signature cocktail will be a major hit at your party. 
15. Pop in a Straw 
No cocktail is complete without a festive straw. If you were thinking of getting a pack of plastic straws, we'd reconsider doing this in favor of biodegradable paper straws. After all, plastic straws have been shown to be damaging to the environment and are being banned in many cities. Do the same by "banning" plastic straws at your party and using only those that are made from the more eco-friendly paper. 
14. Do a Beer Pairing
As much as we love pairing our food with wine, we'd much rather have a gold brewski at our Fourth of July barbecue. But don't think that it can't be as sophisticated as a wine pairing! After all, all craft beers have different flavors that can make the perfect accompaniment to your barbecue dishes. 
Keep this in mind as you purchase your beer selection. To show your guests that you take your pairings seriously, offer at least three different beer options to go with the different dishes. However, we definitely wouldn't complain if you choose to up that number!
15. Set Up a Tie-Dye Station
To balance out all that eating and drinking, you'll need a fun activity to keep your guests engaged. Why not give your guests something creative to do while sending them home with a unique party favor? 
To set up a tie-dye station, all you need are some buckets with different colors of dye. You can either provide your guests with t-shirts—or other types of clothes—or you can ask them to bring their own. Make sure to have some aprons and gloves to prevent your guests from staining their clothes while they experiment!
15. Pass Out Poppers and Sparklers 
To keep your guests safe this year, use poppers and sparklers—instead of at-home fireworks—to get in the Independence Day spirit. This isn't only loads of fun for kids and adults alike, but your guests holding up brightly-lit sparklers can make for the cutest Instagram post!
16. Watch the Fireworks
To finish off the night, there's nothing better for a professionally-made fireworks show. If you can't view one from the comfort of your own home, then meet your guests in a place where the fireworks show will be on full display. And if that's not an option, then watching the fireworks on a large TV screen can be just as fun! 
Friends, Beers, and Fireworks 
To throw a Fourth of July party, your closest friends, some craft beers, and a fireworks show adds up to virtually everything you need to make your event a success. 
But if you want to really enhance your party, then paying attention to the small details is a must. If you're hosting Independence Day this year, then Sophistiplate has everything you need for your party to be remembered for years to come!
Our Sources: 
Guacamole Recipe | NYT Cooking 
Pickleback Slaw Recipe | NYT Cooking 
Grilled Romaine Recipe | NYT Cooking 
The Foolproof Formula for Creating Your Own Cocktails | Shape
How do straws hurt the environment? | Association of Zoos and Aquariums  
---