Top 20 Best Cutting Boards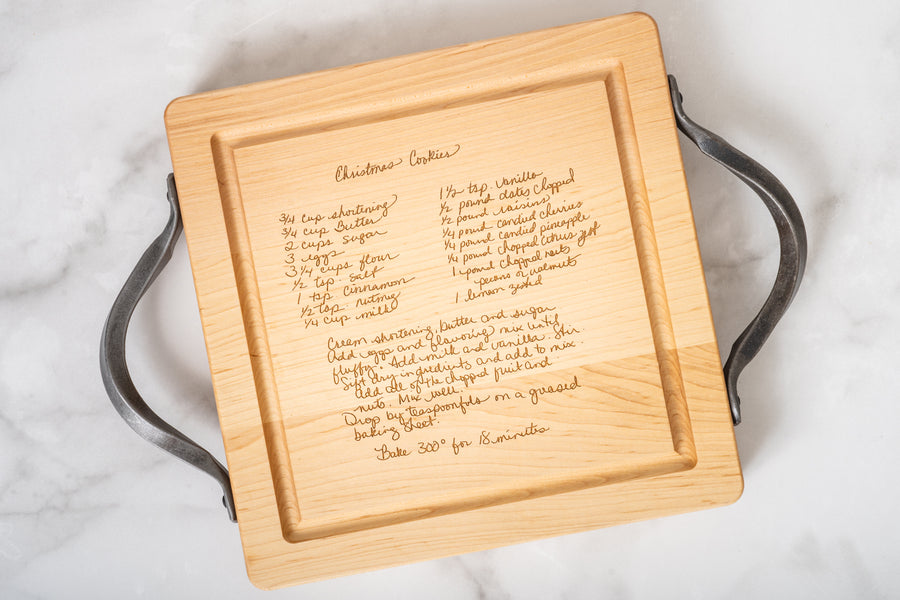 While there's nothing more important than quality when shopping for a cutting board (after all, we want ours to last us a lifetime), you still want something that brings you joy to use every time that you cook. Whether that means choosing the perfect material (we prefer a wood board over plastic boards), color, or function, here are some of our favorite cutting boards that you are sure to love:
The Best Materials
The type of material a cutting board is made from will make a huge difference. For instance, wood has natural antiseptic and self-healing properties that make it markedly different from man-made plastics and silicones. It helps to keep bacteria at bay and doesn't warp like rubber can. Wooden cutting boards make the best cutting boards, but we will explore other types, too. 
Here are some of our favorite materials. 
Light Maplewood Cutting Board
There's a reason maplewood is one of the most popular cutting board materials. Maple ranges in color from ivory to creamy light brown, has unparalleled durability, and can last you ages.
Dark Walnut Wood Cutting Board
Walnut is another material used often for high-quality cutting boards. It's a dark chocolate brown color that is stain-resistant and incredibly elegant. It looks so nice, you can keep it on your counters when you aren't using it. 
White Marble Cutting Board
While there are many different types of marble, when it comes to cutting boards, our favorite material is white marble—a long-time favorite of artists. Much like a sculpture, a white marble cutting board has an incredibly stunning look with an almost regal quality. However, it's not great for the blades of your knives and it's not lightweight, either. 
Clear Tempered Glass Cutting Board
Tempered glass is simply glass that was manufactured to withstand pressure from knives. A tempered glass cutting board is thin, sleek, and extremely modern. While we can't promise that it won't dull your knife blades, it can make for a gorgeous serving platter for cheeses, spreads, and fruit. 
Neon Plastic Cutting Board
Plastic cutting boards come in all types of colors. You can even get an assortment of them to coordinate for cutting your meats, poultry, and produce. 
When it comes to the best plastic cutting board colors, why stick to the traditional colors of the rainbow? Spruce it up with neon pinks, greens, blues, and yellows for a trendy kitchen aesthetic. Plastic cutting boards can be easily washed with soap and warm water and it's dishwasher-safe, unlike wooden boards.
The Most Useful
If function and utility are your main considerations when shopping for a cutting board, then these innovative designs will give you much more than just a board for crushing garlic, slicing meat, and to prep your vegetables.
Here are some of our favorite cutting boards with extra features.
Over-the-Sink Cutting Board
This cutting board has an expanding handle that makes it fit over the sink. Plus, it has a collapsible colander, which means that you can wash your produce and chop it up all in one place. All wannabe chefs need this!
Cutting Board With Built-In Garbage Disposal
This is another cutting board that's made to minimize the hassle of moving between the kitchen countertop and the garbage disposal. It contains a built-in compartment for throwing out food scraps, which you can easily remove and put back in. 
Cutting Board With Built-In Storage Compartments
This type of cutting board has several "drawers" built into the board itself which allows you to cut up a variety of veggies for an elaborate dish and to store them in one place. This not only keeps your cooking station clutter-free, but minimizes the amount of dishes you'll need to wash at the end of the day. 
Cutting Board With Knife Storage
This type of cutting board has a built-in compartment for storing a knife. This is a great option for those who work with a chef's knife and want to keep it out of cutlery drawers. 
Cutting Board With a Knife Sharpener
Keeping knives sharp makes cooking so much easier! For this reason, we appreciate this type of cutting board which has a built-in compartment that can sharpen your knives. It's not only safe to use, but can seriously help you to reduce clutter. 
Measuring Cutting Board
If you appreciate precision when cutting your cooking ingredients and often forget the sizes for julienne, batonnet, and other types of cuts, then this cutting board is the one for you. With printed guides for all the different types of cuts, you will be able to cut anything with utmost precision. 
Cutting and Carving Board
This cutting board has a nesting rack inside it that can be removed for cooking and placed back in with the cooked meat. It also has a stainless-steel slatted tray with handles and grips that fit directly into the slatted board, so you can first roast on the rack and then elevate the meat to rest on the board.
Cutting Board With Tablet Attachment
If you like to do your cooking while following an online recipe, listening to music, or catching up on the news, then this type of cutting board is perfect for you. It contains a compartment that can safely accommodate your phone, tablet, or electronic reading device. It can even come with an acrylic sheet to prevent any food juices from splattering onto your electronics. 
The Quirkiest Shapes
Even though there's nothing classier than a standard wood block, there are plenty of unique shapes for cutting boards that can make them a fun addition to your kitchen. 
Here are a few of our favorites.
Puzzle Cutting Board
This cutting board contains four puzzle pieces that can be taken apart to serve as small cutting boards or put together to create one large block. This cutting board is great when used as a serving tray for foods that preferably shouldn't come in contact with each other (your guests with allergies will definitely appreciate this).
Folding Cutting Board
By folding at the edges into a chute, this plastic cutting board makes it super easy to go from the kitchen countertop to the cooking pan—especially if you're working with lots of chopped veggies. 
Bread Cutting Board
If you often buy freshly-baked loaves of bread (or even make your own) then this cutting board is the perfect way to make sure they're sliced evenly. 
This cutting board contains grooves that are spaced apart in the size of a standard bread slice. All you need to do is place the bread on top of the board and cut along the grooves to create the perfect bread slices every time. 
Baguette Bread Slicer Cutting Board
This is definitely a much more specific option, but if you work with baguettes a lot, then it's an absolute must. Similar to the regular bread cutting board, this option contains grooves for cutting up appropriately-sized baguette slices. 
Top Personalized Designs
If you're not finding the perfect cutting board for you, then designing your own is definitely an option. 
Here are some ideas for cutting board personalizations. 
Personalized Name and Date
A personalized cutting board makes for an incredibly memorable gift. We love this idea for a wedding. Simply engrave the couple's name with the date of their wedding for a cutting board they'll cherish forever. 
Mom's Recipe
There's nothing more special than mom's recipe for a favorite family dish. Not only will this make for a great gift for your family members, but it can also remind you of a very special person in your life every time you set out to cook something. 
Funny Sayings
A cheeky saying can bring a smile to your face every time you take out your cutting board. Here are some of our favorite food-inspired jokes:
"

Many have eaten here, few have died.

"
"

Thyme to turnip the beet.

"
"

If it doesn't taste good, blame Pinterest.

"
Inspirational Quotes
If you're the type to leave your cutting board on the countertop or to even hang it up on the wall as decor, then an inspirational quote is something you should definitely consider for a cutting board. 
While what we find inspirational varies from person to person, it's always nice to be reminded of the importance of gathering with loved ones around the dinner table:
"

First we eat, then we do everything else.

"
"

The kitchen is the heart of the home.

"
"

Cooking is like love: it should be entered into with abandon or not at all.

"
"

Food should be cooked with lots of love and lots of butter.

"
The Perfect Cutting Board for You
When it comes to cutting boards, there are countless options for materials, colors, designs, and even engravings. For a cutting board that fits your unique style, check out the personalized cutting board selection from Sophistiplate.  
Sources:
Marble Rock Properties, Uses, Formation, and Occurrence | Geology Science 
How Is Tempered Glass Made? | Scientific American
Kitchen Language: What Are the Basic Knife Cuts? | Michelin Guide
---