Your Guide to the Best Disposable Dinner Plates (2021)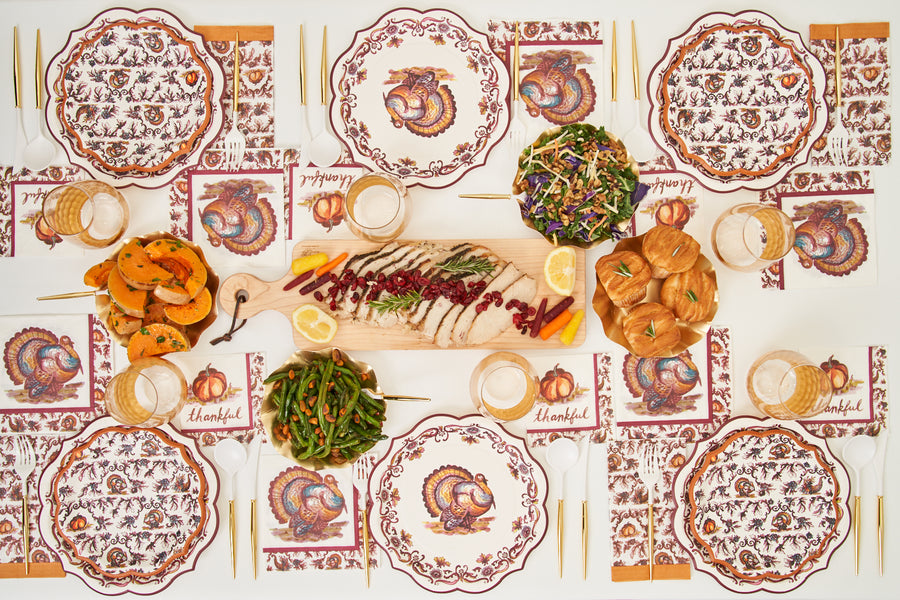 If "disposable dinner plates" conjures up images of flimsy white paper, leaks, and stains, then you'll be pleased to see how far disposable dinnerware has come. New materials such as coated paper, hard plastic, and even sugarcane pulp have made disposable dinner plates incredibly sturdy to allow you to serve any kind of food you like at your next event.
As an added bonus, disposable dinner plates now come in countless sizes, shapes, colors, and designs, and can even be personalized. Whether you're looking for glitz and glamour, pure simplicity, or the latest trends, you are sure to find a disposable dinner plate to match your taste.
Because the pandemic has increased the need for extra sanitary measures, disposable dinner plates are becoming not only more common but actually expected at most gatherings. So, to help you choose the best disposable dinnerware for your next event in 2021 (or beyond), Sophistiplate has compiled a guide with everything you need to know about the best shape and size, material, and design for you.
Different Types of Plates and Their Uses
It's a well-known fact that different types of plates have different uses. Which types you'll need largely depends on what kind of event you'll host and what dining options you plan to have. If you plan to host a formal sit-down dinner, then you'll need a few different types of plates, compared to if you host a party with only a snack bar.  
Even though there are dozens of different plate types, here are some of the most common ones:
Buffet Plates 
If their name isn't a dead giveaway, buffet plates are primarily used in buffet-style dining. They are typically 12" inches in size and can be shaped square, round, or octagonal. 
For more formal dining occasions, buffet plates can also be used as a "base" for other plates. Plates from other courses, such as soup and salad, can be placed on top of the buffet plate so as to prevent any spilling onto the table. 
Buffet plates can add a touch of elegance to the dining experience. But if your occasion is more formal, a buffet plate isn't always necessary.
Dinner Plates
Dinner plates are used more than any other type of plate. They typically measure 10" inches across and are either round or square. They are traditionally used for the main course, but because dinner plates are so versatile (and common), they can be used for pretty much all of the other courses that you choose to serve. 
Lunch Plates
Lunch plates are slightly smaller than dinner plates and are traditionally used during daytime dining events, such as luncheons, where food portions tend to be smaller. If you don't have lunch plates, then dinner plates are an almost identical option that you can use instead for your daytime events. 
Salad Plates
Next in size come salad plates, which are round and measure about 8" inches across. This type of plate is only used when a salad is served as a separate course. But if your main course is a salad, then the mighty dinner plate is used to serve it. 
Appetizer Plates
Appetizer plates are the smallest type of plate and are typically used for finger foods, hors d'oeuvres, and snacks. They typically measure 5" inches across, which makes it easy for your guests to mingle during cocktail hour while holding an appetizer plate. 
Dessert Plate
Because dessert tends to be our favorite part of the meal, dessert plates are slightly bigger than appetizer plates. They can be used for serving an assortment of pastries or a huge slice of cake. 
What Are the Best Materials for Disposable Dinner Plates?
When it comes to disposable dinnerware, there are three main options for the material: foam, plastic, and paper. Each option has its pros and cons, which can make choosing the best material not so clear-cut. 
To help guide you, here is the low-down on the different types of material for disposable dinner plates:
Foam Dinner Plates
Otherwise known as Styrofoam, these plates are made out of petroleum-based plastic. They're popular because they're extremely lightweight and good for insulation.
While foam dinner plates are fine for casual get-togethers, they aren't the most elegant option. Because they are lightweight, they tend to be a little flimsy. Plus, it's hard to find foam plates in a sophisticated color or design. For this reason, styrofoam plates aren't the greatest option for more formal events. 
Plus, there are some serious environmental concerns when it comes to this material. The microplastics that foam can contaminate the environment. And overall, they're just not good for human health. So, in general, it's best to avoid this material. 
Plastic Dinner Plates
Plastic is one of the most popular materials for, well, virtually everything. There's definitely a reason for this. When it comes to dinner plates made out of plastic, they tend to be more sturdy, leak-proof, and come in various colors and patterns. 
But similar to foam plates, plastic dinner plates are also harmful to the environment. Because plastics are a synthetic material, plastic dinner plates don't decompose in the environment and cause serious issues for landfills. Plus, the material can seep into the food we eat off of them and be potentially harmful. 
Paper Dinner Plates
While the paper plates of years past couldn't hold a slice of pizza for more than a few minutes without leaking, today's paper dinner plates are truly impressive. Made out of various wood pulps, these plates are biodegradable and non-toxic. 
Thanks to heavy coating, some paper dinner plates can be incredibly sturdy, durable, and even look like real china. 
Are Paper Dinner Plates Eco-Friendly?
While it's true that some disposable plates can't be recycled (especially if they've been used), that doesn't mean that they can't be an eco-friendly option. 
There are two main factors that determine if paper plates are eco-friendly. 
The first has to do with whether the paper plates are made from recycled material. Reusing recycled materials is a way to keep some materials out of landfills and to repurpose them for a great number of uses. 
Second, it's important to know whether the material is biodegradable. For the most part, paper dinner plates will naturally decompose in the environment, unlike foam and plastic. That's because paper plates are made out of wood, which is a natural material. As an added bonus, paper is non-toxic and won't harm human health if it comes into contact with food. 
When you take these factors into account, paper plates can certainly be an eco-friendly option. 
Best Disposable Dinner Plates by Occasion
Now that we got through the nitty-gritty of disposable paper plates, let's get to the fun stuff: picking the best plates for your event!
Whether you're throwing a casual backyard get-together, an elegant dinner, or an all-night basher, here are the best ideas for disposable dinner plates for your next event.
Backyard BBQ
If you're hosting a casual BBQ, then you may probably want to stick to casual colors and designs. Checked and gingham prints are classic patterns reminiscent of most backyard outings. 
When it comes to the type of plate you'll need, make sure it's a large and sturdy one. After all, the various meats and side dishes will all have to fit alongside each other for the most Instagrammable part of the event!
Thanksgiving
With the amount of time we spend prepping and cooking on Thanksgiving, beautiful dinner paper plates can save us from having to worry about the dishes, too. While traditional Thanksgiving colors and prints (we're looking at you, turkeys!) are always a fun option for dinner plates, designs that are trendy and sophisticated can also be a great addition to the dining table. 
Halloween
Even if you don't plan to serve dinner during your Halloween party, plates are a must for finger foods, snacks, and of course, sweet treats. While trendy black plates are always a hit and can be used even beyond the holiday, fun Halloween-themed prints will never go out of style!
Wedding
For your wedding, the right paper plates can be a gorgeous addition to the dining table. Trendy hues such as pastel would match any wedding theme. For outdoor weddings, floral-inspired designs are the ultimate choice. 
Disposable Dinner Plates Are the Way To Go
Disposable dinner plates are not only eco-friendly and hassle-free but can be incredibly gorgeous, as well. To make your event stand out even more, Sophistiplate has the best dinner plates to fit any occasion. 
Sources:
Plates | Table Setting | Etiquette Sch
Is Styrofoam Actually Recyclable | GreenMatters
---