Blueberry Crumble Mini Muffins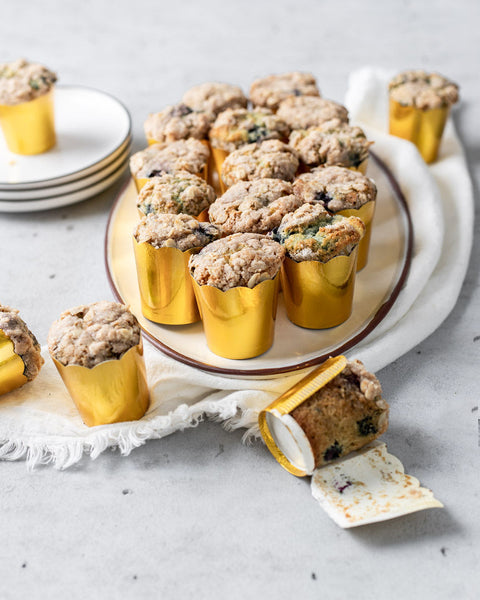 Blueberry Crumble Muffins
Servings: 24 mini muffins Prep Time: 10 minutes Bake Time: 25 minutes Total Time: 35 minutes
Ok y'all who doesn't love a blueberry crumble muffin? What's even better you may ask? A super easy to bake blueberry crumble muffin! These babies bake perfectly in our pre-greased paper baking cups. We chose to go with the petite size this time, but you can use our small, large, or jumbo! Just fill the paper cup with batter halfway and you're good to go! 
Ingredients you'll need: 
For Muffins:
3 cups all-purpose flour

1 ½ cup granulated sugar

1 teaspoon salt

2 teaspoons baking soda

⅔ cup vegetable oil

2 large eggs

⅔ cup milk

2 cups blueberries, fresh or frozen
For Crumble:
⅓ cup granulated sugar

¼ cup flour

¼ cup oats

3 tablespoons unsalted butter, cold and cubed

½ teaspoon ground cinnamon
For Muffins:
Preheat your oven to 350°. Place Simply Baked mini baking cups on a baking sheet and set aside.

In a medium bowl, combine the flour, sugar, salt, and baking soda. Whisk until free of lumps.

In a small bowl combine the vegetable oil, eggs, and milk. Whisk to combine.

Fold the wet and dry ingredients together. Mix until just combined.

Fold in the blueberries.

Fill the baking cups about ¾ of the way full and top with the crumble topping
For Crumble:
In a small bowl, combine the sugar, flour, oats, butter, and cinnamon.

Using clean hands or a fork mix the ingredients together until the butter is broken up and the mixture has a coarse texture.

Sprinkle on top of each muffin.

Bake the muffins for 25-30 minutes or until a toothpick inserted in the center comes out with only a few moist crumbs. Remove from the oven.
---