Cheese Board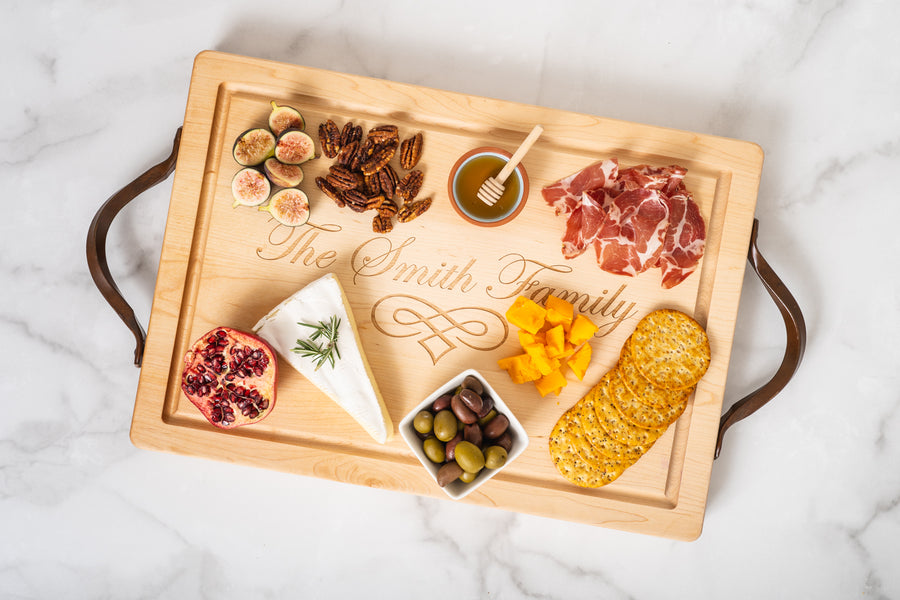 For a delicious, easy-to-make, and super Instagrammable snack, a cheese board is a must. Discover why Sophistiplate's premium selection of cheese boards can make all the difference at your next gathering. 
What Exactly Is a Cheese Board?
A cheese board is, well, a board for serving cheese (and the many things that complement it). 
When it comes to size, a cheese board can range from a huge 30-inch length to a modest nine inches. Which one you choose for yourself really depends on how many people you plan to serve. As far as shapes go? It's the part we most love to get creative with. 
Cheese boards come in many materials, but our favorite choice will always be wood. Not only does wood look stunning, but it's safe to use if you want to cut your cheeses right on top of it. 
How Do I Assemble a Cheese Board?
To start, you'll have to cut up your favorite cheeses into wedges, cubes, or slices, keeping it to a max of five cheese types. Alternatively, you can serve entire blocks of cheese. If that's the option you go for, then keep in mind that you'll need special knives for different types of cheeses (we got your back with a spreader knife for soft cheeses!).
Next, choose the vehicles for your cheeses. In other words, how are they going to travel from the cheese board? Will it be through gourmet crackers, crostini, or sliced baguette? There are no rules except for one: Whatever you choose to go with shouldn't overpower the cheeses.
Now that you've got the two main essentials of a cheese board, you can choose the extras. It's good to have a nice mix of sweet and salty items. We'd personally go for fresh grapes, honey, and fruit jams (the sweet) and olives, nuts, and cornichons (the salty). 
Now you're ready to assemble everything for a picture-perfect cheese board!
Can't I Just Use a Cutting Board?
We get the temptation of using your wooden cutting board to serve a cheese spread. But we would advise against doing so. 
If you often work with aromatic herbs, then your cutting has probably absorbed some of the fragrance. While it's not hard to get the scent out, it can transfer to food that sits on top of the cutting board. 
Plus, all the chopping and slicing that your cutting board comes in contact with can leave it looking a little less than presentable. For this reason, we'd prefer to keep a separate cheese board for those special occasions. 
What's the Best Type of Cheese?
While we have a pretty strong opinion on this subject, the best person you can ask is your cheesemonger (the person you buy your cheese from). 
They can guide you in choosing the best type of cheese for your next party by asking questions about your likes and dislikes, your familiarity with exotic cheeses, and the wine that you (maybe) plan to do a pairing with. 
Calling All Cheese Lovers
No matter the occasion, cheese always brings people together. Serving your next cheese spread on a premium cheese board will only elevate the experience. With a selection of cheese boards of all shapes, sizes, and designs, Sophistiplate has your back for your next party. 
Our Sources:
The Art of the Cheese Plate | The Wall Street Journal 
Cheese Boards and Knives: However You Slice It | The New York Times 
Creative Cheesemongers Pen Clever Descriptions | The New York Times
---