Top 5 Benefits of Disposable Wedding Plates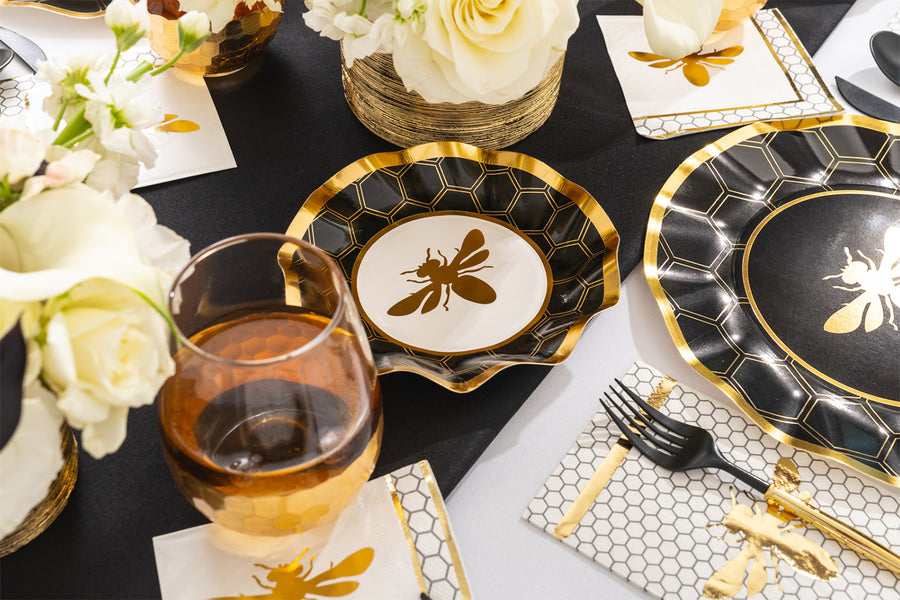 If you're planning your wedding in these post-pandemic times, then the idea of using disposable plates might have popped into your mind at least several times. 
While you may have some doubts about taking this route, we're here to tell you that using disposable wedding plates at your wedding will take you a lot off your plate (no pun intended!). Plus, they tend to look much prettier than the real thing. Plastic cutlery and disposable party plates aren't just for picnics anymore. You can find elegant plastic plates. paper plates, or bamboo plates in different colors and styles to fit any wedding. But which disposable tableware is best for your big day?
So, without further ado, here are our top five reasons to use disposable wedding plates and the best disposable dinnerware to buy. But first, let's briefly talk about the different types of plates you'll need for your wedding. 
What Are the Different Types of Plates?
We won't get into too much detail here, but there are four main types of plates you'll need to consider using for your wedding: appetizer, salad, dinner, and dessert.
As you can probably guess, appetizer plates are used for eating hors d'oeuvres during cocktail hour. They're small enough to be carried around while your guests mingle, yet large enough to fit all the yummy finger foods that you'll be serving up.
Next up you have the salad plates, which are used for, yup, the salad course. These are slightly larger than appetizer plates, which means they can accommodate chopped-up veggies with all sorts of toppings. At the same time, they're small enough to not overshadow the plates you'll be using for the main course. 
Dinner plates come next with their large diameter—perfect for serving the main course or multiple dishes in a buffet spread. And last (but definitely not least) you have the dessert plates, which can be used to serve all kinds of sweet treats at the end of the reception—wedding cake included. 
So, as a good rule of thumb, you'll typically need three to four types of plates. When you consider how many guests attend even the smallest weddings, the number can add up quickly and put a not-so-small dent in your budget. Plus, you can't forget about disposable silverware like knives, forks, spoons, and other flatware. 
As a perfect solution to the problem, let us introduce the more economical, low-maintenance, and gorgeous option of disposable paper plates. 
What Are Disposable Plates Made Of?
While new materials are popping up all the time, the two classic materials used for disposable plates are paper and plastic. 
When it comes to plastic dinner plates, it's actually more accurate to say plastics. That's because there are roughly seven types of plastic that are commonly used for plastic wedding plates. And when you break down those seven types into their respective subcategories, it really becomes clear that plastic isn't just one material. 
This is important to know as certain types of plastic have been linked to health problems, namely hormone disruption. Plus, since plastic is not biodegradable, it stays in the environment for decades when it's thrown out. 
Paper, on the other hand, is a natural material that naturally decomposes in landfills. Plus, paper isn't toxic so there aren't any health concerns when it comes to disposable plates made out of this material.
And if the idea of paper plates conjures up images of leaks and tears, not to worry! The paper plates on the market today are made with a protective coating that makes them as sturdy and leak-proof as the thickest plastic dinnerware. Even though fancy plastic plates may seem fine at first glance, the best event planners know that paper is the way to go.
Top 5 Benefits of Disposable Wedding Plates
While it's easy to understand what makes paper plates so great, the story changes a bit when it comes to your wedding. After all, it's one of the biggest days of your life and you want to make sure that everything goes perfectly. Well, we think that disposable paper plates can absolutely contribute to this. 
That said, here are the five benefits of using disposable paper plates at your wedding.
1. They're a Budget-Friendly Option
Back in the day, before paper plates became virtually indistinguishable from the real thing, it was the standard to use fine china. As you can imagine, the happy couple rarely had enough dishes at home to use at their wedding, which made renting dishes the only other option.
When you consider all the dishes that you need at a wedding, the price definitely isn't something to ignore. Depending on your location, renting dishes can run you at least $10 per guest—a number that increases exponentially in big cities. For this reason, paper plates are a much more appealing option. 
2. They Don't Need To Be Washed
If you're hosting your wedding reception at a banquet hall, then clean-up is definitely not something you need to worry about. But what if you're throwing a wedding party without the help of professional staff? Then clean-up is probably in the back of your mind—and this can definitely get overwhelming.
Disposable paper plates will help you get rid of these worries completely. At the end of the night, the only thing that will need to be done is to collect them and throw them out. Once that's accomplished, you can forget all about cleaning and get back to what's truly important: enjoying your special day. 
Oh, and since avoiding germs has become so important after the pandemic, disposable plates will definitely be appreciated by your guests. 
3. They Come in All Shapes and Colors
The great thing about paper plates is that they come in any shape, color, and design that you can imagine. That's definitely not an option that's available with traditional dinnerware, which usually comes in plain colors and designs—hardly the ideal choice for stylish couples.
Depending on the theme of your wedding, you can find paper plates that recreate vibes that are romantic, glamorous, sophisticated, or trendy. This will help you find tableware that is truly a reflection of your style and taste. Plus, it will make for a gorgeous tablescape that you can admire in photos for years to come. 
4. They're Eco-Friendly
While it may seem that traditional dinnerware is the more eco-friendly choice, factoring in the water and electricity needed to clean them (especially in post-pandemic times) paints a slightly different picture.
And while disposable plastic plates are the least eco-friendly option of all, the case is slightly different when it comes to paper plates. Because they are made from all-natural materials, they are non-toxic and biodegradable. For these reasons, you can feel good about your decision to use disposable plates at your wedding. 
5. They're Easy To Carry
When it comes to hosting the perfect reception, the comfort of your guests is definitely something to consider. While you may have gone above and beyond to make sure that your guests feel comfortable all throughout the night, there's one often overlooked thing that also factors into the equation: how heavy the plates are. 
Think of it this way. During cocktail hour, when your guests are mingling with one another, the last thing they want to do is carry around something heavy. We can say the same thing about dessert plates. Since so few people are sitting down after the cake is cut and dessert is served, it's preferable to carry around as little weight as possible. For this reason, paper plates are a great lightweight option that your guests are sure to appreciate. 
Is It Tacky To Use Disposable Plates?
We think that the world has moved far beyond striving towards wedding status symbols such as porcelain plates. So, instead of looking down on other options, we totally encourage them!
But let's think about why someone would say it's tacky to use disposable plates in the first place. When you think of disposable plates, what immediately comes to mind? Very likely, it's dinnerware that looks and feels plain, flimsy, and cheap. That's certainly not something we want to use on the most special days of our entire lives. 
But paper plates have come such a long way in recent years. With special coating technology, paper plates feel incredibly sturdy and durable. Plus, you'll never catch them leaking. For this reason, your guests will never be able to tell that they're not the real thing. 
So, while our past memories of disposable paper plates might make us hesitate for a bit, there's absolutely nothing tacky about using them at your wedding. In fact, with all the reasons above, it's actually the smarter choice. 
Come for the Love, Stay for the Party
Your wedding is one of the biggest days of your life. For this reason, we want it to be as perfect as it can possibly be with the perfect wedding decorations, lavish table settings, and party supplies that can easily be bought in bulk. For brides and grooms with affordability in mind, the right dinnerware plays a big role in this. 
Elegant disposable plates can be budget-friendly, friendly to the environment, high-end, and a pleasure to look at—plus, they make cleanup a breeze, with no dishwashing necessary. For the best fancy disposable plates, Sophistiplate has your back with styles perfect for any wedding. 
Our Sources: 
7 Types of Plastic That Are Most Common | Plastic Oceans
How to Minimize Exposures to Hormone Disrupters | The New York Times 
What's the Carbon Footprint of Doing the Dishes? | The Guardian 
---