Best Engagement Party Gift Ideas for Any Couple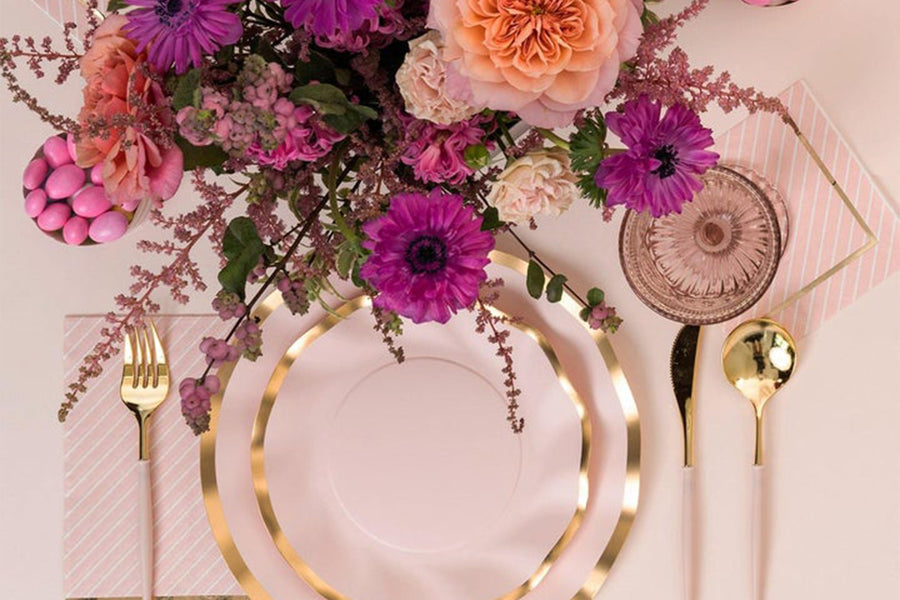 An engagement party marks a new chapter in the life of the newly-engaged couple in your life. Whether they're your co-workers, close friends, or family members, it's always nice to acknowledge this new beginning with a thoughtful gift. Unfortunately, there's no equivalent of a wedding registry when it comes to engagement parties, which means you'll have to get a little more creative when picking the perfect gift. 
To help get you started, here's a complete guide from Sophistiplate on choosing the ideal engagement party gift—in addition to eight of our favorite gift ideas. Read on for a gift your favorite couple will appreciate for years to come! 
What Makes a Good Engagement Party Gift?
First, let's start with the most important question: Do you absolutely need to bring a gift to an engagement party? You'll be surprised to learn that an engagement party gift—unlike the wedding gift—isn't all that necessary. 
That said, an engagement party gift definitely adds a nice touch. And if it's someone close to you who just got engaged, then a gift might actually be expected. Either way, make sure that you actually want to get the couple a gift before going for one!
As with a wedding gift, there are no hard and fast rules for what to get. When it comes to how much you should spend, try to keep it within your budget. Keep in mind that you'll have to get the couple a wedding gift, which will typically be more extravagant; as such, it's a good idea to save room in your budget for the wedding gift. 
The best gift for an engagement party would be something that the couple will actually use and enjoy. This is an exciting milestone in their life, so it's best for the gift to reflect that. Keep it light, fun, and slightly decadent to remind the couple of the amazing times that are to come.  
If you're scratching your head over what to get the couple, keep in mind that—as with many occasions—money and gift cards are always welcome. This is especially the case when it comes to soon-to-be-married couples who are undoubtedly spending tons of money on their big day. By giving them money as a gift, you'll be taking a load off their wedding budget.  
The Dos and Don'ts of an Engagement Party Gift 
If you're set on getting the couple a thoughtful gift, then there are a few rules to follow that will make the result a success. Here are some dos and don'ts of engagement party gifting.  
Don't Go All-Out 
Since this is only the engagement—and not the wedding day—you don't have to go all-out with the gift (unless, of course, you have the budget for it!). Instead, feel fully comfortable with making the engagement gift something small and sweet—this includes food options!
Do Make It Personal 
These days, it's easy to add a personal touch to any gift. Whether it's an engraving of their engagement date, their names, or a touching quote about love, you can—and should—personalize the gift. That way, the happy couple will think about you every time they use their gift, which means they'll appreciate it that much more. 
Don't Get Them Kitchen Appliances 
Kitchen appliances are a necessary part of starting a life together. That said, save the practicalities for the wedding day and go for a gift that's more fun instead. If the couple hasn't moved in together, then a heavy appliance can be hard to store—all the more reason for foregoing this type of gift. 
Do Get Something That They Can Both Enjoy
Make sure to keep both people in mind when getting the engagement party gift. After all, you don't want to get something that only one person will enjoy. If you find something that would be just perfect for one person, then you should go ahead and get more than one gift. Just make sure that the main gift is about them both!
Don't Feel Bad About Getting a Card 
The best gift doesn't necessarily have to be something practical. Sometimes, a beautiful card with a personalized message can make the perfect gift that the couple will cherish for years to come. So, if you're unable to get the couple another gift, you should feel great about a personalized card. 
Our Top 8 Engagement Party Gift Ideas 
If you're at a loss for what to get the couple for their engagement party, then we've got your back. Here are eight of our favorite engagement party gift ideas to give you some inspiration. 
1. A Personalized Cheese Board for Hosting 
As a reminder that the couple is starting a new life together—which means sharing a home, friends, and party hosting responsibilities—get them the perfect gift to combine all of these elements. A personalized maple wood board can be used for making a cheese board, serving party treats, or as wall kitchen décor. Adding a personalized message to it will ensure that it stays with the couple for years to come. 
2. An Instant Camera for Making Memories
It might feel like cameras have become obsolete thanks to our smartphones—which is mostly true. However, there is one downside to a phone camera: Getting physical photos is a complicated process. However, with an instant camera, the happy couple will be able to get instant snaps of their best memories. They can then easily hang these up on the fridge, put them in a photo album, or store them in a frame. 
3. A Beautiful Picture Frame 
There's something special about placing a photo print into a beautiful picture frame. Give the couple something they'll be proud to display in their home with a picture frame that matches their aesthetic. This can be classic and traditional, whimsical and romantic, or sleek and modern. If you can engrave the engagement party date—in addition to some other personal elements—then the picture frame will be that much more special. 
If you can find a high-quality photo of the couple, then you can even get it printed and place it into the picture frame for a ready-to-display gift. Yet another cool option? A digital picture frame, which can showcase hundreds of photos in high resolution—sort of like an ongoing slideshow of the happy couple's life together. 
4. A Cake Stand for Sweet Moments To Come 
A common tradition for most wedding parties is to preserve the wedding cake stand for serving dessert on their one-year anniversary. Why not start the same tradition for the engagement party cake? Gift the couple a beautiful cake stand that they'll be proud to take out on their engagement party anniversary every year. 
5. Personalized Champagne Flutes (With Champagne) To Celebrate
A set of personalized champagne flutes will serve as a constant reminder of the celebration that comes with being engaged. We'd add a nice bottle of champagne so that the couple can have something to pop open during their engagement party. 
6. A Stunning Flower or Plant
As much as we love flower bouquets, bringing something that needs to be put into water can present a challenge during the engagement party. 
Instead, go for a plant in a beautifully-designed pot. This will not only last a long time and look stunning in the couple's home, but it will give them something that they can take care of together as they start their new life as a couple. 
7. An Intriguing Coffee Table Book
A coffee table book—abound with stunning illustrations and intriguing content—can make for a long-lasting present that the couple won't get enough of. Not only does this gift provide lots of entertainment value, but it makes for an amazing decorative accent. Make sure to get something that they both will enjoy looking through. 
8. A Personalized Greeting Card
A personalized greeting card can be gifted in addition to your engagement gift or on its own. If you choose to go with the latter option, then keep in mind that this will be something that the couple will cherish immensely. 
Make sure to put some extra thought and effort into writing the perfect personalized message. Some ideas about what to write include your good wishes for the couple, advice for their engagement, and wishes of luck for their future together. 
A Happy Engagement Party With Sophistiplate 
If someone close to you is getting engaged, then the best way to show your excitement for this new chapter in their lives is to give them a thoughtful engagement party gift. 
Whether you go for a personalized cutting board to set off their party hosting as a couple, a set of personalized champagne flutes for many celebrations, or a greeting card with a sweet message, we're sure that your gift will be appreciated for years to come. 
If you're looking for personalized gifts, Sophistiplate has everything you need to give the couple in your life something they'll love, cherish, and use for ages. 
Sources: 
Do You Need to Bring a Gift to an Engagement Party? | Brides 
The average wedding cost $19,000 in 2020, about $10,000 less than the year before | Business Insider 
Is Saving the Top Tier of Your Wedding Cake Still a Thing? | The Knot 
---