How to Easily Host an Epic 4th of July Party!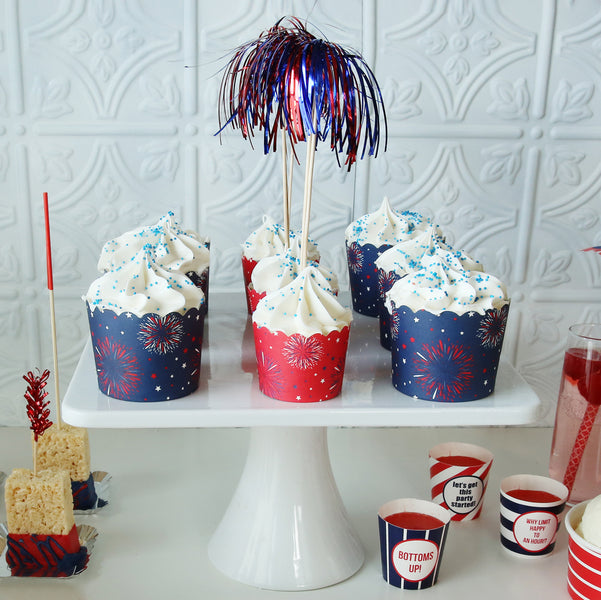 We may be celebrating over 200 years of American Independence, but that doesn't mean that your party's prep and clean up should be on par with the year 1776. Ditch the ceramic and pewter dishes for something more fun, modern, and easy to clean-up from Simply Baked and Sophistiplate.
Sophistiplate's Petalo collection of paper plates is perfect for festive outdoor entertaining and Our Navy Striped Petalo and Vichy Red Petalo collection paired together are reminiscent of "Old Glory", and sure to impress your guests. The recycled paper tableware that is designed & made in Italy is also perfect for your BBQing needs and will make clean up a breeze this 4th of July. Keep your guests clean and in good form with our classic red and classic navy napkins. Don't mess around with boring and flimsy disposable flatware or even think about washing real silverware you may lose as things get festive. Our white and blue, and white and red Bella flatware is both aesthetically and functionally impressive, sure to make easy work of cutting up whatever you have grilling. And, they are re-usable!
Make your baked goods light up your party with the new Simply Baked limited edition 4th of July Baking cups. Or, use the baking cups as a treat or dip cups! Pair these baking cups with the 4th of July Sparkler Picks and Food Skewers for your appetizers, snacks, and fruit kabobs. Feeling real festive? Take it up a notch with the Simply Baked Paper Shot Cups, sure to make your party and evening is one for the books.
Shop the look here:  https://www.sophistiplate.com/collections/memorial-day-july-4 
---