Hosting The Superbowl Watch Party? Here's Your Guide To Easy Cleanup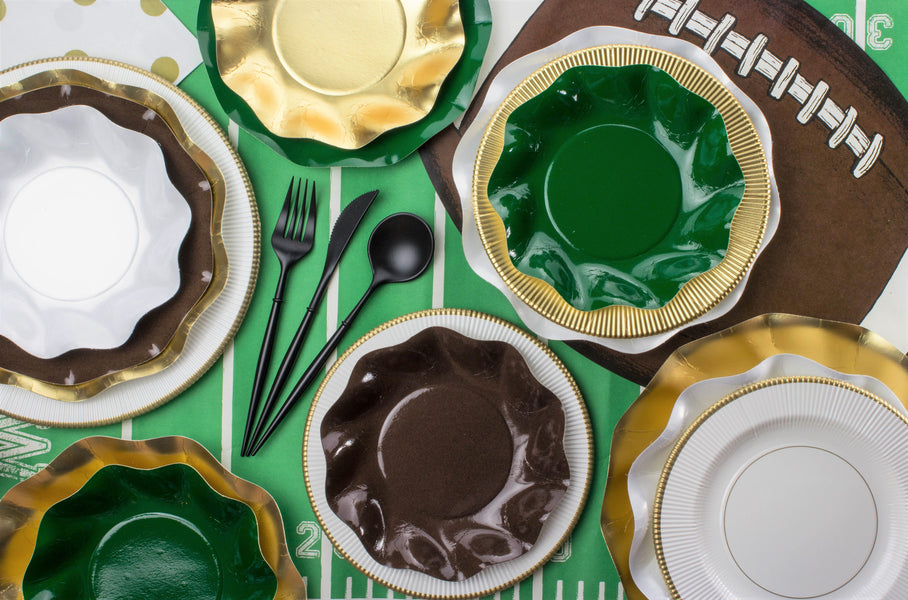 So it's decided. You're hosting everyone for the Superbowl (MVP's really wear aprons, right?), which means it's time to start planning your cleanup strategy. But don't worry, Sophistiplate has you covered. Here are some post-party-plays that'll make cleaning up an easy win. 
Paper, paper, and more paper! 
Put everything in paper. Decorate everything in paper. And, for the love of unfinished wood tabletops, cover everything in paper, too. It's easy, we'll show you how. 
Let's start with food, because every good watch party start with a good meal plan. Here's a suggested list of food items to serve at your party and a necessary list of paper you need to serve the food on.
How do you defend your tabletop from fist-pumping induced beer spillage and flying food? Check out Hester & Cook's
Touchdown Paper Table Runners
as a festive, yet protective, addition to your tabletop.
But don't forget about the tossable flatware!
Finally! Some hand-washable/tossable flatware that can last the whole game without breaking. Check out all 10 different colors 
here
. 
And, there you have it. We hope this guide serves you well as you try to minimize the mess of Superbowl Sunday. But, at the very least you'll look good doing it, so enjoy!
---