How To Use Appetizer Plates To Bring a Sense of Style to Your Next Dinner Party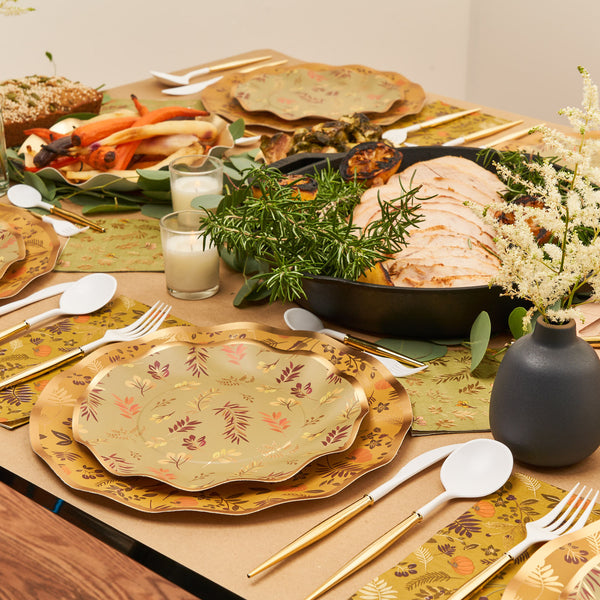 Appetizer plates are super cute, easy to hold, and can be used for so much more than just serving appetizers. Plus, they come in virtually any color or design, making it easy to pick the perfect plate to match your party's theme. 
For an elegant dinner party, appetizer plates are a must. Read on to find out how you can throw your most stylish dinner party yet!
Tips for Throwing a Dinner Party
Thankfully, not every dinner with friends and family is considered a dinner party. And while we love casual get-togethers (especially when there's food involved), there are times when you want to celebrate in a more formal way. 
A dinner party definitely checks off all the boxes for an elegant celebration. You must pick a date, put together a guest list, and plan a menu, amongst many other tasks that a dinner party requires. As fun as it is, it's some serious work!
Before we get into the different ways you can use appetizer plates at your next dinner party, here are some of our tips to make throwing a dinner party as easy as possible for you.
Keep It Simple
If you feel comfortable whipping out elaborate dishes with dozens of ingredients, then more power to you, but it's also totally fine to focus on simplicity. This not only makes things easier for you as a dinner party host but lets the ingredients do the talking. 
After all, what's better than a good cut of steak, ripe tomatoes, and creamy cheeses served in their (almost) natural state? For this reason, when planning your menu, it's good to focus on minimal ingredients and simple cooking methods.
Follow the Seasons
Shopping for seasonal produce goes hand-in-hand with a simple menu. After all, in-season vegetables, fruits, and especially seafood are of the highest quality and need very little preparation to stand out at the dinner table.
Prepare a Mise En Place
When cooking, do like the French and lay out all of your ingredients in tiny bowls before you start the cooking process. If you don't have the many bowls that you'll need for all your ingredients, you can always use disposable baking cups. 
Include a Cocktail Hour
To give your guests a chance to mingle and warm up to the main event, it's a great idea to dedicate a few hours to boozy drinks, yummy bites, and conversation. Since it's our favorite part of the evening, we think it's a good idea to serve at least five different appetizers. 
Different Plates for Every Dish
When it's time for the actual event, make sure that your guests have different plates for different types of dishes. If you're serving courses with clashing flavors, make sure your guests can switch plates before moving from one to another. For this, it's a good idea to keep a stack of disposable plates so you're not worried about having enough dishes.  
The Four Types of Plates You Need for Your Dinner Party
When it comes to different types of plates and their uses, we can go on forever! But while having many different plates can show your guests the time and effort you put into planning the dinner party, there are really just four main types of plates you need for a dinner party.
The Appetizer Plate
The appetizer plate—which measures about seven inches across—is an extremely versatile type of plate. In line with their name, it's the perfect plate to use for appetizers. Whether the appetizers are offered on serving trays or plated individually, this type of plate is a must.
Aside from that, appetizer plates can also be used for serving bread and butter, a charcuterie board, or other smaller courses.  
The Salad Plate
The salad plate is definitely optional but adds an elegant touch if you're serving a salad course. These plates are typically larger than appetizer plates and measure about eight inches across. You can either individually plate the salads and place them in front of the guests or you can use them when serving family-style salads. 
The Dinner Plate
Whether you have one main course or dozens of dishes, the dinner plate is the one that you'll definitely use. It's typically a larger plate of about 10 inches and can accommodate many types of dishes. If you plan to serve a buffet or family-style meal, we always recommend more than one dinner plate per guest!
The Dessert Plate
No meal is complete without something sweet to finish it off. While some cultures don't have dessert as an after-dinner course, it is still definitely something to look forward to at a dinner party. Whether it's an elaborate dessert bar, a full cake, or some fruit, the options for sweets are endless.
While dessert plates are typically slightly bigger than appetizer plates, we don't see any reason to invest in them separately. Appetizer plates are equally stylish and will do the trick just as well!
5 Ways To Use Appetizer Plates at Your Next Dinner Party
Now that we know the different types of plates you'll need for your next dinner party, let's look at the different ways you can use appetizer plates. With tons of options for shapes, colors, and designs, the uses of the appetizer plate are many. 
Here are some of our favorite ideas for a stylish dinner party.
Cocktail Hour
While we traditionally associate the cocktail hour with more formal events, such as weddings, it's actually a great addition to any occasion where all the guests don't know each other. If that's the case for your dinner party, then consider a cocktail hour to allow your guests to have a few drinks, mingle, and acclimate to the party.
Of course, this part of the event gets its name from the star of the show: cocktails. But good food is equally important. This is a time to get really creative since you'll be serving many different types of appetizers for your guests to choose from. Our favorites include one-bite meatballs, mini pizzas, fresh seafood, and colorful fruit skewers.
No matter which bites you go with, the right appetizer plates are a must. Well-designed appetizer plates will look great in your guests' hands as they mingle around the room and can even be a great conversation starter. 
Individually-Plated Appetizers
If post-pandemic party planning has you a little concerned with hygiene, then you might want to forego food stations in favor of individually-plated meals. Even though we traditionally think of main courses as foods to be plated, there's no reason not to do the same with appetizers. 
While you can plate a variety of finger foods, this option actually gives you the freedom to play around and get creative. For instance, you can grab an appetizer plate and create a mini-charcuterie display for each guest. 
Or you can make a loaded nacho plate according to each guest's dietary preferences. You can even serve personal-sized foods, such as a mini pizza with a choice of toppings. 
Tapas-Style Main Course
Not every dinner party needs to be an elaborate, multi-course affair. This is especially true if the party is being thrown late in the evening and there will be dancing involved. This is one of the reasons tapas-style dining is such a great idea. 
To do this, simply replace the main courses of the dinner with tapas served family-style. These can include Spanish classics like patatas bravas, ham-and-cheese croquettes, toast with olive tapenade, and pan-fried cauliflower. Or you can get creative and convert your favorite dishes into tapas. 
While dinner plates might be a bit oversized for these small bites, an appetizer plate will be the perfect size for serving tapas as the main course. 
Charcuterie Board
A charcuterie board can be served as an appetizer, dessert, or even a main course. You can create a charcuterie board with just a few cold cuts and cheeses, or go all-out with different types of meats, spreads, fruits, vegetables, and bread.
Same as with tapas, an appetizer plate will be the elegant choice for serving a charcuterie board, no matter which course it is. 
Dessert Bar
Although dessert plates are technically different from appetizer plates, it's pretty hard to tell them apart. For this reason, we suggest keeping things simple and using appetizer plates as dessert plates.
One of our favorite dinner party dessert ideas is to create an elaborate dessert bar. This can include a cake stand adorned with all kinds of mini pastries, a chocolate fountain with a variety of fruits, or even a candy buffet. Keep a stack of appetizer plates on the side so your guests can always come back for seconds!
Appetizer Plates Make Everything Better
Hopefully, we've convinced you how fun and versatile appetizer plates can be. With tons of colors and designs, Sophistiplate has the perfect appetizer plates for your most stylish dinner party yet. 
Sources:
How to Host a Dinner Party | The New York Times
Ina's 5 Cocktail Party Rules | Food Network 
---