Top 8 Ideas for Individual Charcuterie Boards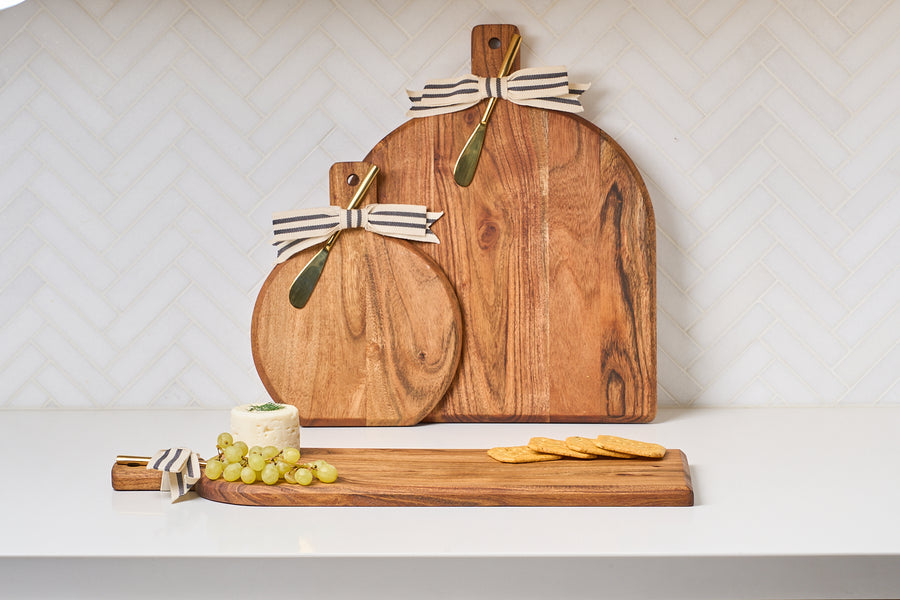 Traditionally, charcuterie boards are large assemblages of cured meats, cheeses, and other ingredients to compliment them. However, if you're making a charcuterie board for a few people and don't want to make a large investment, then individual charcuterie boards may be the better way to go. 
Individual charcuterie boards are perfect for those guests that have very particular tastes and dietary preferences. Plus, they're perfect if you're concerned with hygiene and want to keep germ-spreading to a minimum. 
Keep reading this guide from Sophistiplate for an overview of charcuterie boards, what goes into them, and eight ideas for making individual versions of this party favorite.  
What Is a Charcuterie Board?
Charcuterie is a French word that combines "chair" (cooked) and "cuit" (flesh). While it doesn't sound all that appetizing, it's used to describe delicious cured meats. While meats have been cured for millennia, it wasn't until 15th century France that charcuterie became a skilled practice and—let's face it—art form. 
Charcuteries—those who make the charcuterie—take their craft very seriously and constantly try to perfect it. They each have proprietary curing techniques and regional spices that make their charcuterie look, feel, and taste different from one another. 
Charcuterie consists mainly of pork products, cured hams being the prime example. However, many non-pork options have become popular charcuterie options, expanding the range of textures and flavors that cured meats take on. Today, many types of meat that can be cured—such as beef, duck, and even fish—can be considered charcuterie. 
How Do You Put Together a Charcuterie Board?
A charcuterie board is assembled (usually) on top of a wooden board made specifically for this purpose. While every charcuterie board must include some type of cured meat, you have full creative freedom with which ingredients you choose to include. Here are some of the basic components of a charcuterie board:
Meat

: Without cured meat, you won't have a charcuterie board. However, there are tons of options for you to pick from. You can go for hard, dry-aged hams; soft and creamy varieties; and even spicy sausage! 
Cheese

: While you don't have to include cheese in your charcuterie board, we can't think of a better ingredient to pair with cured meat. This is especially the case if the cheeses you choose to serve come from the same geographic region as your charcuterie meats—for the perfect pairing of flavors. 
Bread (or Crackers)

: These serve as the "vehicle" for getting your meats and cheeses from the charcuterie board to your mouth. As such, smaller pieces are usually better. In addition, you might want to keep the flavors plain so they don't take away from the true stars of the show. 
Something Sweet:

We don't know why, but cured meats and cheeses taste delicious with a dollop of something sweet. Jams, honey, and fruit make for a delicious addition to any charcuterie board.
Something Acidic

: To cut through the rich flavors of charcuterie, you need something acidic. While wine is traditionally used to accomplish this, you can also include some cornichons, pickled onions, and marinated peppers. 
Top 8 Ideas for Individual Charcuterie Boards 
While we're used to seeing impressively large charcuterie boards on our Instagram feed, downsizing them is more than easy with the following eight ideas. Keep reading to discover your favorite!
1. Order-Ahead Charcuterie Board
If you want your guests to have a charcuterie board that has everything that they want (and none of what they don't want), then you can have them "order ahead." 
While it can be as simple as asking them what they want through a text message, you can also go all-out and create an online "menu" that they can browse through in order to choose their favorite options. This is great to do before you go shopping for your charcuterie ingredients to make sure that nothing goes to waste!
2. Holiday Charcuterie Board 
If you're throwing a holiday party, then individualized charcuterie boards can be transformed into something festive to play up the holiday spirit. 
You can add holiday elements to the ingredients, such as chocolate-covered strawberries for a Valentine's Day charcuterie board. You can also add festive decorations, such as these adorable dipping cups—which are perfect for St. Patrick's Day. And, of course, don't forget about the food picks! We love these for New Year's Eve parties. 
3. Your Favorite Things Charcuterie Board
If you want to show your guests how well you know them, then what better way to do it than with a personalized charcuterie board? For each guest, make a unique charcuterie board that includes their favorite types of meats, cheeses, and other yummy treats. 
Don't be afraid to include non-traditional ingredients in the charcuterie boards. For instance, if one of your friends is known for their love of Oreos, then you should totally include them alongside all the other ingredients. Add a finishing touch by adding a personalized placard to the charcuterie board with your guests' names on them. 
4. Dietary Preferences Charcuterie Board 
It seems like many more of us are trying our best to get healthy by following a specific dietary plan. Whether it's paleo, keto, vegan, or gluten-free, there are many dietary preferences that your friends may have. Show them how much you respect and appreciate what they do for their health by making a charcuterie board that matches their dietary preferences. 
For instance, one of your guests could be following a completely plant-based diet. For them, you can make a charcuterie board full of fruits and veggies—in addition to these vegan charcuterie meats. 
On the other hand, if one of your guests is following a low-carb diet, then you can make them a smorgasbord of meats and cheeses. But there's no reason for them to skip the bread: By baking a low-carb option, you can make sure they can indulge in this charcuterie board favorite, too.  
5. Mason Jar Charcuterie "Board"
Although it's technically not an individualized charcuterie board, it can be just as adorable. Plus, you can make it ahead of time and store it in the fridge until your guests arrive. 
To make it, it's a good idea to keep ingredients to the same flavor profile to avoid them from clashing. For instance, the combination of olives, Manchego cheese, and Iberico ham is from the same region and pairs together perfectly. 
When assembling the mason jar, make sure to put the wet ingredients on the bottom to avoid them from soaking through to the other ones. Then, layer on the meats and cheeses. Last, top it off with pieces of sliced bread and serve with a food pick on top. 
6. Charcuterie on Toast
This is the perfect option if you're serving your charcuterie for a sit-down meal, such as breakfast. To make it, simply cut a large slice of bread and assemble it with the perfect combination of meats, cheeses, and spreads. 
For each guest, you can make various charcuterie toasts that use different combinations. Serve them alongside each other on a decorative plate.
7. Charcuterie Cones 
This is a unique way to serve charcuterie ingredients that resembles a large ice-cream cone—except this one's a bit more savory! You can make your own cones by making crepes and rolling them into cone shapes. Alternatively, you can invest in a large paper or plastic cone and fill them to the brim with your favorite charcuterie ingredients. 
It's a good idea to make repeating layers of your ingredients so that your guests don't have to dig all the way down to get to their favorite meats and cheeses. And don't forget to serve some forks along with the cones!
If you can invest in a rectangular cone stand, then you can have something super photogenic for your guests to marvel at before dinner is served. 
8. Charcuterie "Lunchables" 
When you think about it, a charcuterie board is like the adult version of Lunchables. That said, you can make your individual charcuterie boards resemble this childhood favorite even more by serving them in a cardboard food container. 
These takeout containers should be large enough to fit lots of charcuterie ingredients. In addition, thanks to their wide base, all the different flavors can be kept apart from each other so there's no clashing. 
As for the best part? These lidded containers can be transported almost anywhere. So, if you're thinking of throwing a picnic, then these charcuterie board "Lunchables" can be the perfect thing for you to serve. 
Charcuterie Boards as Unique as Your Guests
Individual charcuterie boards are a great way to downsize the ingredients you work with while making personalized options for your guests. Plus, they look super adorable! 
For your best charcuterie board yet, Sophistiplate has everything you need to get started. 
Our Sources: 
Bringing Seafood Charcuterie to the Table | The New York Times
---