17 Patriotic Memorial Day Party Ideas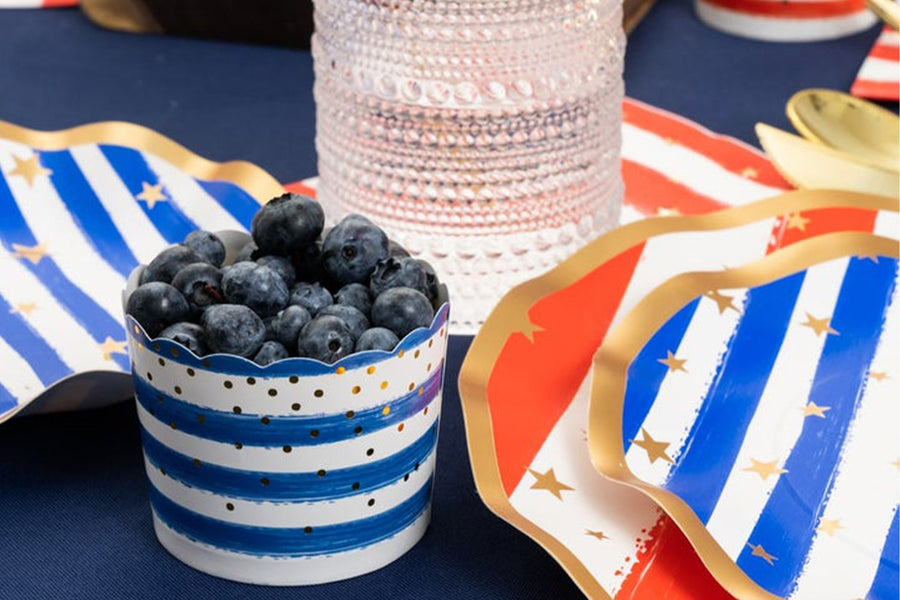 On Memorial Day, we not only celebrate our national heroes but unofficially kick off the summer season. Most often, we do this by throwing a backyard BBQ with our friends and family. If this is in your plans this Memorial Day, then check out these memorial day party ideas for celebrating in style. 
1. Lay Out a Red Tablecloth
If you're hosting a Memorial Day barbecue this year—which, let's face it, is a must on this holiday—then paying attention to the small details will go a long way in creating the right aesthetic. Start with something as basic as the tablecloth. By going for a red checkered option, you'll have a perfectly patriotic foundation for setting up the rest of your tablescape. 
2. Create a Patriotic Tablescape
Long gone are the days of flimsy white paper plates. This year, we're all about Sophistiplate's sturdy options that are basically indistinguishable from real china. Our Patriotic Confetti Table Setting will not only impress your guests but look absolutely stunning in your #memorialdaybbq photos. 
3. Set Up a Hot Dog Bar
Grilled hot dogs are a must-have dish on Memorial Day. Why not put a unique spin on this classic by setting up a hot dog bar? To do this, put out a table with large serving ware dishes, such as this option from Sophistiplate. 
In addition to plain white bread, make sure to offer different options for hot dog puns (sourdough, anyone?). You can also offer unique toppings, which can include pineapple salsa, crunchy onions, and blue cheese. Don't forget to lay out plenty of condiments—aside from mustard and ketchup—such as this delicious bacon jam. 
4. Keep It Healthy
We know, we know. Parties are all about indulging—especially if it's a holiday as delicious as Memorial Day. But sometimes, we want to eat as much as we want without ruining our diets. In this case, we'd recommend putting out some healthy options, such as grilled chicken-and-pineapple skewers, grilled peach salad, and sugar-free cornbread. Don't forget about your vegetarian and vegan friends by offering them plant-based meat options!
5. Do a Craft Beer Tasting
Beer is perfect for pairing with classic BBQ foods. Why not make your beer selection special this time around by serving craft beer? If you have some serious beer fans amongst your guests, then you can even do a tasting of the unique choices you picked out for the party. Don't forget to serve your beer in the proper glassware to enhance the tasting (and drinking) experience. 
6. Serve Red, White, and Blue Cocktails
Although layered cocktails look complicated, they actually could not be easier to make—we promise! All you have to do is be aware of the densities of different liquids that you're working with, which will get you well on your way to making a red, white, and blue cocktail. 
To make this type of cocktail, start with heavy red syrup, such as grenadine. Then layer on a bit of a blue liqueur, such as curuçao. Top it off with a clear liquor of your choice (we recommend citrusy vodka to match the flavor). Ours is just one of many combinations that you can play around with for your party. 
7. Use Decorative Straws
Whichever cocktails you serve at your Memorial Day party, make sure to forego the environmentally hazardous plastic straws in favor of ones made of biodegradable paper. Our red-and-white paper straws will make a decorative (and eco-friendly) addition to any patriotic cocktail. 
8. Make Patriotic Jell-O Shots 
Jell-O shots are the perfect way to kick off a party. You can make your own in the spirit of Memorial Day by using red, white, or blue Jell-O powder and mixing it with clear liquor. 
If you want, you can even layer different flavors of Jell-O to recreate the American flag in a mini-cup. Do this by pouring in one color of Jell-O, letting it solidify for several hours in the fridge, and repeating this process with the other two colors. Make sure to use a clear cup so that your guests can get a full view of your creation. 
9. Bake Some Berry Pastries
For a sweet end to a yummy meal, don't forget to serve dessert. While playing around with food coloring is a fun way to add patriotic vibes to your baked treats, we'd go with nature's offerings for celebrating Memorial Day. 
Bake your favorite pastries—whether they're cupcakes, fruit tarts, or cheesecake—and top them off with a variety of red and blue berries. Use a decorative cake stand to display them for your guests. 
10. Stick a Flag in It
An instant way to show some patriotism on the dinner table is to put a mini flag into whatever you serve. While you can technically do this with savory dishes, such as burgers, we think it would look just slightly cuter in baked treats, such as cupcakes. 
11. Serve Snacks in Patriotic Containers
For around-the-clock snacking, we recommend laying out some munchies, such as popcorn, chips, and nuts. Take this opportunity to show some of your amazing attention to detail by displaying the snacks in patriotic containers. We're big fans of these Blue Confetti Baking Cups. 
Pro tip: Add some food coloring to your popcorn for extra patriotic vibes. 
12. Make a Charcuterie Board
Even though we think of Memorial Day as a laid-back celebration, there's no reason why you can't serve a yummy charcuterie board as a starter. Charcuterie meats go incredibly well with beer, which can make them an instant hit at your party. 
If you want, you can keep your charcuterie board in line with the BBQ theme by serving small pieces of grilled sausage, gourmet mustard, and soft pretzel bites. Don't forget to add red food picks for easy snacking! 
13. Make a Splash at the Pool
If you're lucky enough to have a pool in your backyard, then throwing a pool party is a no-brainer! Set up some comfortable lounge chairs all around the perimeter so your guests can sit back and relax—drink in hand, of course. You can even add some themed pool floaties for an extra patriotic aesthetic.
No pool? No problem! Consider renting out an Airbnb for the day that has a pool that you can use. If all else fails, then head to the beach!
14. Decorate With String Lights 
If we had to pick just one piece of décor for our outdoor party, it would be the string lights. These not only come in various designs—such as mini flags—but can add an instantly whimsical and romantic ambiance to any space. Compliment the string lights with some red, white, and blue paper lanterns. If you're up for an arts-and-crafts project, then you can make your own string lights and paper lanterns. 
15. Hang Up a Flag Garland
You can buy a garland made from tiny American flags and hang it up in different ways around the space, such as on top of the fence, around the dinner table, or high in the air between trees. For an extra festive touch, tie some colorful balloons to the garland. 
16. Decorate With Patriotic Flowers
If you enjoy decorating with flowers, then you can make a floral arrangement that is the perfect combination of red, white, and blue. Grab a clear vase and include some red roses, white lilies, and blue perennials. If you want, you can even stick a flag into the floral arrangement for some extra patriotic vibes. 
17. Pack a Picnic
Who said that a Memorial Day BBQ has to take place in our backyard? For a fun change of scenery, pack it up and take it to a nearby park for a laid-back picnic. Some parks have grills that you can use. If you want to make it easier, just make everything ahead of time and bring it with you—remember to bring plenty of disposable plates and cutlery. Use a checked tablecloth to lay out your display and take plenty of photos!
Get Patriotic With Sophistiplate
Memorial Day is the perfect time to get together with friends and family for a laid-back outdoor barbecue. If you're hosting in your own backyard, then you have plenty of options to show your patriotic spirit. Whether it's decorating with American flag garlands, making red-white-and-blue cocktails, or laying our Patriotic Confetti Table Setting, there are plenty of ways to get in the spirit of this holiday. 
If you're hosting a Memorial Day party this year, then Sophistiplate has your back. We have plenty of high-quality party supplies to make this holiday one that you and your guests will remember for years to come. 
Our Sources: 
Bacon-Onion Jam Recipe | NYT Cooking 
Plastic straw bans are spreading: here's how they took over the world | National Geographic 
11 DIY Lanterns That Will Light Up Your Summer | Country Living 
---