7 Unique New Year's Eve Drinks To Serve at Your Party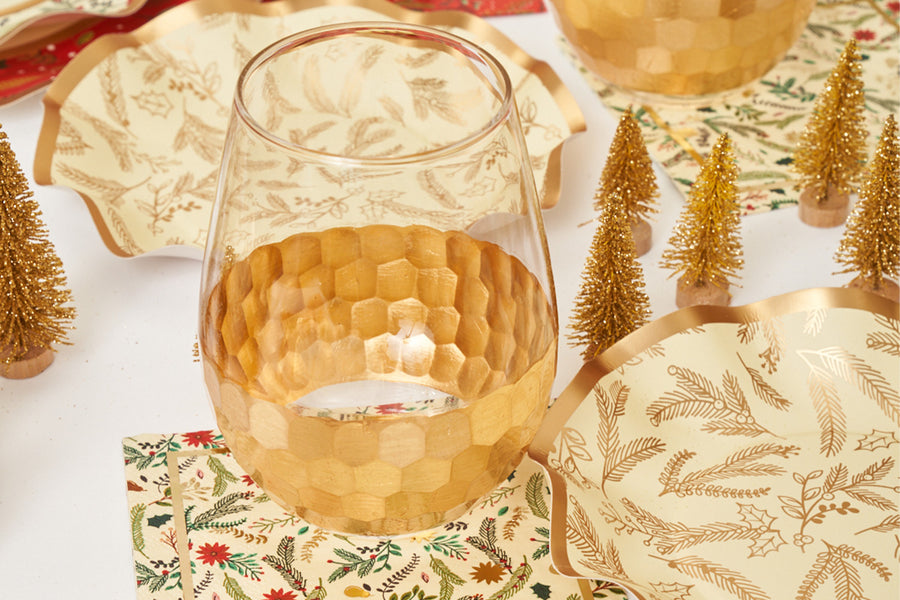 Is there a holiday more synonymous with boozy drinks than New Year's Eve? We tried and couldn't think of a single one!
While no one's ever complained about having to drink champagne on New Year's Eve, we think that this holiday is a great opportunity to get creative with cocktails. To give you some ideas, here's a guide to crafting unique New Year's Eve drinks, as well as seven of our favorite recipes. 
Why Do We Drink Champagne on New Year's Eve?
All in all, we associate champagne as the drink to savor on New Year's Eve. And there's a long history that explains why this is so. 
White wine from the French region of Champagne has been used in religious ceremonies since the fifth century. But when winemakers discovered how to add bubbles to it in 1662, champagne became the beverage that we know and love today. Thanks to clever marketing, it went from being used in religious ceremonies to being the beverage of choice at glamorous parties. 
That said, champagne is not all we drink on New Year's Eve. It might be nice to pop open a bottle of bubbly when the clock strikes 12, but there are many other cocktails that are popular on this holiday. 
Here are some tips for making sure that whatever you serve on New Year's Eve, your cocktails are perfect for the occasion:
Use Festive Glassware

: When serving cocktails on New Year's Eve, we recommend getting out your most festive glassware. Plain crystal glasses can make for a great choice, but you can always take it up a notch by using glasses with a

special design

on them.
Serve a Variety of Options

: Just as there are tons of different personalities, there are just as many tastes in liquor. You have your wine aficionados, your whiskey enthusiasts, and those who like their cocktails as sweet as can be. For this reason, we'd try to have a variety of cocktails so that everyone ends up happy. 
It's All in the Details

: It's important to pay attention to the little things. The garnishes you use, the little decorative accents, and even

the straws

can take a cocktail from one that's merely O.K. to one that's a treat for the senses. 
How To Craft a Unique Cocktail
There are classic cocktails—such as margaritas, cosmopolitans, and old-fashioneds—that everyone knows and enjoys. But sometimes, you want to create something completely unique (and name it after yourself). Here is how you can craft your own cocktail. 
1. Start With a Base Liquor
Making a cocktail requires some kind of base spirit. Take stock of what you have (or what you want to have) and base your cocktail around it. For us, the easiest base liquor to work with is vodka as it's completely flavorless. However, other great spirits for working with cocktails include whiskey, tequila, and gin. 
2. Add Something Acidic
Just like with cooking, a yummy cocktail requires the right balance of flavors. There's nothing better to balance out the flavor of liquor than a tart ingredient. Although your options for that acidic ingredient are endless, we think that lemon or lime juice is always a safe bet. 
3. Add Something Sweet
Now that you have something acidic in your cocktail, you'll need to balance it with something sweet. A simple syrup (made by mixing one part sugar to one part hot water) is our favorite go-to. But don't limit yourself there! Agave, honey, and fruit juices can make for a unique (and sweet) addition to your cocktail.
4. Layer On the Ingredients
If you follow the first three steps, you'll have a delicious cocktail that's basically ready to be served. But to take it to the next level, you can keep adding ingredients that would go with your creation. Choose from a combination of unique liqueurs, aromatic bitters, fresh fruit, and herbs.
5. Add a Pinch of Salt
This might seem like an odd tip, but once you try it, you'll never go back. Same as with cooking, salt can bring out the sweet and sour notes of a cocktail while blending all the ingredients into a unified one.
6. Use the Right Glassware
There are certain rules when it comes to selecting the right glassware for your cocktails. A good rule of thumb is to use tall glasses for drinks that have a lot of juice and ice mixed in (served with a straw, of course).
But when it comes to those liquor-heavy cocktails, it's a good idea to use smaller glasses. We'd go with martini glasses for cocktails served neat and old-fashioned glasses for cocktails served over ice. 
7. Don't Forget the Garnish
A garnish is the cherry on top of the sundae. It will go a long way in elevating the appearance of your cocktail while enhancing its flavors. Some popular garnishes include lemon twists, Maraschino cherries, and edible flowers. But since it's New Year's Eve, we'd mix the traditional garnishes and go for something really creative.
7 Unique New Year's Eve Drinks
We completely trust that your craft cocktails will be killer. But if you want some ready-made ideas, here are some of our favorite New Year's Eve cocktails, along with instructions on how to make them. 
1. A Tropical New Year
This is a sweet cocktail that reminds us of an elevated version of fruit punch. It requires a DIY pineapple syrup, which you can store in the fridge for weeks and use to make other drinks. 
Ingredients:
1 ½ ounces of gin

2 ounces of dry sparkling wine

½ ounces lemon juice

¾ ounces pineapple syrup

2 large sage leaves
Directions: Make the pineapple syrup by blending (on high) the pineapple juice and sugar until the sugar dissolves. To make the cocktail, mix the gin, lemon juice, pineapple syrup, and sage leaves. Put everything in a cocktail shaker filled with ice, shake hard for thirty seconds, and strain into a martini glass. Top off the cocktail with sparkling wine before serving.
2. Confetti Champagne
There are many ways to elevate a glass of plain ol' bubbly. This cocktail adds a sweet kick to the champagne while adorning the rim with colorful candy.
Ingredients: 
1 ounce chilled vanilla vodka

4 ounces chilled champagne

2 ounces chilled Sprite

⅓ colorful hard candy

1 tablespoon vanilla frosting
Directions: Crush the hard candy using a pestle and mortar. Spread the vanilla frosting on the rim of a champagne flute and dip it in the crushed hard candy until the rim is completely covered. Pour the vodka, champagne, and Sprite into the glass. Serve and enjoy! 
3. Grown-Up Hot Chocolate
The temperature is dropping, so naturally, we want something to warm up around. This grown-up version of hot chocolate is guaranteed to do the trick.
Ingredients:
1 cup bourbon whiskey

8 cups milk of your choice

2 cups cocoa powder

¾ sugar

8 ounces semi-sweet chocolate chips

2 crushed cinnamon sticks

1 bag of mini marshmallows 
Directions: Combine the milk, cocoa powder, granulated sugar, and cinnamon in a saucepan and simmer for 10 minutes. Add the chocolate chips and mix them until they melt. After you take the saucepan off the heat, pour in the bourbon. Serve in a mug topped with marshmallows. 
4. Champagne Jell-O Shots
Ingredients: 
¼ cup vodka

1 ½ cups champagne

¼ cup sugar

1 tablespoon lemon juice

3 envelopes gelatin powder

Rainbow sprinkles
Directions: Combine the vodka, champagne, lemon juice, and sugar in a saucepan. Then, sprinkle the gelatin on top and allow it to "bloom" for a few minutes before simmering it for 10 minutes. Grab the containers you're going to use with the Jell-O shots (we love these festive baking cups) and pour in the mixture. Try to refrigerate it for at least three hours before serving.
5. Winter Wonderland
This creamy white cocktail is delicious before dinner as an aperitif or after dinner to accompany dessert. Plus, the candied rim adds a nice contrast to the white liqueur. 
Ingredients:
1 ounce dark rum

1 ½ ounces white chocolate liqueur 

½ ounces ginger liqueur 

Crushed candy canes
Directions: Grab a martini glass, wet the rim with water, and dip it into the crushed candy canes, making sure the glass is rimmed completely. Next, combine the remaining ingredients in a cocktail shaker filled with ice and shake for at least thirty seconds. Strain it into the prepared glass and serve.
6. Cherry Spritz
This cocktail is the grown-up version of cherry cola. Plus, it's super easy to make.
Ingredients: 
3 ounces fruity and sparkling red wine

2 ounces bitter liqueur (such as amaro)

2 tablespoons cherry syrup

Maraschino cherry
Directions: Combine all the ingredients in a stemless champagne flute. Stir to mix. Throw in a cherry (or three) for garnish.
7. Cranberry Margarita
A margarita is a classic cocktail. But the simple trick of adding cranberry makes it anything but basic.
Ingredients:
2 ounces tequila

1 ounce orange liqueur

½ ounce freshly-squeezed lime juice

2 tablespoons cranberry jam (homemade or store-bought)

Kosher salt 
Directions: Rub the rim of an old-fashioned glass with lime and put it in salt. Next, combine the remaining ingredients in a cocktail shaker with ice and shake for thirty seconds. Fill the prepared glass with ice and pour in the cocktail. Garnish with fresh cranberries and sprigs of rosemary. 
Happy Bartending
Cocktails are an absolute must at your New Year's Eve party. Even if you're never made a drink before, we hope our guide gives you all the confidence you need to make your New Year's Eve cocktails a treat for the senses. 
Our Sources:
Why We Drink Champagne on New Year's Eve | Food & Wine Magazine 
A Guide To Cocktail Glassware | Serious Eats 
Is Edible Glitter Really Safe to Eat? | Eater
---