18 New Year's Eve Party Ideas: Everything From Themes to Supplies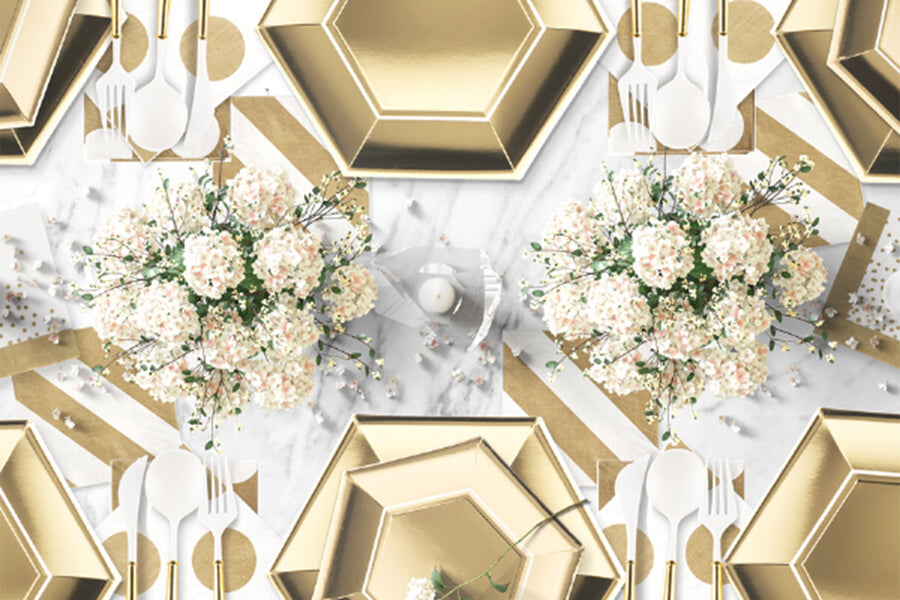 Although the year 2021 has been a blast, we're ready to move on to 2022. And what better way to do this than by throwing an epic New Year's Eve party? 
If you're hosting a New Year's Eve party this year, then we have everything you need to make it one that your guests will remember for ages. Here are some New Year's Eve party ideas to greet 2022 in style. 
Themes
It may seem like choosing a party theme is best left for holidays like Halloween, but we couldn't disagree more. A theme will bring all your party's elements together seamlessly while allowing your party to remain sophisticated. 
Fortunately, the sky's the limit when it comes to picking a New Year's Eve party theme. Here are three of our personal favorites.
1. Great Gatsby Bash
The Roaring Twenties were a decade that epitomized glamour. Bring the same vibes to your New Year's Eve party by turning it into a Great Gatsby bash. Art deco décor, metallic accents, crystal chandeliers, black tie attire, and—our favorite—champagne towers are all elements to incorporate into your New Year's Eve party. 
2. Disco Fever
Your New Year's Eve party is the perfect opportunity to get your groove on. To make sure all your guests are on the same page, turn your place into a disco club. With a disco ball, neon strobe lights, and glittery silver décor, your guests will feel like they've been transported to the 70s. 
To really get everyone into the groove, ask your guests to come dressed in their best disco attire. Oh, and don't forget the music!
3. Winter Wonderland
If the glitz and glamour of New Year's Eve don't speak out to you, then you can totally plan something low-key, such as an intimate dinner party. But if that's the case, there's no reason you can't have a theme! 
For the perfect dinner party theme, throw an all-white party by creating a white-and-gold tablescape, covering your furniture with white cloth, and laying down white fur rugs. Request an all-white dress code so your guests match the scene. 
Décor
No matter which party theme you choose to go for, some decorations are a must for every New Year's Eve party. Here are three that we think should make an appearance on your New Year's Eve. 
4. DIY Ball Drop
We'll probably be watching the Times Square ball drop from our TVs when the clock strikes midnight. But that doesn't mean you can't have one right at home with you. A DIY Times Square ball can be made with a balloon and glitter from the comfort of your own home while being the center of your party's décor. 
5. Festive Balloons
Balloons come in all colors that will perfectly match your party's theme. You can take it up a notch by getting balloons in different shapes that we associate with New Year's Eve celebrations. We'd go for balloons in the shape of stars, champagne flutes, and the number 2022. 
6. Glitter and Confetti
Aside from the customary glitter poppers, there are plenty of ways to incorporate glitter and confetti into your décor. You can paste glitter on party supplies such as plates and glasses. You can sprinkle confetti all over the surfaces. You can even buy garlands adorned with glitter and place them all over the party. 
Party Supplies
You got your theme and décor down to a tee. Now, we have to move on to the small details (trust us, they make all the difference!). 
Picking essential party supplies is just another way to add to your party's aesthetic. Here are three must-have supplies to elevate your New Year's Eve.
7. Disposable Tableware
High-quality disposable tableware is virtually indistinguishable from the real thing. So, why not make things easier for yourself and avoid having to do the dishes after your party? While there's disposable tableware to match the aesthetic of any party, we'd go for metallic hues such as gold and silver for our New Year's Eve celebration. 
8. Festive Cutlery
For another opportunity to add that "wow" factor to your New Year's Eve festivities, we'd go for disposable cutlery in all sorts of festive colors. Our personal favorite is pink with gold accents, but you should totally go for the cutlery that most closely matches your party's aesthetic. 
9. Photo Backdrop
With all the effort we're putting into looking glamorous on New Year's Eve, we definitely want there to be an official record. What better way to do this than with (almost) professional photos? A photo backdrop is a sure way to elevate any photoshoots you'll be doing on New Year's Eve. 
Cocktails
There's one thing we consistently associate with a New Year's Eve celebration and it's booze. While a simple glass of bubbly is all you really need, we'd take it a step further by being innovative with our boozy libations. Here are three ideas for your New Year's Eve cocktails. 
10. Champagne Bar
If you want to center most of the night's drinking around this New Year's Eve classic, then you can certainly do it in an innovative way. Set up a champagne bar with different types of sparkling wine, flavored syrups, and garnishes so your guests can play around with crafting their own concoctions. Oh, and don't forget to lay out plenty of festive champagne flutes. 
11. Glamorous Cocktails
Okay, we get that not everyone likes champagne! In this case, we'd make some classic cocktails—but with an extra touch of sophistication. Using premium ingredients, crystal glassware, and plenty of garnishes will go a long way in upping your cocktail game. 
12. Wine Pairing
If you're throwing a New Year's Eve dinner party, then a wine pairing will truly elevate the dining experience. Start off the evening with some aperitif wines such as the pleasantly bitter Campari. Pair your appetizers with a light-bodied red wine and move on to more complex selections to pair with the main course. Finally, finish things off with a nice glass of sweet Porto. 
Desserts
Everyone loves a sweet treat at the end of the night. Whether you're serving an elaborate dinner with multiple courses or a selection of small bites, these desserts will be the perfect way to finish off the evening. 
13. Sweets With a Kick
If you want another occasion to get some extra booze in your guests, then infusing your desserts with liqueur is a delicious way to accomplish your mission. As for the best part? Virtually any dessert can be spiked, so you'll have plenty of options to choose from. 
14. Chocolate Fountain
A chocolate fountain is a perfect dessert if you want to wow your guests (and it's a lot easier to put together than it looks!). Make sure to serve yours with a smorgasbord of fruits, cookies, and pastries. And don't forget the festive food picks! 
15. Chocolate-Covered Strawberries
Chocolate-covered strawberries make the perfect low-hassle dessert since you can make them ahead of time and store them in the fridge until they're ready to be served. Plus, they look incredibly festive and taste great when paired with a glass of champagne. 
Activities
The one activity we're all sure to engage in is watching the ball drop in Times Square (from the comfort of our own home). But until then, there are plenty of things to do that can keep your guests entertained. Here are some of our favorite New Year's Eve activities. 
16. Board Games
If you want to keep your New Year's Eve festivities a bit more low-key this year, then board games are the perfect way to bring some fun to the party. Bring out some party favorite board games, such as Jenga. Or ask your friends to bring along what they have for a board game potluck. 
17. Time Capsule
Instead of simply making your New Year's resolutions, write them down on a piece of paper and put them in a time capsule. The following year, you and your guests can look back at what you've accomplished and appreciate how much has changed. 
18. Dance Party
This New Year's Eve, we simply have to dance. Make this a fun activity at your party by setting up a dance floor and putting on some heart-pumping music. We would turn the lights all the way down so everyone feels free to move however they wish.
Bring in the New Year With a Bang
Every part of your New Year's Eve party is an opportunity to get creative. From choosing a theme to party supplies to the cocktails you'll be serving, we hope that planning for your New Year's Eve party is lots of fun (but not as fun as the party itself!). 
Our Sources:
The 35 Best Disco Songs Ever | Billboard
Things to Do: 'The best of all parties': The irresistible lure of the white party 
---