Best Spring Birthday Party Ideas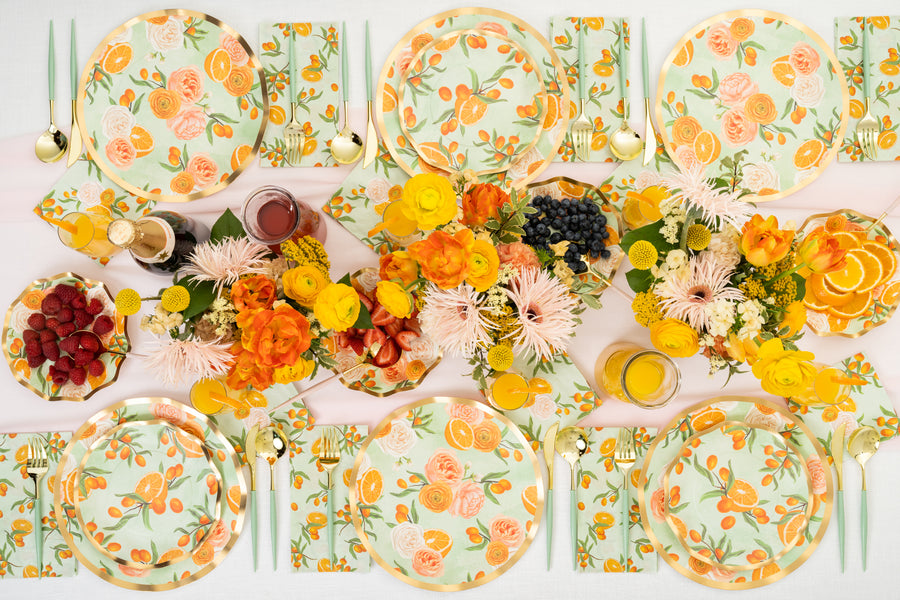 If you're throwing a birthday party during the warmer spring or summer months, then you should definitely consider throwing it outdoors. Aside from just being extremely pleasant—after all, who doesn't love some sun and fresh air?—an outdoor party gives you plenty of fun options to play around with. 
While a birthday party is up to your full creative freedom, it never hurts to get some inspiration for picking your party theme, food and drink choices, and décor. Read on for 21 outdoor birthday party ideas from Sophistiplate to get your creative juices flowing. 
1. Screen a Spring Blockbuster 
Is there anything more fun than an outdoor movie screening? Take a vote from your guests on which Spring flick they'd prefer to see—giving special preference to the birthday person, of course! Then rent a projector with a screen to show the movie in your backyard. 
Keep a cooler full of beer and a bucket of fresh popcorn for something to snack on. And, of course, it never hurts to put a birthday spin on the food choices. 
2. Host a Barbecue Cookout
A summer BBQ is a low-key way to get all the party guests together while noshing on delicious comfort food. Bring out plenty of lawn chairs so everyone can kick back and relax. Keep it festive with decorative birthday plates, napkins, and cutlery
3. Cool Down With Homemade Lemonade 
Is there anything more refreshing than a glass of homemade lemonade on a hot summer day? If you're making your own, you can play around with the recipe to make exactly how your guests prefer it. 
Cutting out sugar? Use a sugar substitute to add some sweetness. Want to make it more grown-up? Add some gin using this Tom Collins recipe. You can even add some colorful berries for an extra aesthetic touch. 
4. Do-It-Yourself Bar 
Keeping a bar stocked with plenty of liquors, mixers, and garnishes will let your guests experiment with making their own creations—a perfect grown-up party activity. Make sure to have plenty of cups, straws, and ice!
5. Keep Your Drinks Bug-Free
A cool trick to keep bugs out of your glasses is to cover them with decorative cupcake liners. Since Sophisticate's baking cups are fairly sturdy, be sure to make small holes in them so your guests can put their straws into their glasses and keep sipping their cocktails—uninterrupted.
6. Get Creative With Burger Toppings
A summer BBQ wouldn't be complete without some succulent burgers. As much as we love ketchup, we encourage you to experiment with several unique burger toppings. Options such as bacon jam, spicy peppers, and even grilled pineapple can make for exciting add-ons that are sure to impress your guests. 
7. Set Up an Ice Cream Bar
What goes into our ice cream sundaes is a very personal choice. As such, it can feel wrong to have them pre-made for your guests. Instead, allow your guests to experiment with making their own ice cream sundaes by setting up a DIY ice cream bar. Keep a few classic ice cream flavors in a portable freezer. Next to it, set up a table display with plenty of toppings, such as hot fudge, whipped cream, and birthday cake sprinkles. 
8. Keep It Classy With a Garden Tea Party
If you want to throw an outdoor birthday party that's fit for a queen, then a garden tea party is the best way to achieve this. Set up an elegant table, serve plenty of bite-sized sandwiches, and make sure your tea is of the highest quality. Here are a few other ideas for throwing a garden tea party that's sure to impress. 
9. Decorate With String Lights
When the sun begins to set, your lighting will go a long way in setting the ambiance. Our personal favorite to spruce it up? Bright string lights. Hang them up garland-style all around the space to bring some whimsical vibes to your outdoor birthday party. 
10. Dine Al Fresco 
Al fresco dining comes to us from Italian and roughly means "in fresh air." To be completely honest, we can't think of a better way to experience a multi-course dinner. With some extra thought and effort, you can plan an elegant multi-course dinner party that will be remembered for ages. Don't forget the birthday cake for dessert!
11. Use Disposable Tableware
If you're throwing an elaborate dinner party, then the last thing you want to do afterward is spend hours cleaning up. Make this process easier on yourself by serving food in our beautifully-designed disposable tableware. We promise, no one will be able to tell it's not the real thing!
12. Serve Fruit Hors D'Oeuvres 
On a hot summer day, the last thing we want to eat is rich and heavy dishes. Fruit offers a perfectly sweet alternative to a heavy appetizer. Cut up summer favorites such as watermelon, pineapple, and mango into large cubes and serve them up hors d'oeuvres style with these colorful food picks. 
13. Booze It Up at a Rooftop Brunch 
A boozy brunch is always a good time. If you have access to a rooftop, it can be even better! Play up the modern rooftop aesthetic by decorating with sleek colors and designs. Don't forget to make a fun playlist to set the mood. And most importantly: Keep the mimosas flowing all day (and night) long!
14. Serve Pitchers of Sangria
Let's start with the obvious: everyone loves sangria. As such, it's sure to be a hit with all your party guests. But there's something else we love about it, which is that you can customize it in any way you want. If you have some wine, liquor, or leftover fruit you want to get rid of, we guarantee whoever combination you come up with will be absolutely delicious. 
15. Host a Vineyard Party 
Even if you can't travel to a vineyard, you can feel like you're in Napa Valley by turning your outdoor space into a private vineyard party. Set up a long wooden table and decorate it with plenty of rustic accents. Play soft music that recreates vineyard vibes. And most importantly, stock up on plenty of different wines to last you all night. 
16. Do a Cheese Pairing
Wine without cheese is like the moon without the stars. Make sure that you serve a well-curated cheese plate for your guests to snack on during the night. Or, better yet, upgrade it to an elaborate charcuterie board. 
17. Keep Your Wine Cool With Wine Cubes
This is a genius drink for keeping your wine cool without diluting it with water. Keep an extra bottle of each type of wine that you serve for making ice cubes in an ice cube tray. Pop a couple into your glass of wine every time it starts getting warm. Sip and enjoy!
18. Or Keep It Cool With Fruit Popsicles 
This is another way to keep your wine cool—in addition to sweet! Choose a fruit popsicle flavor that goes with the wine that you're serving. For full-bodied reds—such as cabernet sauvignon—we recommend a cherry or raspberry flavor. Rosés would go perfectly with strawberry and blueberry flavors. And our favorite summer whites are ideal for pairing with tropical fruit, such as pineapple and mango. 
19. Make a Splash at a Pool Party
If you have access to a pool, then you have (almost) everything you need for throwing the perfect outdoor birthday party. Set up lounge chairs all around the perimeter, throw plenty of colorful floaties in the water, and keep a playlist full of fun jams blasting all night. Ask your guests to come dressed in their best tropical garb and to be ready to take plenty of photos! 
20. Tap a Watermelon
Beer kegs were all the rage in our college years. This time around, we're making things feel a bit more grown-up—but not any less fun—by tapping a watermelon. We promise: It's easier than it sounds! Simply grab a big watermelon, fill it up with your booze of choice, and run a tap through it to keep the cocktails flowing. 
21. Blend Some Piña Coladas
Frozen cocktails are the stuff that summer nights are made of. Invest in a high-speed blender to make favorite classics, such as piña coladas—in addition to daiquiris, margaritas, and mudslides. Keep plenty of different ingredients so your guests can experiment with making their very own creations. 
Take It Outside With Sophistiplate
Throwing a birthday party outdoors gives you plenty of fun options with which to experiment. We hope that these 21 ideas from us gave you lots to consider for your next party. For all your other party needs, Sophistiplate has your back for an amazing event every time!
Sources: 
Birthday Cake Popcorn | Delish 
Tom Collins Recipe | NYT Cooking 
The Art of the Dinner Party | The New York Times 
The Ultimate Playlist for a Boozy Brunch | The New York Times 
---