Party Hosting Tips To Elevate Your Next Gathering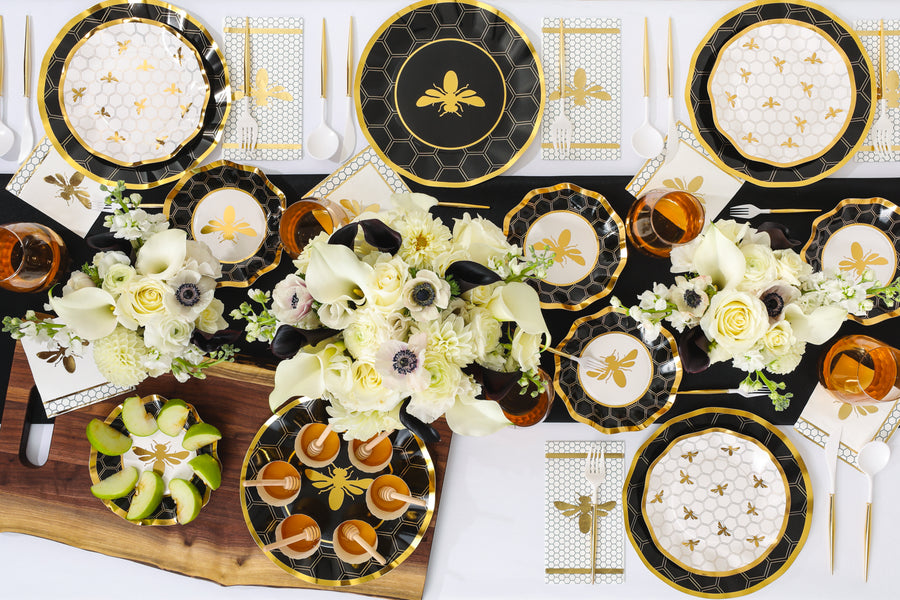 Whether you're throwing your first gathering ever or consider yourself a seasoned party veteran, there is always something new to try that can bring your event to the next level. For your best party yet, check out these hosting tips from Sophistiplate. 
Before the Party
Taking the time to plan your event will go a long way in setting the tone for the party. Here are some strategies for making sure your party planning goes smoothly.
Take Some Time To Pick a Party Theme
No matter what type of party you choose to throw, choosing a theme can really help to bring all the elements together. 
To help you do this, think about the parties you have enjoyed yourself. Was it formal or casual? Was it an intimate gathering or packed with tons of new people to meet? Was it loud and boisterous, or more intimate and low-key? 
Once you decide on what you appreciate at a party, you can start crafting the perfect experience. Use keywords such as romantic, sophisticated, and trendy to plan your decorations, food menu, and music. Since this is your party, let your unique personality shine through during this step. 
Get Organized by Making a Timeline
A good party host is relaxed, calm, and able to have fun with their guests during the party. Nothing gets in the way of this more than being frazzled the day of the party because there's just so much left to get done. 
For this reason, laying out the steps of party planning—creating a menu, sending out invitations, buying groceries, prepping and cooking ingredients, cleaning, and decorating—is super important. Give yourself ample time before the party to unwind and show up as your best possible left. 
Send Out Invitations
Some might think that paper invitations are outdated, but we couldn't disagree more. In a world of instant messaging, a paper invitation to your party shows guests how much thought and effort you put into planning the event. 
If sending out paper invitations isn't an option, then a personalized e-vite is another great option. Include a link for guests to RSVP so you know your approximate headcount.  
Since your guests will most likely show up with a present, you can help them avoid getting something you won't use by making suggestions on the invitation. For instance, "red wine is welcome" will help to ensure that your guests show up with the right kind of booze for the party that you can open that very night. 
Decorate To Show Off Your Good Taste
We all have a unique personality that will without a doubt shine through in your party décor. Take the time to make sure that your party is a true reflection of who you are. With that being said, there are tried-and-true decorations that will elevate any party. 
Sultry Lighting: Soft illumination is one of the easiest ways to transform your space. Whether that means switching out your regular light bulbs for darker hues, investing in a few table lamps, or lighting candles all around, the right lighting will go a long way in setting the scene. 
Natural Accents: When all else fails, elements of nature will always make for good décor. Floral arrangements don't have to be elaborate to look incredibly elegant. You can even pick some wildflowers and place them in small vases around your space. If flowers aren't for you, then unique tree branches, twigs, and foliage can make for a charmingly rustic aesthetic.
Stunning Tablescape: Your table is so much more than just a place to serve food and drinks. Instead of its functional purpose, think of your table as an integral part of the décor. 
Consider your own style and pick your table linens, dinnerware, and cutlery accordingly. For inspiration, search for images online for countless ideas on creating a stunning tablescape. 
Study Your Cooking Repertoire
You may wish to plan an elaborate multi-course meal for your event, which can be fun for you and impressive for your guests. But simplicity can be key to ensuring that your event is perfect and nothing is more simple than sticking to tried-and-true meals. So, nix the labor-intensive dishes in favor of classics you know how to cook with your eyes closed. 
Tip: Stock up on a few simple food options for guests with dietary restrictions. Guests who avoid meat, dairy, or gluten will appreciate having a yummy dish made just for them. 
Don't Forget the Music
Even if you don't foresee any dancing at your party, music can seriously impact the ambiance. So, think about your party theme, pick a few songs that would match it, and create a playlist for at least a portion of the night. 
It's a good idea to have a few different choices on hand so you can switch up the genre if the music doesn't match the evening. Take this time to introduce your guests to new music they'll appreciate or to even ask them to share some of their favorite tunes. 
During the Party
Being a gracious host is a serious job that's not to be taken lightly. Here are some ways to be a most gracious host.
Welcome Your Guests
Make sure your guests feel welcome on arrival. Even if you're busy with last-minute preparations, make sure to say hello to your guests when they show up and to express how excited you are to have them with you.
Help Your Guests Feel Comfortable
A good host helps their guests feel relaxed around each other. This is especially important if some of your guests have never met before. 
When people arrive, offer them a drink and make introductions, making sure to throw in some conversation starters before you get back to the many things you still might have to get done. 
If you have more time on your hands, giving your guests a tour of the space is an incredibly warm way to help them get acquainted. You can point out the coatroom, the bathroom, and, most importantly, the bar station. 
Strike Up a Conversation
Ideally, at least some of your guests will be the type to enjoy telling stories and getting to know others. But if the conversation seems to be low, then have a few things to fall back on to wind it back up. Experiences that you shared with your guests, funny anecdotes, and—dare we say—even politics, can all be great ways to keep the chatter going. 
Create a No Cell Phone Zone
Cell phones can be seriously distracting when it comes to socializing. And, of course, answering texts and emails during dinner is a tad bit rude. Help your guests be present and engaged by asking them to turn off their cell phones for at least a certain part of the evening. 
Of course, if phones are being used to take pictures of the tablescape, then cell phones are totally welcome (but just for a few minutes).
Make Sure You're Having Fun
While being a gracious host is all about making sure that your guests are having fun, you need to take care of yourself, too. After all, if you're frazzled and stressed out, it can take away from a fun party atmosphere. 
For this reason, winding down before the party begins with a glass of wine is a great idea. And if something goes wrong during the party, just remind yourself not to sweat it too much—you deserve to have just as much fun as your guests. 
After the Party
Before you can take a deep sigh of relief for another party well-done, there are a few things that need to be taken care of.
Kick Out Any Lingering Guests
It happens. Some guests are having such a good time that they're slow to realize that everyone else left a long time ago. In this case, you want to be polite but firm. If beginning to clean up the space doesn't set off any alarms, then ask your guests if you can help them with getting a ride or directions to go home. 
Clean Up Something
Hopefully, you used some gorgeous disposable dinnerware to get the task of washing dishes off your plate. If you chose to go with traditional plates, glassware, and cutlery, then it's totally fine to leave them until the next morning so you can spend more time with your guests and relax after they leave. 
With that being said, it's totally fine to start cleaning up as the party is coming to an end. Feel free to enlist some guests to bring unfinished dishes back to the kitchen, to cork the wine, and to help pack up leftovers.
Happy Partying!
Being a party host is a serious job and we hope that these tips for what to do before, during, and after the party make your next event an amazing one. 
Sources:
The Power of Music to Affect the Brain | NPR
Making Sure Your Stress Isn't Contagious | Harvard Business Review 
How to Politely Tell a Guest They Have Overstayed Their Welcome | The Huffington Post
---