Place Settings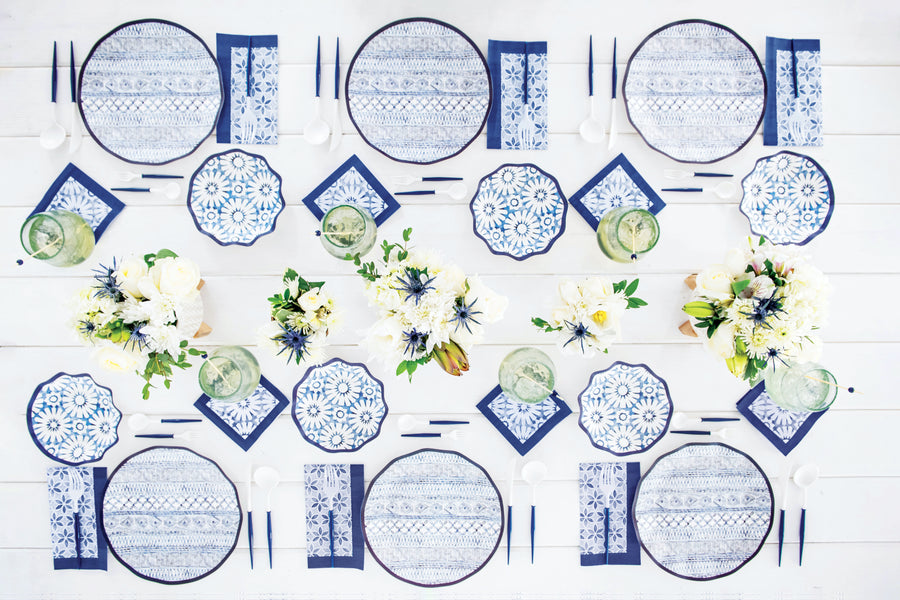 If you're like me, your parents beat into your head that if you know the rules and how to do something properly, you can then take allowances or make modifications allowing aesthetic or whimsy to prevail. Do you rest your fingertips on keys A, S, D, F, J, K, L and ; when you type? Do you keep your hands at 3 o'clock and 9 o'clock when in perpetuity when driving? I certainly don't.
Few of us have need to set a formal dinner table but knowing how to, should you need to, is a nice back-pocket skill – you never know, your future in-laws may be more concerned about your table setting skills than your politics.
I don't make the rules but here's what you need to know…
I like to start at the center and work outward. After all, we want to focus on what will be in front of you. Are you serving a Thanksgiving feast? Dinner with friends? After-church lunch? For larger meals like Thanksgiving and other holidays, start with a charger. Since you're likely using a tablecloth and not a placemat, a charger is a perfect way to frame your place setting.
For those of you who think chargers are just another piece to wash, keep in mind that even if your chargers aren't paper like ours are, these just require a simple wipe. You're not going to put food directly on them. Also bear in mind that you can create the look of a charger even if you're serving a smaller meal – more on this later.
Atop your charger you'll use your dinner plate. A standard 10" dinner plate should be framed nicely by your charger. Layered on top of your dinner plate should be your salad plate. The 8" salad plate is also great for starters if your party has not included passed hors d'oeuvres.
To the left of your charger is your dinner napkin or guest towel. I prefer a guest towel as its clean folds are tidy and don't interfere with your neighbor's place setting – remember, you might be squeezing an extra chair in for that unexpected uncle who shows up mid-meal. It's rude to be late but it's on-brand for him so we'll let it slide.
On top of your napkin or guest towel is your fork, your primary utensil. It's never made much sense to me that most of our population is right-handed but the fork lives on the left side of the plate but that's where the fork lives and we shant question it.
To the right of your plate place your knife, blade faced inward toward the plate. The knife is accompanied by the spoon which sits to the right of the knife. Don't need a spoon for this meal? Feel free to skip it.
But what about all of the ancillary pieces to a place setting? Where does the dessert fork go? What about the butter knife? The teaspoon? This will all depend on how formal your place setting is. The dessert fork and teaspoon live above the place setting if placed for the full meal. Alternatively, you might swap out pieces as the meal progresses to free up space on the table.
Setting a formal table like this can be daunting, especially given how much dishwashing will be required after the event is over. In addition to the pain of dishwashing, fine china is expensive! Want the look of a formal table setting without the cost or headache of cleanup? Check out our line of paper tableware including paper dinner plates, salad plates, charger plates, appetizer bowls, and reusable dishwasher-safe cutlery! 
Here are some of my favorite creative place settings from our collections over the years. Have your own content or want to style up a table for us? Reach out to us at info@sophistiplate.com or follow us on Instagram at @sophistiplate and @simply.baked.
---