Tea Party Essentials: Everything You Need To Know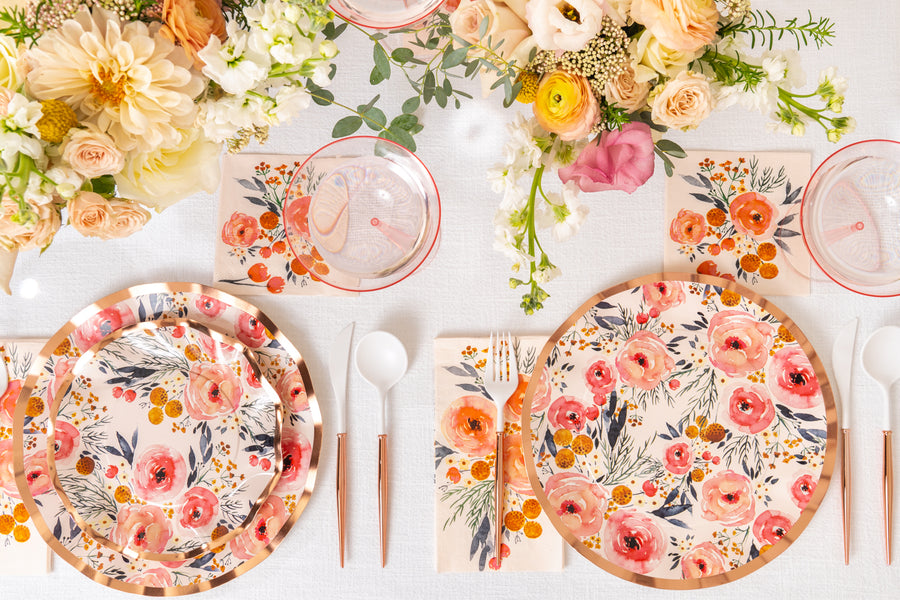 You don't need to be a kid to enjoy a little tea party with your friends. In fact, with a bit of planning and creative thinking, you could create one that you've always dreamed of, only better. Read on to learn about the tea party essentials and everything you need to know to make sure it's a success!
Why Throw a Tea Party?
When you think of "tea parties," you probably think of elegant tables that give off an Alice in Wonderland vibe and extravagant decorations to immerse guests into the experience. If you're in the mood to go all out like that, go for it. But it doesn't necessarily have to look that way. 
Tea parties can still serve a purpose without you having to go above and beyond with decorations and such. In fact, they are perfect for a variety of celebrations, especially if you don't want to host something that isn't as involved as a dinner party but still want something that's a step up from just hanging out with friends in your living room with some party snacks.
If you want to go all out for the tea party and create an immersive experience for your guests, you can. If you'd prefer it to be more laid back, that's perfectly fine too. So long as you serve tea at the party, it can look however formal or casual you'd like it to look. Even if you just take aspects of traditional tea parties and put your own little spin to it, you're guaranteed to succeed and have many happy guests.
Tea Party Essentials
Whether it's on the casual side or the elegant side, there are a few things that you need in order to make your tea party come together. Just like with any other party, you do need some time to plan it out to ensure that everything is going to look the way that it should. 
Here, we highlight some of the tea party essentials that you need to know. 
Location
Every party needs a location, of course. But it holds a very specific role. The location has the potential to set the mood for the party. 
For example, a more casual party that takes place in your backyard can hold a more familiar feel to it that can make your guests feel more at home. On the other hand, holding the party at an elegant location, such as a hotel ballroom or a private garden, could create a more magical mood among guests. 
The location that you decide on depends on how formal or informal you want your tea party to be. But before that, It's important to consider first what's feasible for you, your budget, and your time, and then think about what would work best for the specific occasion. Then, think about how many people are going to be there, how much space would be needed, and ultimately what feels like the best fit.
Regardless, it's important to plan this in advance, as a secured location can be the foundation of your party planning endeavors, and it's very difficult to do all of this at the last minute. 
A Theme
You can never go wrong with a theme for a party. Not only does it provide you with more of a guideline in the planning process, but it also can help make the party come alive.
Anything can be a theme if you want it to be. Your tea party could be a Victorian-era theme, or you could keep it simple and just have it correlate with whatever celebration it's for, such as a baby shower or Mother's Day theme. 
Once you have settled on a theme, you can begin to accessorize your party to fit it. Perhaps you could set the location to be something that reinforces the theme, and decorate it accordingly. That way, the experience can be even more authentic for the guests. 
Decorations and Presentable Cutlery
Another tea party essential is, of course, the decorations and cutlery. These party accessories have the potential to pull together the theme beautifully. 
A common item that you usually see in fancy tea parties in movies and TV shows is tea and scones served in porcelain cups and plates with intricate designs. While that adds a flair of elegance and style, it is in no way the hallmark of a true tea party.
It's still a tea party even if you don't have fancy china on the table. There are plenty of other options that are more affordable, less breakable, and still aesthetically pleasing and sophisticated. We have several timeless sets that you can choose from to match your theme or intended color scheme. 
Our Blush Bouquet Table Setting, for example, is ideal for any sort of tea party occasion, from Valentine's Day to a nice little party in the garden. Its stunning floral pattern includes a metallic rose gold rim that, when paired with our Rose Gold or Blush Bella cutlery, can really bring your tea party to a whole new level. For a show-stopping appearance to fit a springtime event, such as Eastern, our Spring Blossoms Table Setting and its abundance of bright fresh floral beauties is just for you. 
Not in the creative mood to create a theme and color scheme from scratch? We've got you covered, as we have categorized our products by sets and occasions. That way, you can browse through items that are specially customized to fit that special occasion. 
Sweet and Savory Treats
It's customary to have a variety of savory and sweet treats at a tea party. Small finger foods such as sandwiches, scones, and so much more make for a light and delicious meal for your guests and are perfect for any occasion. 
If you have a theme set in stone, this is another area where you can make it pop out. Perhaps you could make treats such as cake pops with a frosting coating that matches the intended color scheme accordingly. You can even top it off by serving them with our Light Blue 6 Inch Wood Party Picks.
And of course, we can't forget the tea—after all, what's a tea party without it? You can compile an assortment of different types of teas for your guests to sip on and enjoy, from the floral aromas of herbal teas to the strong flavors of black teas. 
All of this in cumulation with one another is sure to impress your guests and really pull the tea party together. 
An Appealing Display
Selecting the food and beverages is important, but it doesn't end there. You have to think about the ways that you are presenting these treats to your guests, as appearance holds a significant appeal in tea parties. 
Creating an appealing display of your food and beverages is quite simple yet significant to your guests and their experience. Oftentimes, you'll see sandwiches and scones sitting on circular three-tier stands at the center of each table at a tea party. This tower-like display of your delectable treats is sure to catch the eye of every guest there—it'll be irresistible!
This, plus the wonderful color scheme or theme can do wonders in transforming your party into a true tea party experience for your guests. From there, they can sit around the tables, admire and snack on the food and beverages, and enjoy whatever else the occasion brings.
Dress for the Occasion
Last but not least, you can never go wrong with a little bit of dressing up. The words "tea party" hold a sense of formality and poise, so even if this is a more informal occasion, you can always encourage your guests to get into the spirit of things by dressing up a bit.
Better yet, you could even get your guests to align themselves with the theme or color scheme as they put their outfits for the evening together. For example, if it's an Easter tea party with a pastel color scheme, you can encourage your guests to wear their favorite pastel-colored attire for an added flare and presence of the theme. 
Happy Tea Time!
And there you have it! All of your tea party essentials and everything you need to know for your next party. It's not as intimidating as it sounds, right?
Tea parties may hold a very sophisticated and classy connotation and look traditional, but truly, it can look however you'd like it to look. Whether it be informal or formal, indoor or outdoor, or for a casual gathering or a very important occasion, you definitely have the ability to pull it off and create a memorable experience for everyone!
Sources: 
Tea Party Menu Planning Tips and Ideas | The Spruce Eats 
How to Host an Afternoon Tea Party | The Spruce 
Now You Know: Why Is 'Teatime' in the Afternoon? | Time
---