Thanksgiving Disposable Plate Designs You'll Love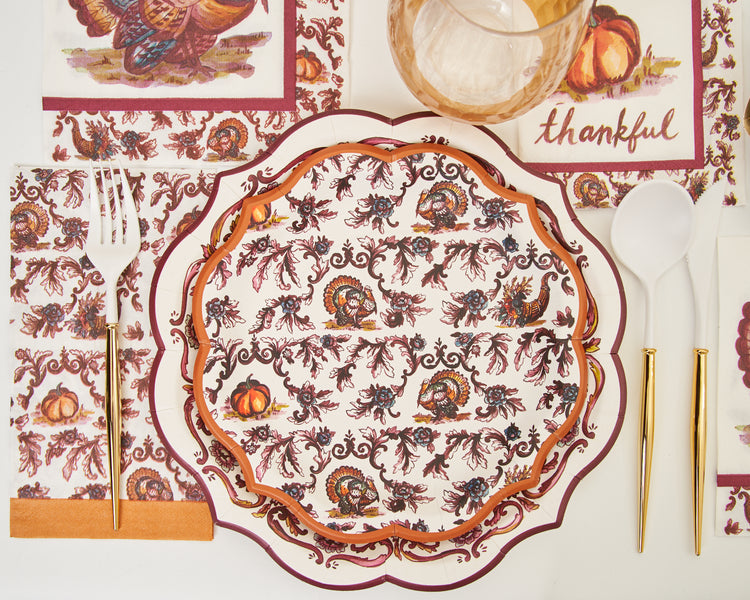 There's nothing better than gathering with family and friends to celebrate the abundance that life has provided and, of course, to stuff ourselves silly with turkey (amongst many other things). The only thing better than the food is gorgeous tableware that also offers convenience. No one wants to spend time loading the dishwasher after eating more food than we care to admit. 
An elaborate Thanksgiving meal means you need to give the host some serious kudos. After all, it does take at least two days to prepare the dinner (between the turkey, appetizers, possible buffet style, fresh pies with berries or pumpkin, etc.). So, naturally, the last thing that's needed on this special day is to worry about cleaning up after the festivities end. For this reason, paper plates are a host's best friend. You can microwave them, they come in packs, and best of all, there's no cleanup. 
While some may worry that paper plates aren't as sturdy or pretty as the real thing, paper plates that have a high quality can be almost indistinguishable from the real thing! And on a holiday like Thanksgiving, it can give you lots of freedom to play around with colors and prints, knowing that you can always try something new and fun next year.
In this guide, we'll show you some of our favorite Thanksgiving disposable plate designs. But first, let's talk about how Thanksgiving became the holiday that it is today by exploring its history. 
What's the History of Thanksgiving?
Even though we all know the Thanksgiving story as one where the first English settlers shared a bountiful meal with Native Americans, it's actually a bit more complex and intriguing than what our old textbooks led us to believe.
As the story goes, some 400 years ago, a boat departed Plymouth, England. On board, there were 102 passengers, all of whom were seeking religious freedom in a new land. After a trying 66 days at sea, the Pilgrims arrived in North America—right before a brutal winter that would wipe out half of the settlers.
It was when spring rolled around that the remaining settlers made their first contact with Native Americans. One of them even spoke English due to prior contact with an English captain. The Native Americans taught the Pilgrims how to fish, cultivate corn, and most importantly, avoid poisonous plants!
The Pilgrims successfully harvested their corn in November of that very same year. To celebrate, they organized a major feast and invited their new allies to join them in the festivities, which is known as the first Thanksgiving. 
How Did Thanksgiving Become a Holiday?
Interestingly, as Thanksgiving was celebrated in later years by the Pilgrims, it was more of a religious celebration. Instead of feasting, the Pilgrims fasted. That's the opposite of what you usually see in Thanksgiving advertising! 
While some individual states celebrated Thanksgiving, it wasn't until Abraham Lincoln became president that Thanksgiving became a national (and not a religious) holiday. In 1863, Lincoln scheduled Thanksgiving for the final Thursday in November. 
President Franklin D. Roosevelt tried to change the celebration to the third Thursday of November during the Great Depression. However, people vehemently opposed him doing that, and so, Thanksgiving has remained on its intended day of celebration ever since. 
Traditional Thanksgiving Foods
You may be wondering why we eat turkeys on Thanksgiving. After all, there's no evidence that the Pilgrims ate any turkeys during their feasts. 
Well, the simple answer is that turkeys are native North American birds. Plus, they're delicious! So, when Thanksgiving became a national holiday, it was only natural to make it the centerpiece of the celebratory meal.
When it comes to the other Thanksgiving staple—cranberry sauce—it's pretty much the same story. It's very unlikely that the Pilgrims had any of it during their feasts as sugar was extremely hard to come by. While there are accounts of boiled cranberries accompanying meat, there's nothing clearly linking it to the first Thanksgiving celebrations. 
Other popular Thanksgiving sides, such as stuffing, gravy, mashed potatoes, and pumpkin pie have similar explanations. They weren't necessarily eaten by the Pilgrims, but they became classic staples of any Thanksgiving meal. 
Today, a classic Thanksgiving dinner includes:
A large stuffed turkey that serves tons of people

Cranberry sauce and gravy 

Fall soups, such as butternut squash 

Fall salads, such as autumn salad

A variety of casseroles, such as scalloped potatoes, green beans, and sweet potato with marshmallows 

Traditional desserts like pumpkin and pecan pie, along with cookies and cakes
As you can probably imagine, preparing a Thanksgiving meal is no easy feat! 
Some hosts start preparing for the meal as early as two weeks in advance. For those of us who take until the last minute to do things, a typical Thanksgiving dinner will need at least two days to prepare. 
If you're a regular party host, this certainly makes Thanksgiving dinner more intense than any other holiday on the calendar!
Can You Use Disposable Plates on Thanksgiving?
When it comes to preparing a hearty Thanksgiving dinner, the last thing you want to worry about is cleaning up afterward. While some Thanksgiving hosts are lucky to get help with the process, others are left to collect, wash, and dry the dishes all on their own. It's not like picnics, where you can just toss everything in the basket and go.
To make things easier, you might be asking yourself if disposables are ok to use instead of regular plates? To that, we say absolutely!
Of course, the biggest selling point of disposable plates is that they make for easy clean-up. When you add in spoons, knives, forks, dessert plates, and of course napkins, to the equation, you'll realize that disposables would make Thanksgiving dinner so much more hassle-free. 
But that's not all! Thanksgiving paper plates can actually be more fun and decorative than regular plates. After all, not all of us keep themed plates at home just to use once a year. With disposable plates, you don't have to worry about storage and can even switch it up every holiday. 
While it's completely natural to worry about flimsiness, it's possible to find sturdy paper plates. By coating paper plates in a hard shell, some companies are making paper plates indistinguishable from plastic plates and sometimes, even fine china!
Plus, as a result of the pandemic, we're all much more aware of germs and want to keep things as sanitary as possible. With paper plates, the plates, cutlery, and napkins that can have potential germs on them will go straight in the trash after the meal!
Best Thanksgiving Disposable Plate Designs
Now that we know a little bit more about our favorite family gathering, let's move on to the fun stuff: picking out the best Thanksgiving plate designs! 
While many plate designs would be perfect for your Thanksgiving dinner, here are a few of our favorite ones.
Turkey Toile
Although it's entirely possible that the Pilgrims ate no turkey whatsoever on their Thanksgiving celebrations, today, there's nothing more emblematic of the holiday than this wild bird. 
Go extra festive this Thanksgiving with a white plate adorned with an image of a turkey in the center. While your guests' plates will probably be too full to admire this print throughout the dinner, they can make for a cute conversation starter before the dinner starts. 
Gold Harvest
As Thanksgiving was and remains a celebration of life's abundance, the harvest theme is a perfect way to show thanks for a full table at Thanksgiving. 
We traditionally associate a full harvest with the end of the fall season, when autumn staples such as corn, apples, and pumpkin can be harvested. There's no reason not to combine the joys of a fall harvest with Thanksgiving!
The perfect harvest plates have a mixture of prints, such as corn husks, pumpkins, and hay leaves. Bonus points if they're in traditional fall colors, such as brown and orange. To add extra holiday spirit, they can be paired with gold cutlery and napkins. 
Moroccan Nights
Who said that Thanksgiving plate designs have a strict theme? It's fun to get creative and do something unexpected once in a while!
We say that sometimes you want to do the exact opposite of a Thanksgiving theme. In that case, what's better than a blue-and-white Moroccan-inspired design? 
Not only are the plates gorgeous, but coupled with a matching table setting, the pre-dinner table can be the most Instagrammable thing of the whole night (except for the turkey, of course!). 
Pair this unique design with traditional inspired decorations, such as mini-pumpkins, orange roses, and sunflowers. 
Happy Thanksgiving!
Even though the history of Thanksgiving is a little murky, it's pretty clear what makes this holiday so great. When you have a delicious meal, friends and family to share it with, and more than enough abundance to be grateful for, it's hard not to get excited around this time of year. Plus, this holiday gets you even more excited for Christmas and the holiday season as a whole.
To help you have fun while preparing for the holiday and to spend more time with loved ones the day of, Sophistiplate has the perfect disposable dinner plates for you. They're better than your basic plastic plates and styrofoam plates. These are no basic paper plates; they're elegant, fun, and always make a statement. With more than enough designs to fit any taste, this Thanksgiving will be your best one yet!
Sources: 
Thanksgiving 2021 - Tradition, Origins & Meaning | HISTORY
FDR Establishes Modern Thanksgiving Holiday | HISTORY
---