How To Make Wedding Charcuterie Boards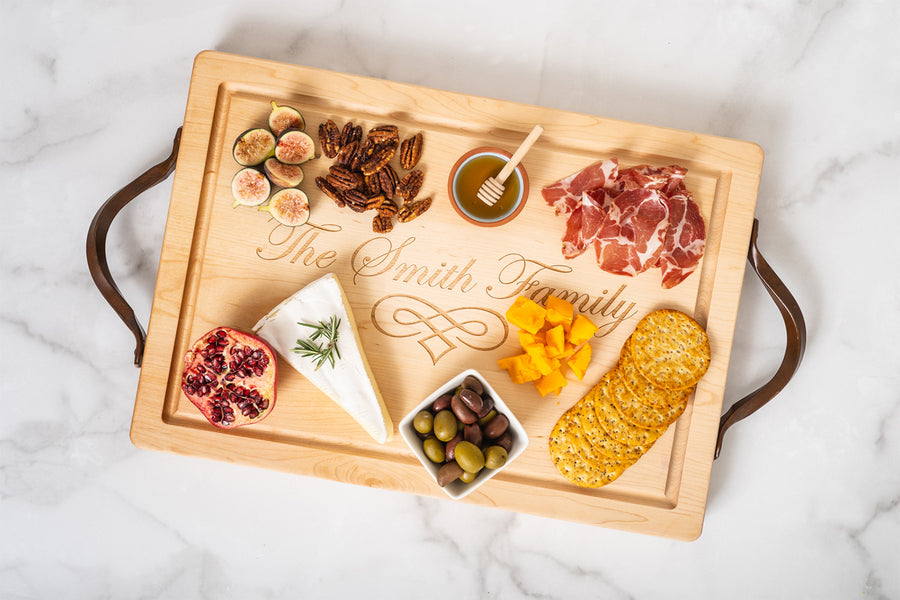 A charcuterie board—which is an assemblage of charcuterie meats, cheeses, bread, and many other ingredients—can be the perfect addition to your wedding. Not only is it incredibly pretty to look at, but it makes for a great appetizer that your guests will keep coming back to. In addition, you can also make it a full course by doubling down on how much meat and cheese you serve. 
As for the best part? Assembling your own charcuterie board is an incredibly fun and simple process. With a bit of planning, you can create a charcuterie board that will stun all of your guests—and have a blast doing it. 
In this guide, Sophistiplate will take you step-by-step through everything you need to do to create a wedding charcuterie board. Read on for your best charcuterie board yet! 
1. Decide on a Size
Depending on the style of your wedding, you may choose to serve a charcuterie board as an appetizer or as part of the main course. 
If your charcuterie board is just an appetizer, then you want to serve just enough to whet your guests' appetites, but not too much that they get full. We would plan for about three ounces of meat and cheese per person—which looks like the size of a deck of cards. It may not sound much, but when you combine it with all the other goodies that make up a charcuterie board, it should be more than plenty!
On the other hand, if your charcuterie board is the star of the (dinner) show, then you might want to plan on getting about six ounces of meat and cheese per person. Don't worry about having too many leftovers—you can safely store charcuterie meats and cheeses in the fridge for weeks!
2. Pick a High-Quality Wooden Board 
A charcuterie board isn't complete without a high-quality charcuterie board made just for this purpose. We love the sophisticated appearance of wood for adding a pop of elegance to your wedding aesthetic.
Depending on the size of your wedding, one large charcuterie board may be enough to fit all of your ingredients. In many cases, you might need to invest in several charcuterie boards. In either case, make sure to pick something that you'll want to use for ages—as a daily reminder of your special day.  
3. Pick Your Charcuterie Meat
The charcuterie meat will be the star of the show. While you can technically start with the cheese, we think that picking your meats first will make assembling the rest of the charcuterie board a much more seamless process.
Try to stick to varieties from the same region as this will make all the flavors match together perfectly. Some of the most popular charcuterie meats come from Italy, France, and Spain. That said, you can venture outside these countries and go for more exotic cured meats. 
Whichever cuisine you choose to go with, the key here is going for variety—in all senses of the word. Pick meats that are different in texture, color, and flavor. 
So, if we're sticking with Italian cold cuts, then we'd choose some smokey dry-aged salami, melt-in-your-mouth prosciutto, creamy soppressata, and sweet Italian sausage. The sky's the limit when it comes to how many types of charcuterie meats you serve. That said, we'd recommend serving at least four. 
4. Pick the Cheese
Once you have your charcuterie meats picked out, you can choose the cheeses that you'll serve on your charcuterie board. Same as with the meats, variety is key here. Go for at least four options—although more is always welcome! 
Whatever you choose to go with, make sure to serve something that is firm (such as dry-aged Parmigiano Reggiano), smoked (like Provolone), creamy (like goat cheese), and—of course—something unique and unexpected (like bleu cheese). 
5. Pick the Bread and Crackers
If you love bread as much as we do (which is a lot), then you can serve many different types to accompany the meats and cheeses on your charcuterie board. Toasted French baguette, herbed focaccia, and even sweet brioche can make for interesting accompaniments for all sorts of charcuterie goodies. 
If you want to skip the bread and stick to the more classic options of crackers, then try to avoid regular saltine crackers and go for fun and flavorful options, such as garlic, herb, and olive oil. 
6. Add Some Spreads 
Sweet and savory spreads are the perfect ingredient for pairing with meat, cheese, and bread. After all, who doesn't like making tiny sandwiches with charcuterie ingredients? Go for a variety of spreads, such as honey, fruit jams, and cream cheese. To elevate your charcuterie board, make sure to serve all your spreads in these festive decorative cups. 
7. Add Some Fruit 
Name a more classic combination than cheese and grapes! We honestly can't think of one. 
Of course, there's no reason to limit yourself to just this fruit. Charcuterie meats and cheeses can pair just as well with fresh figs, blueberries, and apples. You can also include some yummy dried options for extra variety, such as raisins, cherries, apricots, and dates. 
8. Add Some (Pickled) Vegetables
In general, we'd avoid pairing charcuterie meats and cheeses with fresh vegetables. They don't really do much to enhance the flavors of the ingredients and—let's face it—aren't all that fun to eat!
However, pickled vegetables are a completely different story. Not only does their tanginess pair perfectly well with the saltiness of cured meats, but they make for the perfect palate cleanser between all the different meats and cheeses that you just have to try.  
If you're up for it, you can even make your own pickled vegetables. Options such as cornichons, pickled onions, and marinated peppers are delicious and colorful additions to any charcuterie board. 
9. Add Some Nuts 
While nuts are definitely optional, they can still add some welcome variety to your charcuterie board. While your guests likely won't get enough of the yummy meats and cheeses you're offering, there's no reason not to snack on some salted peanuts, almonds, and pistachios. If you can get these in various flavors—such as spicy habanero and honey barbecue—then all the better!
10. Serve With Cheese Knives
Some cheeses can be cut up into slices and cubes, which makes them super easy for your guests to pick up. However, other varieties—such as the soft and gooey Brie cheese—should be left as an entire block on the charcuterie board. 
If you're serving hard-to-cut cheeses, then you'll need the right cheese knives to serve alongside them. We'd recommend having at least the following types of cheese knives:
Chisel knife

: This is a wide and flat knife that is used to break off crumbly cheeses—such as bleu cheese—and to spread them on bread (or crackers). 
Spreader

: This is the knife you'll need for soft and spreadable cheeses. If you have a variety of soft cheeses, then you might need to invest in a separate spreader for each one in order to prevent different flavors from mixing with each other. 
Plane knife

: This type of cheese has a small opening in the top, which allows you to make the perfect slices of cheese every time. It's great for semi-soft cheeses, such as Provolone. 
Parm knife

: This is ideal for use with hard cheeses such as Parmigiano-Reggiano if you want to serve them as entire blocks. However, it's a very versatile knife that can be used with many other types of cheese. 
11. Don't Forget the Wine!
Okay, wine technically isn't part of the charcuterie board. That said, it's an absolute must to serve alongside charcuterie board ingredients. 
Why is that? Well, unlike most other beverages, wine is the perfect ingredient for cutting through the richness of charcuterie meats and cheeses. At the same time, it does a lot to bring out their complex flavors for an elevated culinary experience. 
When choosing a wine to pair with your wedding charcuterie board, follow the following tips:
Choose wines from the same region as your charcuterie board meats and cheeses

Go for medium or light-bodied options that won't overpower the ingredients

Serve both red and white wines

Try to have at least two different wine varieties (but more is always welcome!). 
To the Perfect Wedding Charcuterie Board
A charcuterie board is a perfect appetizer (or main course) for your wedding. Not only does it look absolutely stunning, but it's an absolute blast to eat. With all the different varieties of meats, cheeses, bread, fruits, and spreads, your guests will never find themselves feeling bored. 
If you're putting together a charcuterie board for your wedding, then Sophistiplate has everything you need to get started. From our stunning selection of wooden charcuterie boards to decorative serving ware to our colorful food picks, your charcuterie board will be the star of the (dining) show. 
Our Sources:
Chef Wylie Dufresne on How to Pickle Almost Everything | The Wall Street Journal 
---