They're All Over Millennials' Social Media, But What Is a Charcuterie Board?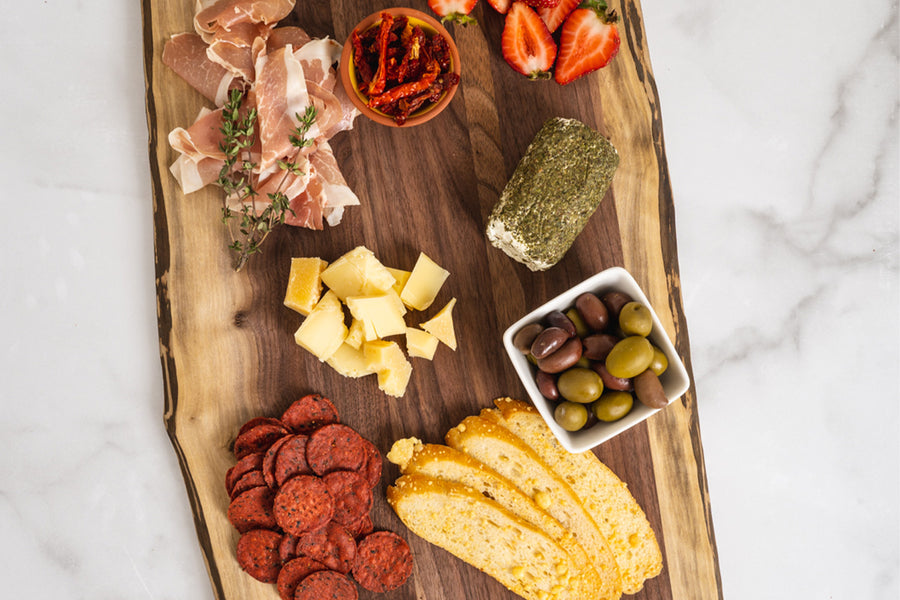 If you've been on social media lately, you might have seen posts of a beautiful board with an elaborate spread hashtagged #charcuterie. Although charcuterie refers to the ancient practice of preserving meat, we've been seeing colorful creations that include fresh veggies, dried fruit, all kinds of bread, and sweet and savory spreads. Basically, everything but the charcuterie meat itself. 
While the internet doesn't always get it right, there's no reason why you shouldn't. Read on to find out what a charcuterie board really is, why it's so popular, and how you can make one yourself. 
Getting It Right: What Exactly Is a Charcuterie Board?
If you've browsed through the #charcuterie posts on social media, you might have noticed elaborate creations that include every colorful ingredient under the sun. This makes it a bit hard to answer: what is a charcuterie board? Well, we're here to set the record straight. 
Charcuterie actually refers to the ancient art of preserving meat (which has a history that's many thousands of years old). Before the days of refrigeration, people had to find other ways to keep their meat from going bad. Enter salt, which draws out the meat's moisture and makes it inhospitable to bacteria. In addition, salting meat preserves its natural red color—unlike with other curing techniques that have a tendency to turn meat gray.
Over time, people honed their salt curing techniques to make the meat taste truly delicious. While the history surrounding the art of salt curing is a bit murky, it was officially the French who named their technique charcuterie, which stands for "chair" (cooked) and "cuit" (flesh). A bit misleading since salt-cured meats aren't technically cooked!
Beginning in the 15th century, charcuterie became a skilled trade that sprung up all over Europe. This is how most countries around the world have delicious cured meats to call their own (some of which we can't get enough of). And of course, each nation has a name to match their version. For instance, Italians call it salumi, while Spaniards refer to it as embutidos. 
Rooted in tradition, charcuterie mostly consists of pork products such as the instantly-recognizable prosciutto. But there is charcuterie made out of basically any other meat product, such as duck confit, beef bresaola, and salted cod. 
What Goes Into a Charcuterie Board?
At this point, we have a pretty good idea of what a cheese board includes: cured meat. For this reason, we'd steer clear of calling something a charcuterie board unless it has cured meat on it. If you're curious about making an authentic charcuterie board, here's everything that goes into assembling one for your appetizers.
A High-Quality Wooden Board
Just like an artist needs a blank canvas, you need a wooden board for assembling all your ingredients. We love the sophisticated appearance of wood (and the fact that it lasts ages doesn't seem so bad, either!). 
Cured Meat
You can technically have only an assortment of meats on your charcuterie board and still be successful in crafting something your guests will love. Variety is important so try to include different types of cured meat such as moist Black Forest ham, dry-cured Genoa Salami, and spicy chorizo sausage. 
Cheese 
Cheese isn't necessary but it's more than welcome! For the best charcuterie platter, make sure you pair your cheeses with the cured meats you've selected. For instance, parmesan tastes great with prosciutto, while delicate French ham pairs perfectly with goat cheese. Brie, gruyere, and cheddar or other hard cheeses make great options, too.
Bread or Crackers
Although crackers like Ritz are a common addition to charcuterie boards, we would try to avoid them due to their high salt content. Instead, go for a plain bread such as a French baguette so it doesn't overpower the taste of the meat and cheese you're serving. Slice your bread and top it with fresh herbs for an impressive side.
Pickled Vegetables
To cleanse your palate of the rich flavor of charcuterie meats, you want to include a variety of pickled vegetables such as olives, cornichons, and sweet onions in small bowls (FYI: These are super-easy to make at home!).
Fresh and Dried Fruit and Nuts
Fruit is the perfect ingredient to pair with meat and cheese—especially if you have a sweet tooth. Some charcuterie board must-haves include green grapes, fresh figs, dried apricots, and sliced apples, as well as berries such as raspberries or strawberries. 
We're also not against including some raisins, dried cherries, and dates. 
Nuts like peanuts, pistachios, walnuts, cashews, pecans, and almonds are also a good idea.
Dips, Honey, and Jam
We don't know why, but sweet spreads are the perfect ingredient to bring out the flavors of charcuterie meat. Go for a variety of fruit jams such as apple, cherry, and blueberry. And make sure to serve them in these decorative cups!
Wine
Wine (although it doesn't go on the charcuterie board) is the perfect drink for cutting through the richness of charcuterie meat while enhancing its flavors. We live by the adage that "if it grows together, it goes together." Keep that in mind when selecting which wines to pair with your charcuterie board. 
Why Are Charcuterie Boards All Over Social Media?
Many people have taken to social media to share photos of their charcuterie boards. During a time when we couldn't visit restaurants to enjoy a beautifully-crafted meal, we had to take matters into our own hands and create culinary experiences that wowed from the comfort of our own homes.
Another reason charcuterie became so popular is that it's generally easy to transport. 
You can easily order it online without having to worry that it would spoil. Plus, you can keep it in the fridge for quite a long time, giving you all the time you need to get around to crafting the perfect charcuterie board. 
Because of its popularity, sales of charcuterie boards shot up during the pandemic (and they haven't gone down ever since). As a result, more and more people are making friends with their local cheesemonger or delicatessen. 
Why Are Charcuterie Boards So Popular?
Even before the pandemic, charcuterie boards were an incredibly popular way to entertain guests (or to treat yourself at home). Here are five reasons why this is the case.
1. They're Part of Foodie Culture
With the advent of social media, it became customary to share photos of what you were eating with everyone. Of course, you gotta give the people what they want: an impressive and elaborate dish. With everything that goes into a charcuterie board, it's sure to wow anyone. 
2. They're Photogenic
Even if you're not sharing photos of your food on social media, foot photography is an incredibly fun way to flex your creative muscles while leaving you with some nice memories. A charcuterie board is a kaleidoscope of colors and textures, which makes it ideal for taking snaps of and something you'll look back on whenever dreaming of some delicious Genoa salami. 
3. They're Easy To Make
There's a reason charcuterie boards are our go-to when entertaining. Not only do they require zero cooking skills, but they're incredibly low-hassle—unlike preparing a multi-course dinner for your guests. Plus, if you're low on kitchen space, then a charcuterie board can be easily assembled on a small counter. 
4. They're Economical
It might seem counterintuitive thanks to the various ingredients that go into a charcuterie board, but it's often the more economical choice. When you compare a charcuterie board to the salad, entrée, and dessert courses that are included in a typical dinner, it's always less expensive to serve cold cuts, cheeses, and bread (but just as impressive). 
5. They're a Form of Art
Even if you don't see yourself as an artist, curating a charcuterie board will show you just what you're capable of. Making a charcuterie board is a perfect exercise in gastronomy (after all, you have to make sure the ingredients pair well together) as well as in creating something beautiful that will leave everyone in awe. 
Is Charcuterie Just a Trend?
Since seemingly everyone is doing charcuterie these days, you might be wondering if it's a trend—similar to avocado toast or Dalgona coffee—that's going to lose its momentum. Personally, we think that charcuterie boards are here to stay. 
In post-pandemic times, we're ready to start gathering with our friends and loved ones as much as we can. And if we're entertaining at home, then a charcuterie board will definitely be our go-to. After all, there are so many different ways to craft one that you can literally make a different charcuterie board every time. 
Plus, we haven't even begun to get into trends within the charcuterie board category. We think that pretty soon, we'll be seeing charcuterie boards that are vegan, keto, or paleo, and even kid-friendly (hey, we need something to replace those Lunchables!). 
Charcuterie Boards Are Here To Stay
And we couldn't be happier! There's nothing we love more than seeing more and more people engage in the art of charcuterie. To enhance your own charcuterie-making experience, Sophistiplate has your back with the best charcuterie boards. 
Our Sources:
National Center for Home Food Preservation | NCHFP Publications
On the Trail of Spain's Acorn-Fed Hams | The New York Times
Zuni Café's Red Onion Pickles Recipe - NYT Cooking | The New York Times 
---