30th Birthday Decorations for Your Dirty 30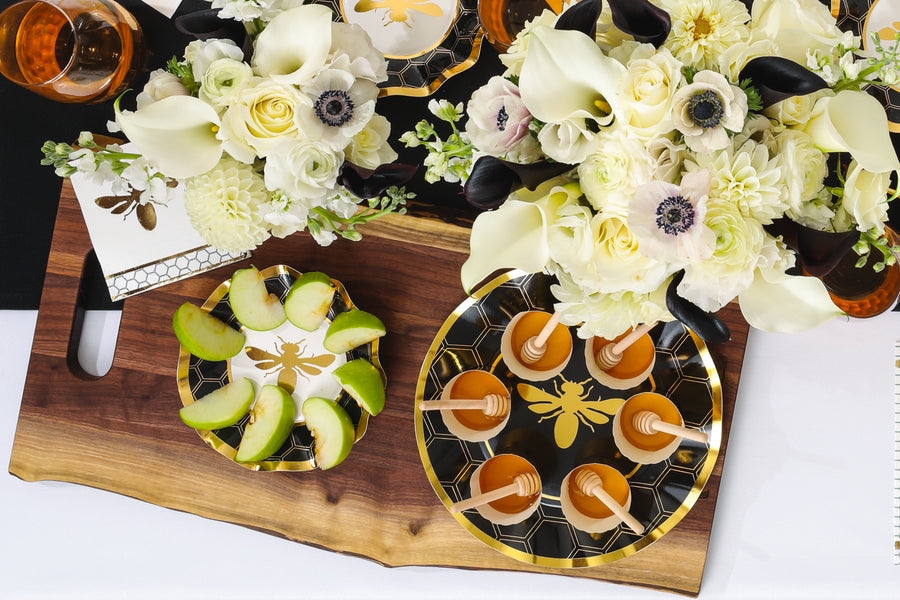 Your 30th birthday marks the beginning of a very special decade. If you're celebrating your "dirty 30" this year, then this guide from Sophistiplate will tell you everything you need to know about what makes this decade so great — in addition to our top tips for decorating for your 30th birthday bash. 
Why Is It Called "the Dirty 30"?
The "dirty 30" describes the increased amount of — ahem — fun that women have in their 30s. While we're not exactly crazy about the origins of this term, there is some truth to it. After all, the 30s mark a decade of increased confidence, financial stability, and increased self-knowledge. And all of these factors lead to you having a blast in your 30s — something that's definitely worth celebrating! 
What Is the Best Way To Celebrate the Dirty 30?
When it comes to celebrating your 30th birthday, extravagance is key. You are, after all, ringing in the best decade of your life. You want to do it in as much style as you possibly can. Some of our favorite 30th birthday ideas include hitting up a swanky restaurant, taking a trip to an exotic destination, or doing something extremely thrilling, like skydiving. 
Of course, another option is to throw a party where you can invite your favorite people that are guaranteed to liven things up. And since it's the birthday bash of the decade, you want the party to be truly extravagant. To help you achieve this, keep reading for our top 30th birthday decorations to celebrate in style. 
Top 12 30th Birthday Decorations
1. Champagne Tower
To be honest, we'll take champagne in any form. After all, popping a bottle of bubbly is the de facto mode of celebrating any major event. That said, there's something incredibly glamorous about a champagne tower that instantly transports us back into the Roaring Twenties. 
To make a champagne tower, you'll need a bunch of coupe glasses — which have a wider rim than traditional champagne flutes. Next, find a sturdy base on which you'll be arranging the tower. We'd prefer a small round table that you can place in the center of the party space.
The next steps involve building a pyramid with a wide base and narrow peak. Once everything is set in place, all you have to do is pour the champagne and have yourself a marvel to gaze at. 
2. Emoji Balloons
If you're celebrating your 30th birthday this year, then you fall into the millennial camp. Aside from avocado toast and charcuterie boards, what else are millennials known for? Well, many things. But amongst them is their prevalent use of emojis. 
To pay homage to our favorite way to express ourselves, include plenty of emoji balloons at your 30th birthday party. We're personal fans of the laughing-face emoji, but you can totally include as many as you want. We guarantee that your guests will have a blast trying to recognize which ones they use in their own texting. 
3. Fun Table Setting
No 30th birthday party is complete without a fancy multi-course dinner. This year, try to really go all-out with multiple courses, which should include hors d'oeuvres, the soup and salad course, the entrée, and — of course — dessert. 
Take this opportunity to create a gorgeous tablescape that your dinner guests will be super impressed with. Lay out an elegant tablecloth, put out decorative centerpieces, and use fun tableware — such as this Moroccan Tile Table Setting. Sophistiplate's tableware is a disposable option that your guests won't be able to tell apart from real china. 
4. Tropical Photo Backdrop 
To take some professional-looking photos during your 30th birthday party, we recommend setting up a photo backdrop with a modern design. Our current favorite aesthetic? A tropical one with plenty of tropical foliage, palm trees, and pineapples. 
While you can purchase a premade tropical photo backdrop, it's actually quite easy to make one on your own — all you need is a large photo screen. As for the rest of the decorations, you can get to painting or gluing on any tropical elements that come to mind. 
As a bonus, we'd recommend investing in a polaroid camera for instant snaps that you can give out to your guests. We're sure that at the end of your party, they will be super appreciative of the photos that they go home with. 
5. String Lights
Nothing kills the party mood more than bright lights. On the other hand, soft lighting can make the party feel more intimate, make the space look bigger, and make your guests more likely to want to mingle with other party attendees. 
For this reason, we would turn down the ceiling lights. In their place, we would deck out the party space with soft string lights. While white is a classic color, you can play around with different options, such as pink, purple, or red. 
6. Luxury Candles
Since we're on the theme of lighting, we have to recommend adding some candles to your party décor. While any candle type will make your space feel intimate and romantic, we'd take this special occasion to invest in well-designed luxury candles. 
Some luxury candles can weigh as much as an entire watermelon! However, we'd go for something moderately-sized that will still make a grand impression on your dinner table. 
7. Crown and Sash
It's your special day. So, why not make yourself feel like royalty with a crown and sash that has your name on it? Doing this will make you want to take photos that much more. Oh, and if you choose to go out, we promise you'll be the star of the show anywhere you go.
8. Rose Gold Birthday Banner
A birthday banner is the best way to announce that a birthday party is taking place. While you have tons of options available, we'd recommend going for something super fancy — like rose gold. Hang up the birthday banner behind the food table so your guests have plenty of opportunities to take #birthdayparty photos. 
9. Succulent Centerpiece 
A floral centerpiece is a great addition to any dinner table. However, most flowers don't exactly exude a modern and trendy aesthetic. Instead, make a centerpiece using succulent plants. Not only is it super easy to create, but you'll have the plants for, well, as long as you can take care of them!
10. Pastry Display
You definitely need a cake for your 30th birthday bash. Don't stop there! In addition to your birthday cake, serve up an elaborate pastry display on your dessert table.
To make it, buy (or bake) a bunch of mini pastries. Our favorites include eclairs, cheesecake bites, chocolate mousse cups, tarts, and — we can't forget — cupcakes! Once you have your selection prepared, carefully lay it out on a beautiful cake stand and place it in the center of your dessert table for an impressive effect. 
11. Personalized Glassware
Crystal glassware can make for a stunning addition to any party décor. Whether it's on the dinner table, on the bar, or in your guests' hands, the right glassware can elevate any party aesthetic. 
What's even better than beautiful glassware is personalized glassware. You can choose to personalize your cocktail glasses in any way you wish. However, we recommend engraving your name and a fun quote from you that you'll want to remember for years to come. 
12. Party Favors
Giving out party favors at the end of your 30th birthday bash is the ultimate classy move that will make your guests glad to have attended even more. What you choose to give out is completely up to you. However, we recommend giving your guests something they will actually put to good use. And if you can splurge on the party favors, then all the better!
Some of our favorite 30th birthday party favors include:
Eye cream for mornings after long nights spent out

A silk eye mask to get some beauty sleep

A clay face mask for instantly glowing skin

A luxury scented candle to finish off the night

A personalized bottle of wine (or champagne or whiskey)
To the Best Decade Yet
The day you ring in your 30s is a special one indeed. After all, your 30s are a time of increased confidence, increased self-knowledge, and financial stability.  For this reason, you want to make your dirty 30 bash as extravagant as you possibly can.
If you're throwing a dirty 30 party, then the right decorations will go a long way in sprucing up the place. We recommend going all-out with a huge champagne tower, gorgeous table setting, plenty of romantic string lights and candles, and your very own crown and sash to let everyone know that it's your special day. 
We're sure that with our ideas for 30th birthday decorations, your party will be super Instagrammable. And for all your other party needs, Sophistiplate has a bunch of high-quality selections to make your birthday bash as perfect as can be. 
Our Sources: 
17 Reasons Your Early 30s Are Way Better Than Your Early 20s | Cosmopolitan 
How to Make a Champagne Tower | Thrillist 
---