Everything You Need To Know About Wedding Napkins (2021)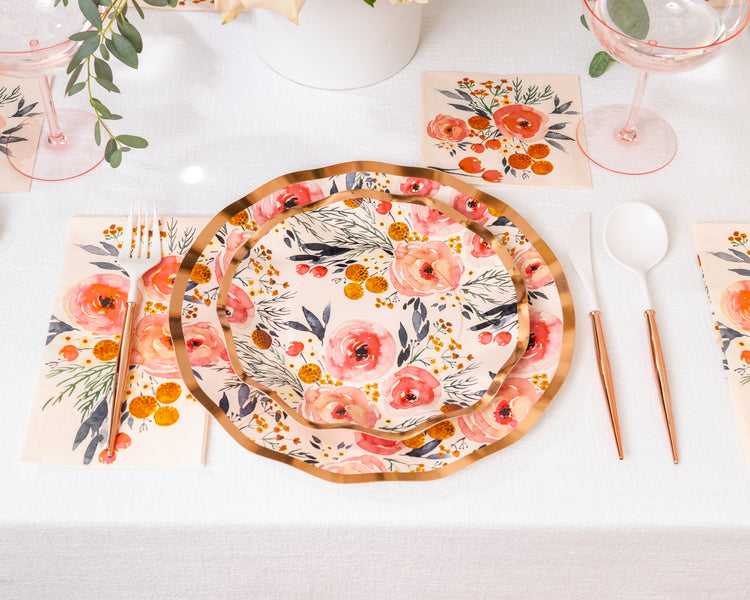 When it comes to your big day, you may have the venue (check), someone to marry (check), and a guest list full of beloved friends and family (check). However, when it comes to small details—such as the color of the napkins your guests will be using—you may be at a loss.
To make planning for your big day not only hassle-free, but fun, Sophistiplate has created a brief guide to everything you need to know about wedding napkins in 2021. Read on for tips on choosing the right napkin size, material, design, and maybe even an accessory to go with your wedding napkins. 
Types of Napkins
Although some experts claim that there are over 20 types of napkins, for our purposes, we will keep things as simple as possible. In general, when it comes to dining, there are three main types of napkins that you'll come across (in order of decreasing size): dinner, luncheon, and cocktail. 
While it's not uncommon to have several types of napkins at your event, which types you'll use depends largely on what kind of food you will be serving. Here is a bit more on the three main types of napkins and their uses.
Dinner Napkins
Dinner napkins are a bit of a catch-all phrase for large napkins that are used for formal dinners and buffet service. They measure anywhere from 18" inches to 26" inches across. 
Because of their large size, they are meant to be placed on the lap during dining to prevent any food from staining your guests' dresses and suits. They are also used for wiping the hands and mouth at the end of the meal. 
Dinner napkins are a must for any event with multi-course meals. Not only can they be reused from course to course, but they add a touch of elegance to any wedding that your guests will surely appreciate. 
Luncheon Napkins
Luncheon napkins are smaller napkins that are used for less formal dining events. They typically measure 14" to 16" inches across. They are also meant to be placed on the lap; however, due to their size, they should be kept unfolded. 
Luncheon napkins can be comfortably used for daytime events, such as luncheons, brunches, and even picnics. Because of their smaller size, they are perfect for weddings that are held in the daytime. If only one or two courses will be served, then luncheon napkins can be used, as well. 
Cocktail Napkins
Cocktail napkins are the smallest type of napkin and usually measure 5" x 5" inches. As per their name, they're mainly used during cocktail hour for holding cocktail glasses. However, they are extremely versatile and can be used for many purposes, such as for preventing white rings on wooden furniture, cleaning up mini-spills, and even touching up make-up. 
Because of their many uses, cocktail napkins (especially if they're made out of paper) are a must for any wedding, even if there aren't any cocktails involved!
Types of Materials
Traditionally, linen napkins have been a favorite of event planners, party hosts, and the soon-to-be-married. And while they are definitely an elegant option, there are many more choices for napkin materials today that make linen napkins not necessarily the best choice for you.
When it comes to choosing a material for wedding napkins, there are two options.
Fabric Napkins
Besides fine linen, wedding napkins can also be cotton or polyester. Natural fabrics like linen and cotton tend to be more absorbent, wrinkle less easily, and just be overall more pleasant on the skin. Plus, they are much more eco-friendly than polyester, which has been shown to release microplastics into our water and air supply. 
While napkins made from fabric are common for weddings, they are definitely not a must. In fact, paper napkins can be the perfect substitute. 
Paper Napkins
Depending on the type of paper used, paper napkins can be an elegant choice for any wedding. In general, what determines the quality of a paper napkin is its thickness, which is measured in "ply." 
There are three levels of it:
1-Ply:

This type of paper napkin features only one layer of material. They tend to not be very soft or absorbent. For this reason, it's a good idea to avoid them if you're hosting an event, especially something as important as your wedding!
2-Ply:

This type of paper napkin features two layers of material. This makes them a good compromise between value and quality. However, when it comes to weddings, they may be lacking in quality. 
Is It Ok To Use Paper Napkins at a Wedding?
It makes sense to be a little hesitant about using paper napkins at a wedding. After all, it is one of the most important days of your life. Naturally, you want everything to be perfect. 
Thankfully, paper napkins can actually be a better choice than other napkin materials such as linen, while at the same time, keeping clean-up and costs down.
Because of the pandemic, many wedding planners have been looking to disposable, well, everything. Reusing items that come into such close contact with people has become tricky, making paper plates, cups, and, of course, napkins the perfect choice. 
As an added bonus, paper napkins do not need to be collected at the end of the event. This is especially great news for intimate wedding parties where the married couple or the wedding party has to help with cleaning up after the big day. 
Because of innovation in the strength, softness, and design of paper napkins, they can look and feel incredibly sophisticated on your big day. 
Best Design
Although many etiquette scholars believe that white or ivory napkins are the most elegant option for formal events, there are many fun designs and colors that can look just as sophisticated. 
Depending on the theme of your wedding, you have many options for wedding napkins. Here are some themes for napkins that you can consider.
Romantic
Perfect for spring and summer weddings, especially if they're held in a garden, the Romantic theme involves lots of floral designs. When it comes to colors, pink, red, green, and a little bit of gold for the accents would be perfect for napkins.
Sophisticated
If you want to keep your wedding as posh as possible, then you can go with traditional party hues such as black, white, and gold. Prints such as houndstooth, gingham, and polka down give off a preppy yet grown-up vibe perfect for those with the most elevated taste. 
Casual
If, like many couples during the pandemic, you decide to go with a more casual affair for your big day, then less glitzy napkin designs can be perfect for you. Soft colors, such as mint green and desert pink, or fun prints, such as plaid and even lemon, will go hand-in-hand with the theme of your big day. 
What About Napkin Rings?
There's a bit of a debate over the use of napkin rings. They were first used in 19th century France, a time when linens had to be washed by hand. The napkin ring—which was often personalized—served as a way to tell which napkin belonged to which guest in between weekly washings. 
Pretty soon, the trend spread to the rest of Europe and even to America. Napkin rings became so popular that they were expected as decorative pieces during casual and formal dining and were considered to be great gifts for celebrations. 
When the washing machine was invented in the early 20th century, the napkin ring wasn't as necessary, but still used for decoration, which is something that prevails to this day. 
While it isn't necessary to have a napkin ring during your big day, it is a welcome piece that can add a bit of flair to your wedding celebration. 
Have Fun With It
Even though it isn't the first thing that comes to mind when you think of the word "fun", choosing napkins for your wedding day can actually be a pretty enjoyable activity. 
With all of the sizes, materials, and designs that are available to you, showing off your personality and taste during your big day has never been easier. To help you plan your perfect wedding, Sophistiplate has the highest-quality paper napkins to fit your taste and budget. 
Sources:
The Expert's Guide to Napkin Use and Etiquette | Etiquette Scholar
Polyester | Materials Index | CFDA
---