Top 10 Fun Bachelorette Party Ideas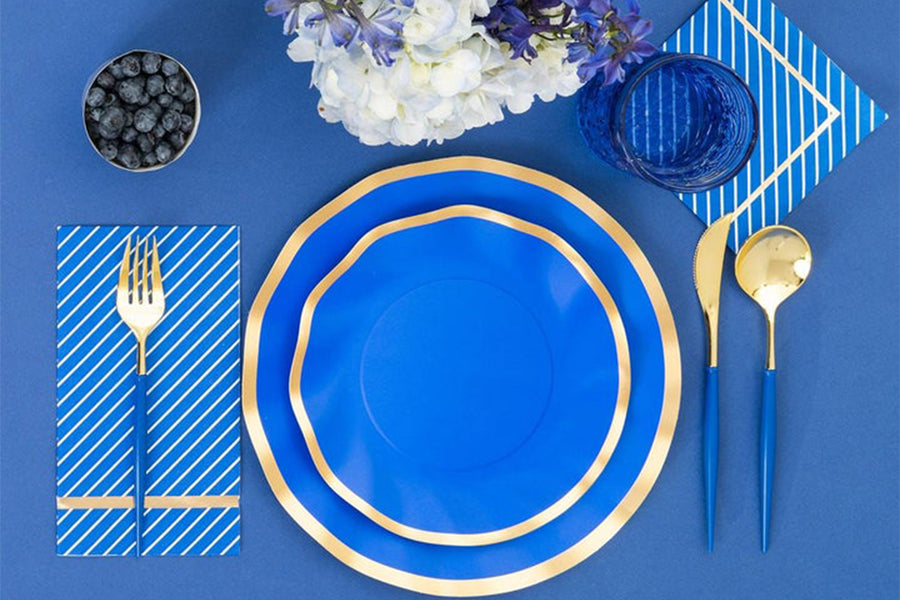 If you've been tasked with planning a bachelorette party, then it may seem like there's a complicated job ahead of you. Between creating the guest list, picking a party venue, and making sure that everyone has a great time, you may have no idea about where to start. 
Although it certainly takes some thought and effort to plan the perfect bachelorette party, it actually couldn't be more fun! To help get you started, keep reading this guide from Sophistiplate to find out everything you need to know about bachelorette party planning—in addition to 10 fun ideas to inspire you. 
What Is a Bachelorette Party?
A bachelorette party—jokingly referred to as "the last fling before the ring"—is a tradition that celebrates the bride-to-be's upcoming wedding with her bridal party. Although we associate the bachelorette party as celebrating the bride's last few months of being single, the tradition has evolved over time to be an opportunity for the bride to spend quality time with their closest friends and family. 
Although movies portray a bachelorette party as being something that takes place the night before the wedding, this is actually far from the truth. Amidst the chaos of the wedding day, most bachelorette parties take place several months or weeks before the wedding. 
Unlike most pre-wedding celebrations, the bachelorette party is a very intimate event. Usually, the guest list consists of only the bridal party. However, sometimes a few of the bride's close friends and family are invited to join in on the festivities. In the end, it's completely up to the bride to decide who gets invited. 
Who Plans the Bachelorette Party?
If you're part of a bridal party, then you might be wondering who exactly is tasked with planning the bachelorette party. Usually, it's up to the maid of honor to plan the bachelorette party. However, there are no rules against enlisting the rest of the bridal party in the planning activities. Sometimes, even family members can help with planning for the bridal shower—whether it's with their time or money. 
Whoever plans the bachelorette party, it's important to remember that the bride should not be involved. Because of all the different events that take place before the wedding—which the bride is undoubtedly involved in planning—the bachelorette party should be a time for pure celebration and no work. A great idea is to make the bachelorette party a complete surprise. 
Who Pays for the Bachelorette Party?
If the bachelorette party lasts only one night, then the expenses should be split between all members of the bridal party—with the exception of the bride, of course. 
However, some bachelorette parties can involve travel—which comes with plane tickets, hotel rentals, and other large costs. In this case, it's acceptable for the bride to pay for their share of expenses. Of course, a nice touch would be to have a family member pay for the bride's share. 
However the costs are split, when it comes to the main celebration—AKA the party—the bride should not have to think about paying at all. 
Top 12 Fun Bachelorette Party Ideas
With the logistics out the way, let's get right to the fun stuff: Listing our favorite bachelorette party ideas. Here are 10 of our favorite ones to get you started. 
1. Put a Theme on It
The most important element of planning any party is choosing the right theme. This will not only make your party super impressive, but it will help you tremendously. After all, the right party theme will ensure that all the elements are fitting together perfectly. Whether it's your party décor, your tableware, or even your food and beverages, everything will go together much more smoothly if you pick a theme. 
Some of our favorite Instagram-worthy themes for a bachelorette party include:
90s Throwback

Beach Party

Casino Night

Winter Wonderland

Glow-in-the-Dark
If you want to get a bit more personal with the party theme, then incorporate something that the bride loves. This could be their favorite color, their favorite movie, or their favorite season. This will make the bride feel super special during her bachelorette party. 
2. Send Out Fancy Invitations
If the bachelorette party that you're throwing is less of an intimate affair and includes those beyond the wedding party, then invitations are a must. While a text is a convenient way to get an invite across, we would go all-out with fancy paper invitations. 
If the party includes lots of activities, you can even include a schedule of events on the invitation. We would create invitations that are in line with the party's theme. If they're super pretty, your guests can keep them for years as a memory of the bachelorette party. 
3. Rent Out a Villa
While hitting a bar is a classic way to celebrate during the bachelorette party, why not change things up a bit and throw a bash at an extravagant villa? You can rent one for the day (or the weekend). Unlike with a bar, you'll be able to decorate any way you wish, serve any type of food or beverage, and have a place to wake up the next day! Bonus points if you can find a villa with a pool. 
4. Play Some Fun Games 
While there are plenty of activities that can enhance your bachelorette party, our favorite ones include risqué games to spruce things up. Here are some of our favorite party games to add to your bachelorette party. 
What's on Your Phone?

This is a twist on the classic "What's in Your Purse?" game that is so popular at bachelorette parties. This game will challenge the guests to show all the contents of their phone—whether it's photos, text messages, or dating app matches. We're sure that this game will go a long way in bringing everyone closer to each other. 
Champagne Pong

: As much as we love beer pong, sometimes we want to class things up a bit. By using

stemless champagne flutes

filled with your favorite bubbly, you'll have a totally Instagrammable setup that your guests won't be able to get enough of.  
Take a Shot If:

This is a great way to get a buzz going at the beginning of the bachelorette party. It goes like this: Someone reads a statement that describes something they have done. If this applies to others at the party, they have to take a shot of liquor—or, to keep things low-key, a sip of champagne. The only rule? You have to be 100% honest!
5. Go Vineyard Hopping
Instead of going bar-hopping, why not elevate things a bit by hitting up different vineyards? If you don't live near vineyards, then you can book a weekend getaway to wine country—this way you'll have more than one night to hit up all the vineyards you can think of. 
6. Take a Foodie Tour
If you want to keep the bachelorette party alcohol-free, there's no reason why you can't organize a different kind of "hopping" experience. However, instead of hitting up bars or vineyards, you can hit up different restaurants in town for an exciting culinary adventure—sans alcohol. 
7. Book a Photoshoot
Everyone deserves to do a professional photoshoot at least once in their lives. Not only will this provide you with beautiful memories that you'll cherish for years, but you'll also feel super empowered while doing it. Before you begin your bachelorette party festivities, why not organize a professional photoshoot abound with plenty of outfit changes, a beautiful location, and lots of champagne to keep things fun? 
8. Get Glowing With a Spa Day
All too often, we associate a bachelorette party with drinking the night away—and experiencing a subsequent hangover the next morning. If you want the opposite experience—of waking up feeling amazing the next day—then a spa day (or weekend) is the best way to accomplish this. We'd book something completely secluded so the bridal party can feel completely refreshed and recharged amidst the chaos of wedding preparations. 
9. Take a Pole Dancing Class
What's more fun for your bachelorette party than spinning high on a dancing pole? This isn't only a solid workout, but a great way for your entire party to feel empowered. To relax things a bit, make sure to pre-game with a bit of bubbly before hitting the class. 
10. Give Out Party Favors
No party is complete without a goody bag to give out at the end. The bachelorette party is no exception. At the end of the night, make sure to give out party favors—hopefully, those that are related to the partying. We'd go for something like electrolyte powder for those hangovers, de-puffing eye cream, and a packet of high-quality coffee. Your guests will be immensely thankful the next morning. 
Get Planning With Sophistiplate
If you've been tasked with throwing a bachelorette party, then you have plenty of fun to look forward to. With our 10 fun bachelorette party ideas, your bash will be remembered for years to come. To make your party a success, Sophistiplate has all of the high-quality party supplies you could ever need. 
Our Sources: 
Who's Really Supposed to Pay for the Bachelorette Party? | Brides 
How to Plan a Bachelorette Party: Tips and Etiquette | Brides 
Pole Dancing Without Nudity or G-Strings. Just Express Yourself. | The New York Times 
---