Halloween Party Supplies You Might Not Think Of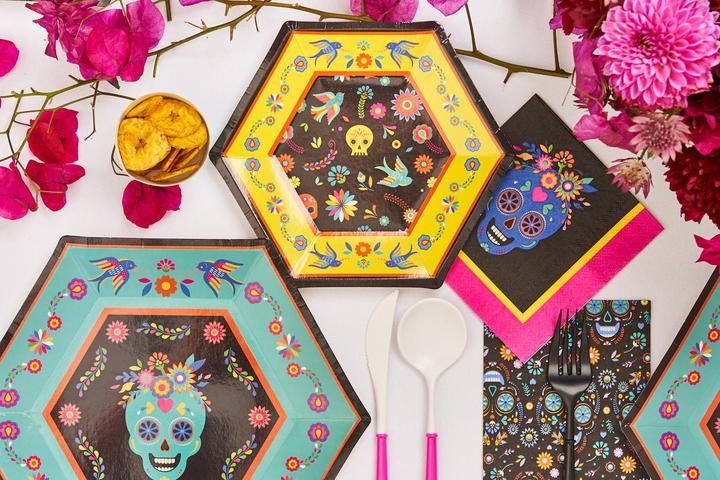 When throwing a Halloween party, It's easy to put together a music playlist, buy some boozy drinks, and text out invites to your guests. And honestly, that's almost the recipe for an amazing Halloween party.
But if you take Halloween as seriously as the Olympics and want to take your party to the next level, there are some extra touches that you can add to your party to make it truly stand out. Here are some things you might not think of when planning your Halloween party that might make it one to remember for years to come. 
The Perfect Decor
While completely optional, the right decor will make your Halloween party truly stand out. When shopping for decorations, it's helpful to decide on a theme for your party first and then to pick out the supplies accordingly. 
If you have no idea what you want your party to look like, here are some ideas for Halloween party themes and the supplies that are a must for them. 
Haunted House Party
If you're a fan of horror and want to bring similar vibes to your own party, then the haunted house theme is a perfect choice. The quintessential haunted house supplies include fake cobwebs, novelty spiders, gravestones, and life-sized ghosts, zombies, and other creepy characters. A sound machine emanating screaming (or even creepier: whispering) can create an extra-spooky atmosphere. 
Pick Your Poison Party
For a grown-up party, make cocktails the main focus. Offer your guests "poisonous" libations and treats, serving drinks such as martinis with lychee "eyeballs" and red-colored shots from plastic syringes. Keep the rest of your decor simple and sophisticated. 
Classic Halloween Party
If you want to keep your party decor mellow, then the classic Halloween theme is a safe choice. All this party needs is decor in the classic Halloween colors: black and orange. Spruce up the place by adding some Jack-O-Lanterns.
Spooky Invitations
It's pretty simple to send party invites through text, but it's something we're all used to at this point. Sending card invitations will be a unique and incredibly memorable touch and set the tone for your party. 
Once you decide on your party theme, you can then pick your invitations. Do you want something cute and light, or are you really trying to scare your guests? 
What's great about invitations is that you can send them however you want, whether it is through the mail, email with RSVP, or even as an image on social media. To make sure all your guests get an invitation, you can try all three!
In your invitations, you can even let your guests know the details of your party that can help them come prepared. If there will be a costume contest (especially if there's a prize involved), let your guests know to put some thought into their costume design. 
If you want to host a potluck, ask your guests to bring a dish that can be shared with everyone. If you want as many people as possible to come, encourage your guests to bring others along with them. 
It's your party and the options are endless!
Spooky Cocktails
If you're serving booze at your Halloween party, then you have many options for serving them in a creative and (if you wish) creepy way. 
The Cauldron Fruit Punch
If you were planning on serving a punch bowl, then take it up a notch by serving it in a black cauldron. If you add dry ice to the bowl, you can safely give the concoction a creepy, smoky effect. For extra detail, you can even buy a zombie hand-cast to hold the ladle to serve the punch with.
You can choose to add liquor to the fruit punch bowl or to keep it alcohol-free. Better yet, serve both options—a touch that your guests will surely appreciate. 
Glow-in-the-Dark Cocktails
Another option to spice up Halloween party cocktails is to make them glow in the dark. While there are no safe chemicals that you can add to cocktails to make them glow in the dark all on their own, there are a few things you can use that will glow under black light.
Some ingredients you can add to cocktails to have this effect include (most) energy drinks, vitamin B12, chlorophyll, Absinthe, and even tonic water. But keep in mind: you will need a black light to see the effect.
Of course, if getting a black light lamp is too much of a hassle, there are other ways to add the glow-in-the-dark effect to cocktails. One option is to use mini glow sticks (just make sure they're super clean before being put into a cocktail.) Another is to use glowing plastic ice cubes. 
If you're serving cocktails, make sure to go eco-friendly by serving them with straws made from biodegradable material. 
Creepy Cocktail Garnishes
If you want to get creative, you can make cocktail garnishes that resemble blood, eyeballs, and body parts. You can also get some supplies and throw them in the cocktail glass. Some popular additions include plastic mini spiders, gummy worms, fake vampire teeth, and even ice in the shape of a skull. 
The Food
Unlike Christmas and Thanksgiving, food is not something we traditionally associate with Halloween—at all. But food is always a welcome addition to parties and Halloween is no exception. Serving food during your Halloween party is a thoughtful touch that your guests will surely appreciate, especially if done tastefully, like with Sophistiplate's Boo Y'all Table Setting. 
Any other day of the year, we want our food to be as appetizing as possible. If we see anything that resembles critters, blood, or dirt, we'll probably say no thanks to whatever is being served. On Halloween, the opposite is true: the more disturbing the food appears to be, the more excited your guests will be!
Since there is no food tradition associated with Halloween, you can serve food for any course. 
If you choose to go with only snacks and appetizers, then light options are your best bet. You can serve deviled eggs with a plastic spider inserted in the middle or pigs-in-a-blanket as severed fingers. 
If you want to go all-out with the main course, then you can serve classics such as meatballs or pizza, paying extra attention to the red sauce to give it more of a "bloody" appearance. 
For the best course, the dessert options are endless: chocolate eyeballs, jelly worms on chocolate "dirt" cake, and white-frosted "bleeding" cupcakes are all fun and terrifying treats. You can even use Halloween-themed baking cups to give your treats extra color. 
Party Favors
If you want to make your guests feel extra-appreciated, then you can even offer them parting gifts in the form of goody bags. You may be wondering what the best gift is for Halloween guests, but in this case, it's mostly the thought that counts and is a way to say thanks to your guests for making your party an amazing event. Of course, some gifts are more appreciated than others. 
Candy is what we all associate with Halloween and is a great gift for adults who are less likely to go trick-or-treating. Fill a themed paper bag with classic candy favorites. For your health-conscious friends, you can even go for sugar-free and organic treats. 
For your grown-up party guests, you can gift small bottles of your favorite booze. For an extra touch, replace the bottle label with a spooky one. And if you can make your own concoction with a dark red or purple coloring, your guests are guaranteed to be impressed. 
If you want to skip food and drink as your party favors, then buy small Halloween-themed goodies. Some ideas include a mini ghost candle, skull charm keychain, Day of the Dead shot glass, or a witch's cauldron coffee mug. For gifts that are sure to last, think of things your guests can use in the future—but Halloween-themed. 
It's Party Time
While most of the focus goes towards candy and costumes, throwing a memorable Halloween party means also paying attention to the decor, food, drinks, and even party favors. If you're planning a Halloween party, make sure to pick the perfect theme for you and to get the right party supplies. Your attention to detail will make your guests feel truly appreciated and remember your party for years to come!
Sources:
How to Use Dry Ice to Make Spooky Drinks | Tablespoon 
How to Make Glow-in-the-Dark Drinks | ThoughtCo.
---