Holiday Party Themes and How To Throw Them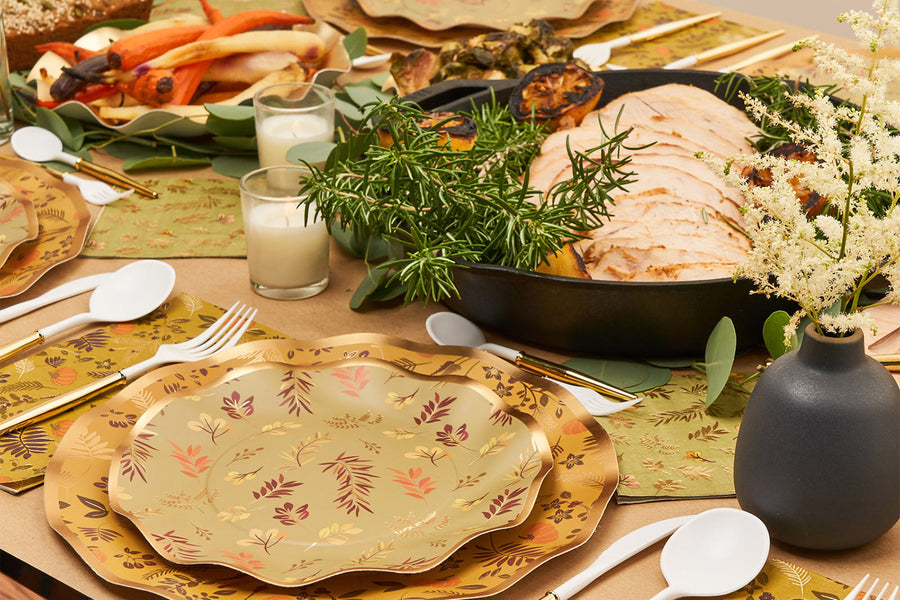 When you think about it, every party has some kind of theme associated with it. Even if you're throwing an office party for the holidays, you can still point out a few things that make up its theme. 
However, getting specific with the theme can go a long way to making it all come together perfectly. Once you have a theme in place, all of the party elements—the food, the drinks, the music, and even the guests—will have a lot of coherence.  
For this reason, we're huge fans of picking a theme for holiday parties and advocate it for anything from small, intimate affairs to all-out bashes. So, that said, here are some of our tips for throwing a holiday party, along with five of our favorite themes for this year.
Tips for Throwing a Holiday Party
The sky's the limit when it comes to picking a theme for your holiday party. But even so, there are a few party-planning tricks that are an absolute must this holiday season. To make sure that your party is a success, here are some tips to follow.
Plan a Menu
There's no doubt that the holidays revolve around good food. Whether it's eggnog, gingerbread cookies, or a pot roast, yummy bites absolutely need to be present. 
Of course, the type of menu that you plan largely depends on what type of party you're planning to throw. If you're throwing a holiday dinner party, then all the courses should be present: We're talking appetizers, a hefty main with sides, and a holiday-inspired dessert (Christmas pudding, anyone?). 
On the other hand, if your party is more of a casual get-together, then you'll want to keep the food options light by sticking to tapas-style appetizers. But, of course, cocktails should always be present!
To make your holiday party extra-special, take a few minutes to sit down and write down which courses you will want to serve. Then search online for your favorite holiday-inspired recipes. Finally, write down—in full detail—what you will be serving at your party. 
Buy Some Gifts
What's the holiday season without gift-giving? Of course, there's no need to remind us to get presents for our loved ones. But when it comes to office holiday parties and casual affairs with friends, what's the gift etiquette that you should follow?
Well, whatever you choose to settle on, something is (almost) always better than nothing. If you love your friends and co-workers and choose to go all-out, then more power to you. If your relationships are not as close, then stick to small gifts that everyone will appreciate such as luxurious hand sanitizer, scented candles, lip balm, and—our personal favorite—Belgian chocolate. 
Create a Playlist
There are two ways you can go about creating a music playlist for your party. The first option is, of course, to make all music holiday-themed. As you know, there is no shortage of holiday songs to make up your playlist (and the playlist of every store you walk into during December).
But if you can't listen to "All I Want for Christmas" another time, then curate a playlist with the music that you prefer to listen to. If you want something mellow to play in the background, then jazz, hip-hop, and soft electronic music are your go-to's. If you want something to dance to, then songs with high beats per minute (BPM) in any genre will do the trick. 
Designate a Dress Code
If you enjoy ugly sweater parties, then your choice of dress code is clear. But don't limit yourself when it comes to fashion. Let your guests show off their taste by asking them to come dressed in all-white, sophisticated pajamas, or even a Santa costume. 
Curate the Perfect Guestlist
We get that creating a guestlist—in other words, choosing who not to invite—isn't really an option for family gatherings and office parties. However, if you're throwing a holiday party for friends and acquaintances, who you invite has a big impact on the success of your party.
Ideally, you would want to invite a handful of people who are natural extroverts. If it's a dinner party, then guests who love telling stories will be able to liven things up. And, of course, if someone is a good gift-giver, then you definitely want them on your guest list. 
Our Favorite Holiday Party Themes
If you follow the above tips, you'll be well on your way to throwing an amazing holiday party. That said, sometimes we need a little inspiration by way of party themes. To give you some ideas, here are our favorite holiday party themes this season, along with our tips for throwing them. 
1. Roasting by the Open FIre
There's no holiday scene more iconic than a burning fireplace adorned with Christmas stockings. Aside from that, it's a theme appropriate for any kind of holiday party. Make it your own by following these tips:
Serve Some Warm Cocktails

: Okay, maybe they don't

need

to have alcohol in them. But warm beverages against the backdrop of a fireplace will go a long way in setting a warm and jolly atmosphere. 
Plan for Story Time

: This is especially a great tip if you have kids in attendance—although, as adults, we wouldn't mind hearing "A Christmas Carol" read aloud to us.
Don't Forget the Stocking Stuffers

: The big gifts should be opened on Christmas morning. But small surprises can be opened at any point during the holiday season—especially this party. 
2. Outdoor Winter Party
If the post-pandemic worries are still getting the best of your party planning, then taking the party outside is one of the best ways to stay safe. But don't let cold weather stop you from enjoying the outdoors this holiday by following these tips.
Invest in Some Heat Lamps

: We know that heat lamps are not a small investment. However, if you have a backyard that's perfect for hosting large gatherings, then heat lamps will go a long way in helping you throw parties during any time of year.
Start a Bonfire

: If your backyard allows for it, a bonfire is the perfect to (literally) warm up the spirits. Bring some marshmallows for roasting.
Do Some Fun Activities

: If you're outside in the snow, there's no limit to the fun you can have. Start a snowman-making contest, make snow angels, and—if you have a hill nearby—grab a sled that's sure to be a hit with guests of all ages. 
3. Virtual Party
While it's not the best way to get together, we're all sort of onboard not having to travel anywhere. This is especially true for work parties, where work-from-home has scattered many of us all over the place. Make this party feel a little more intimate by following these tips:
Get Your Guests Engaged

: Try to have every person participate in the party. The best way to do this is to come up with some fun activities such as trivia or charades. 
Send Some Gifts

: Even if you're not able to meet in-person, there's still a way to give gifts. You can either mail something to your co-workers or get them a virtual gift, such as a subscription to a digital service. 
Use Celeb Cameos

: This one has been popping up

all over the place

in the past year. If your budget allows for it, have a famous personality show up at the virtual party (and even give a personal shoutout to everyone). 
4. White Christmas
If you consider yourself an amateur interior designer, then this party theme will be the perfect opportunity to show off your skills. Plus, it will be super Instagrammable. Here are some tips to make this holiday theme happen: 
Decorate Everything in White

: We're talking white tablecloths,

plates

, and even Christmas trees. If you're worried about your place looking too washed-out, add a few bright decorative accents such as

gold cutlery

. 
Ask Guests to Dress in All-White

: Yes, your guests are absolutely part of the decor. Ask everyone to contribute by dressing in white clothing (white fur optional). And don't forget to take group photos after!
Light Tons of Candles

: There's something so peaceful about a bunch of candles lit against a white backdrop. Place these around the party and start lighting them when guests show up. Bonus points if you dim the lights a little. 
5. Christmas Caroling
This is a classic holiday tradition, which is made all the better if you have some serious vocal skills to show off. If not, it's still an invigorating way to spend a holiday night. Here are some tips for turning this tradition into a party.
Send Out Invitations

: Give your (potential) guests a nice surprise by sending them an invitation with a date and time of the party. We get that Christmas caroling isn't for everyone, but they'll be much more likely to show up if it's a planned event.
Pick Songs in Advance

: Better yet, ask your guests to contribute one song that everyone will have to learn. (Not that we need any reminders of how to sing popular Christmas songs!)
Happy Holidays!
Whichever party theme you choose to go with this holiday season, we're 100% sure that with the right people, music, and food, you'll have an amazing time. Here's to a happy holiday from Sophistiplate to you. 
Our Sources: 
The Art of the Dinner Party | The New York Times 
Christmas Day Clementine Sour Recipe - NYT Cooking | The New York Times 
Cameo Now Lets People Pay Up to $15K to Have a Zoom Call with a Celebrity | The Verge 
---